The Montreal Canadiens will have no choice but to look within for a solution in regard to news that forward Max Pacioretty will be out for at least one game… and, no, that isn't a euphemism for praying. In fact, the situation is not quite as dire as many might think.
https://www.youtube.com/watch?v=5bGPKaryR6Q 
The Doctor Is In and Pacioretty Is Out
Of course, it's not exactly peachy with Pacioretty scheduled to have met with team doctors on Tuesday after hitting his head on the boards during Sunday night's 4-1 win over the Florida Panthers. Montreal's offense, ranked 22nd in the league, is already struggling to put the puck in the net. Having the team's leading goal scorer potentially suffer a concussion won't be what the doctor will have ordered in that regard.
In a season characterized by a revolving door of line combinations, Pacioretty, having played every single game up to this point this season, has seemingly been the single constant. Every single game, he has essentially played as the team's first-line left-winger. He will now miss Thursday's game at home against the Detroit Red Wings.
That much is certain (barring another superhuman show of resiliency… and it may be too much to ask for him to return ahead of schedule once again). What isn't however is who will take his spot?
The Replacement Players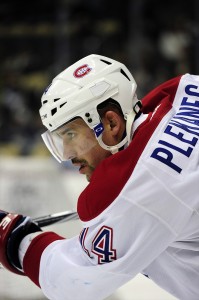 In all actuality, the simple solution isn't so much so that it can be summed up with a single name. Because this is the top line we're talking about, the spot should under no circumstances go to a rookie with limited NHL experience, regardless of their talent level.
Again, with this arguably being Montreal's first major injury this year, after enjoying almost a complete season of unprecedented health with a league-low 84 man-games lost, the situation is not exactly at Pittsburgh Penguins levels of desperation.
As a result, even if Pacioretty's absence may last only a single game (knock on wood), the Habs will have to replace his offense by committee, with some relatively serious line shuffling having to take place. Thankfully, because head coach Michel Therrien forms new lines more often than a drug addict, most everyone is at least a little familiar with everyone else and their tendencies. He probably planned it out that way all along.
As a result, look no further than second-line center Tomas Plekanec, who has moved up from time to time to play with Pacioretty on the first line. Plekanec, who has played wing in his career, can immediately fill in on the left side, with David Desharnais presumably capable enough of centering him (or the other way around) and perhaps Pierre-Alexandre Parenteau completing the trio (or Devante Smith-Pelly resuming his role on the line, fresh off his first goal as a Hab against the Panthers).
As the team's second-highest goal-scorer (24; tied with Brendan Gallagher) and second-highest scorer (58 points; tied with P.K. Subban), the honor kind of has to go to Plekanec. He's arguably the only other top-line player that Habs have right now, and that includes Desharnais and Parenteau and Smith-Pelly and pretty much anyone else you can name.
It really is the only logical solution, with the only drawback being a resulting hole on the second line between Alex Galchenyuk and Brendan Gallagher. Enter Lars Eller.
Easter EGG Hunt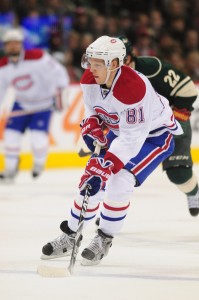 Eller, who has a modest 26 points in 75 games so far this season, actually enjoyed some of the best offensive success of his career playing with Galchenyuk and Gallagher.
Admittedly, over a far-from-extended period of time to start the 2013-14 season, Eller earned five goals and two assists in five games right out of the starting gates as well as the second star of the league, opening week. Of course, like every other line, the combination went cold and was eventually broken up, but Eller's offensive potential remains.
One need only look to his 13 points in 17 playoff games last spring for proof to that effect. Or, if you need more convincing, his four goals and nine assists over the 2013 regular season's final 12 games.
Eller may not be a natural star player, but he is capable of rising to the occasion given a shot on a top line and a regular shift on the power play. That again would leave a center spot open on the third line, but Jacob de la Rose has filled in nicely there over short spurts, and there's little reason he shouldn't be able to again.
Ideally, at his age (19), he wouldn't be thrust into such a critical role without a safety net of some sort (i.e., Eller) available to break his fall should he falter. However, this situation is far from ideal. And not a lot of (good) options exist at this point. But the fact that there is at least one should be reason for optimism (or reason not to be pessimistic).
Pacioretty is obviously a critical component of Montreal's offense, but all season long the Habs have made do without a very potent one overall. It's really just a matter of sticking to the gameplan, riding out the storm, and, yes, even praying—not for on-ice success during Pacioretty's absence, but that his injury is relatively minor.
It's easy to lose sight of what's important right now. The Habs will be all right. Bank on it. Pacioretty should be. Hopefully.