It's a narrative that plagued the Flyers all of last season. They had one powerplay line that was unstoppable, one that couldn't score, and a penalty kill that was akin to something straight out of a mite hockey game.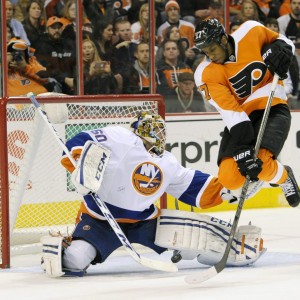 That first powerplay unit, which included Voracek, Giroux, Simmonds, Schenn, and Streit, accounted for just about 80% of all the points scored on the powerplay by the Flyers last season. The chemistry just wasn't there on the second unit. However, the first unit was so good that the team as a whole finished 3rd in the NHL on the powerplay.
That story ends when it came to the penalty kill. The Flyers were among the NHL's worst (ranked 27th) on the kill. That's despite the Flyers being near the NHL average for PIM/game.
Why is this such a big deal? Because the Flyers have proven to themselves that when they kill penalties, they win games. In the 31 regulation losses by the Flyers last season, their penalty kill was a dismal 67%. In wins? Their penalty kill jumped all the way 82%. Still not anything great, but definitely a huge factor in winning games.
Keep in mind, the Flyers also lost a ton of one goal games last season. The team saw 18 overtime/shootout losses, which was by far the most in the NHL. If the Flyers penalty kill wasn't so bad, the team would have likely cut that number down and won some more of those games in regulation, which in the end would have made a world of difference in the standings.
The Flyers have a better team then they did last season. Younger guys are maturing more, they got rid of a few of the problems on defense, and brought in a great addition with Sam Gagner. Combine that with Dave Hakstol coming into the picture, and the Flyers should have a completely revamped penalty kill. This could be a big success for the new coach.
Special teams are huge in the NHL, and the Flyers need to realize how much it will define them this season. That will win you games come playoff time. Even back to the 2009-10 season when the Flyers went to the Cup Final, their penalty kill hovered around 84%, going up to about 86% in the playoffs, and that team averaged far more PIM/game than any other Flyers team in the past few seasons.
If Hakstol can implement a system that will improve the penalty kill and revamp the second powerplay unit, the Flyers could see the post-season, and that will be a huge step in the right direction.
Matt is a contributor for the Philadelphia Flyers at The Hockey Writers. He has previously covered the Flyers for GrandstandU. He enjoys playing hockey and making music in his spare time.