While the San Jose Sharks are still without a blue-chip center prospect with the potential to replace future Hall of Famer Joe Thornton, it is widely agreed upon that their overall prospect pool has improved significantly the past two or three seasons. San Jose has a number of young players who look to have significant NHL futures but today's column looks specifically at the top five. (Note: I'm not considering Mirco Mueller nor Chris Tierney as prospects since they both played over 25 games as NHL rookies last season).
5. Julius Bergman (D)
The six-foot-two, 193 pound Swedish defenseman won't turn 20 until November. Still a teenager, the right-handed shooting blue liner is growing into his frame. Bergman has the size to be an effective two-way defenseman in the Justin Braun mold. It is important to note just how young Bergman is for a defenseman. The season Braun turned 20 was his freshman year at Umass-Amherst. It wasn't until four years later where Braun made his NHL debut during the 2010-11 season. Bergman is going a different route playing in major junior rather than college but outside of defensemen drafted in the top-10 of the draft, few make the NHL prior to age 22. Last season the Sharks clearly rushed then 19-year old defenseman Mirco Mueller into the league. Mueller was taken 18th in the first round of the 2013 draft. Bergman was selected 46th overall in the second round of 2014.
With Mueller not being NHL ready until 20-21 at his draft spot, highest expectations for Bergman should be to arrive in the league at 22. That is still two years away. So Sharks fans likely wont see the Swedish blueliner at the top level anytime soon, particularly since the 2014-15 season was Bergman's first year playing in North America. Playing for the London Knights in the OHL, Bergman put up an impressive 42 points in 60 games but he also picked up 78 penalty minutes. While he is old enough to start this upcoming season with the Barracuda, it is possible that Bergman could end up returning to the Knights. That is still to be decided. Bergman's ceiling looks like second-pair in the NHL.
4.  Rourke Chartier (C, LW)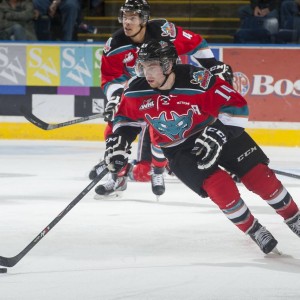 Having led the WHL in goals for the majority of last season, 2014 fifth-round draft choice Rourke Chartier is looking like the steal of his draft class. While it is true that Chartier played with some excellent players with Kelowna in Leon Draisaitl and Nick Merkley, Chartier was lighting up the league long before the Rockets acquired Draisaitl. All told, Chartier ended up with 48 goals and 82 points in 58 games last season, his third with the Rockets. The Saskatoon native has progressed nicely each year. He scored 30 points in 58 games in 2012-13, then 58 points in 72 games in 2013-14 before exploding on the scene last season.
With an ability to play center and wing, and a highly regarded two-way game, it is possible for Chartier to make some noise at Sharks camp. A long of long shots to make the roster as a 19-year old born in April 1996, Chartier's overall game makes him just as good of a fit in the bottom-six as it does in the top-six. Chances are though that the five-foot-eleven, 180 pound forward will return to Kelowna for one more season and likely play for Canada at the World Juniors. Look for the young forward to then start next year with the Barracuda but end up making his NHL debut with the Sharks at some point later that season.
3. Jeremy Roy (D)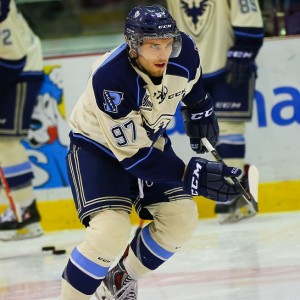 The Sharks are extremely high on their second round pick from the 2015 draft in defenseman Jeremy Roy. A smooth skating right-handed puck mover, many experts have thrown the name Dan Boyle around as the type of game Roy brings to the table. Roy himself says he likes to mold his game in the fashion of Drew Doughty. Can't really blame him there, Doughty is no doubt one of the top-five defensemen in the game today, if not top-three. Roy was predicted by many scouts to go in the first round but when he dropped to the second day of the draft the Sharks moved fast to trade up and nab him with the first pick of the day. With Brent Burns turning 30, and the Sharks having little puck moving talent on the right side behind him, Roy is certainly the heir apparent years down the line for top unit power play quarterbacking duties.
Playing in the QMJHL, Roy saw a nice increase in overall point production from year one to year two. In 2013-14, Roy scored 14 goals and 44 points in 64 games. While he scored fewer goals (5) in his second season, he tallied just one fewer point (43) playing 18 fewer games (46). His plus/minus rating improved from minus-29 to just minus-2. He then added five points in six playoff games for his Sherbrooke Phoenix club. Sharks fans should be excited for the future of the six-foot, 188 pound defender. Roy will return to to the Q shortly but did just sign his entry level deal a couple days ago. 
2.  Nikolay Goldobin (RW, LW)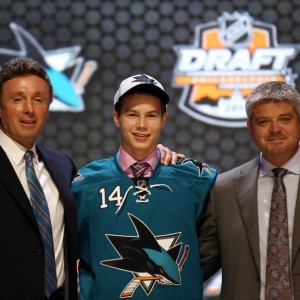 The flashy Russian winger has the hands and offensive vision that will make your jaw drop. If he reminds me of anyone, it would probably be of a young Marty Havlat. Maybe not quite the speed Marty had coming into the league, but good speed and terrific play-making ability. Perhaps a bit more of a tendency to shoot the puck. On a bad Sarnia Sting team in 2013-14, Goldobin scored 38 goals and 94 points in just 67 games. Last year the Sharks elected to play him overseas in the Finnish Elite League with HIFK Helsinki. Goldobin banked home 11 goals and 21 points in 38 games playing against men for the first time.
Given that Goldobin will turn just 20-years old in October and there are still major concerns about his defensive game, he likely belongs with the AHL Barracuda to start the season. This will be a big year for Goldobin's development. It is clear that the 2014 first-round pick (27th overall) has put on some necessary muscle weight as the six-foot winger was extremely thin during his first training camp a year ago. Goldobin has the talent to lead the Barracuda in scoring but he will need to learn how to not be a liability in his own end. San Jose's AHL squad will have plenty of older offensive players chomping at the bit to take up Goldobin's minutes if he doesn't perform. Guys like Nikita Jevpalovs, Joonas Donskoi are a couple of legitimate prospects that play a more mature game. There is also long time AHL veteran Bryan Lerg, and younger prospect Kevin Labanc that could end up with the Barracuda pushing for minutes. Goldobin will have to earn his ice time.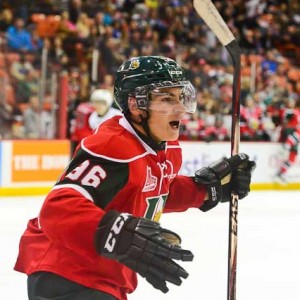 1. Timo Meier (LW, RW)
This past June's draft saw the Sharks select ninth overall, their highest draft position since selecting Logan Couture at that very same spot back in 2007. This time around the Sharks chose Swiss winger Timo Meier. A big body at six-foot-one, 209 pounds, Meier has drawn stylistic comparisons to Chicago Blackhawks star Marian Hossa. While Meier is a long ways away from proving those comparisons, it is easy to see the resemblance in their play. For a big guy, Meier brings good speed to the table and has the ability to hang onto pucks and shield defenders with his size, a staple of Hossa's future hall of fame career.
It should be noted that Meier saw an enormous jump in production from year one in the QMJHL to year two. It is rare for a player to go from 34 points to 90 points by simply improving his own game. Meier did play quite a bit with Winnipeg Jets top prospect Nikolaj Ehlers last season. Ehlers finished with back-to-back 100 point seasons for Halifax the last two years while Meier had those aforementioned totals of 34 and 90. So there is that factor to consider. Meier at the very worst projects to be a solid third line winger, but in a draft class compared to the epic 2003 draft, the Sharks are hopeful Meier can develop into much more than that. It will be interesting to watch how Meier performs the next couple years as he finishes up his junior career and moves on to the AHL.
Andrew has been credentialed to cover the Sharks since 2010 and the 49ers since 2012. He graduated with his BA in Broadcast Electronic Communication Arts in 2013 from San Francisco State University.