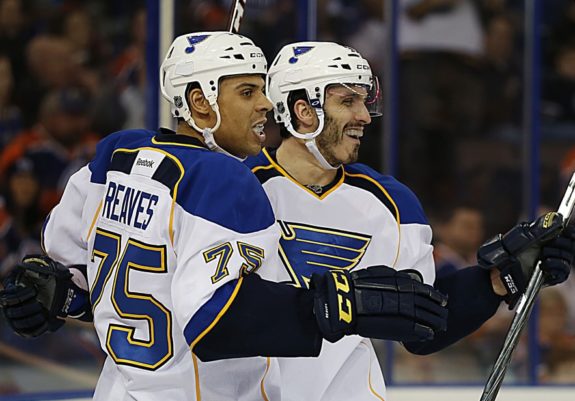 The St. Louis Blues have been slowly building towards this roster for years. Doug Armstrong has been piecing together a nasty, defensibly responsible juggernaut since he took the team over in 2010. In trading for Ryan Miller and Steve Ott, he's brought together a group of players that can win a variety of hockey games, but make no mistake: this isn't a team built to win a division banner. This is a roster that has been designed to out-nasty the Los Angeles Kings, Anaheim Ducks and anyone else that stands between the Blues and their first ever Stanley Cup.
This isn't a gathering of the goons though. Armstrong hasn't done his Brian Burke impersonation by icing grit without talent to back it up. Lead by David Backes' never-say-die example, St. Louis is clearly prepared to bang bodies with the top squads in the Western Conference, and those top squads should be worried about that.
The addition of Ott rounds out a core of players that can agitate, brawl and pound away on guys like Patrick Kane and Jonathan Toews or go into the corners with Dustin Brown or Ryan Getzlaf.
Top-End Forwards With Abrasive Natures
Backes has been the prototype forward for the Blues since the 2007-08 season. In his second year in the NHL he racked up 31 points to go along with 99 PIMs. He followed that performance up by posting 54 points and a whopping 165 PIMs. It seems that he's calmed down a bit and doesn't throw the gloves as often as he used to, but Backes still leads the way by example during each and every Blues game.
Seeing Backes blow guys up along the boards isn't a new thing, but he's rarely caught out of position by trying to make a big hit. Backes is so defensively responsible that head coach Ken Hitchcock rarely utilizes Backes in offensive situations. Despite the fact that he's scored 20 goals or more four times in his career, Hitchcock frequently rolls Backes out as a shutdown center.
A handful of coaches in the NHL use their third and fourth lines for these roles. That's not how Hitchcock runs things in St. Louis though.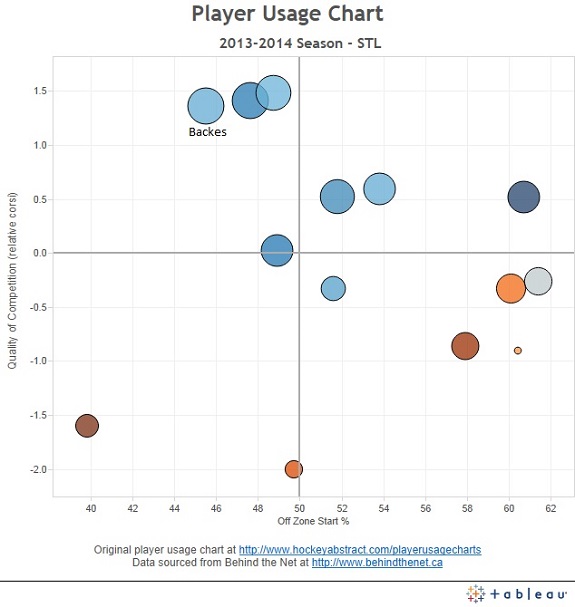 Backes is there to make life tough on the opposition's top forwards, and that's a win-win for the Blues. Either the top line is shutting down the other team's top line defensively, or they're able to take advantage of better matchups against a third or fourth line offensively. All this advantage simply from hitting and playing responsible in all three zones.
The captain isn't alone when it comes to willingness to play hard minutes. Vladimir Sobotka has emerged as a top-six forward that isn't easy to play against either. He grinds other players down in the corners and isn't shy when it comes to playing the body.
That hit is a bit mean, a bit late, and is on one of the top-four defensemen for the Chicago Blackhawks. While this occurred during a regular-season matchup, hits like that resonate across a seven-game playoff series. That's what this Blues team is built for. They aren't going to try to come out and bury teams under a mountain of goals. They're built for attrition.
St. Louis is going to get big hits from Backes and Sobotka, but the team gets meaner as you work your day down the lineup.
Bottom-Six Guys Willing to Go to War
While St. Louis ices some of the better top-end forwards that aren't afraid to hit, their bottom-six features a number of the most fearless checkers in the game. There's a lot of personality and leadership in the locker room for the Blues, and you get a good idea of what you're up against when you see Brendan Morrow on the third line.
The ex-captain of the Dallas Stars didn't fit in particularly well with the Pittsburgh Penguins, but has started to come along nicely in St. Louis. It took him a few months to find his role on the team, but he's finally finding the back of the net. He's also just as open to landing monster open-ice hits. Morrow was a lot like Backes when he played for the Stars, and he's settling in just in time for the playoff run.
Another player that hits like a Mack truck is Ryan Reaves. He's not a household name around the NHL, but the 6'1″, 224 pound winger can run over just about anyone when he wants to.
All told, the Blues have several of the most frequent hitters in the NHL. Among forwards, Backes ranks fourth and Reaves is 37th—impressive when you consider that he only sees the ice for an average of 8:24 per contest. Then there's Maxim Lapierre, who is among the most villainous players in all of hockey.
He's a master when it comes to irritation, and sometimes he crosses the line. Regardless,  Lapierre is the kind of player you detest while skating against, but are glad to have on your side. That's a line that could be lifted directly from the newest Blues' resume. While it's unclear at this juncture where Ott will line up, he's another one of the league's leaders when it comes to forwards that will hit. The former Buffalo Sabres captain actually plays the body more often than Backes.
With these guys on the roster, it's easy to see that the Blues won't be winning any popularity contests during the postseason. Then again, that's not exactly what they're in it for. This squad is every bit as mean and tenacious as the Ducks, Kings ans Boston Bruins and they'll be a tough out once the playoffs are underway.
They've lost to the Kings in two consecutive playoffs. Both rounds were ridiculously violent and full of old-time hockey plays. The Blues are geared up and ready for round three.