A guest post by Ken Maguire.
Boston drivers are notoriously obnoxious. They're always speeding and hurling profanities. But they usually get to their destination, even if they lose style points. That's sums up Bobby Farnham's game. The Pittsburgh Penguins prospect and Massachusetts native combines speed and strong forechecking with an uncanny gift for agitation.
Farnham might be the most hated player in the American Hockey League. He's been called a diver and a rat by opposing coaches and players. Fans get more graphic on Twitter. Supporters say he's fearless and honest.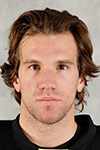 The Wilkes-Barre/Scranton second-year forward says he's just doing his job. To be a successful employee, he explained, you must find your role and excel in it. That's how his family's supermarket business has flourished, and it's one of the takeaways from an Ivy League education. He has a degree in commerce, organizations and entrepreneurship from Brown University.
Farnham, who led AHL rookies in penalty minutes last season, hopes he can ride his agitator's role all the way to the NHL. Pittsburgh last July signed him to a two-way contract.
"I'm going to be an energy guy with speed who agitates. This is my job. This is how I'm going to play every night," Farnham, 25, said in a recent interview before a game in Norfolk, Virginia.
"You need to be consistent with it, and you need to be the best at this level at what you do in order to get to the next level," he continued. "That's the plan. Sometimes it's a process. I hope someday I get there."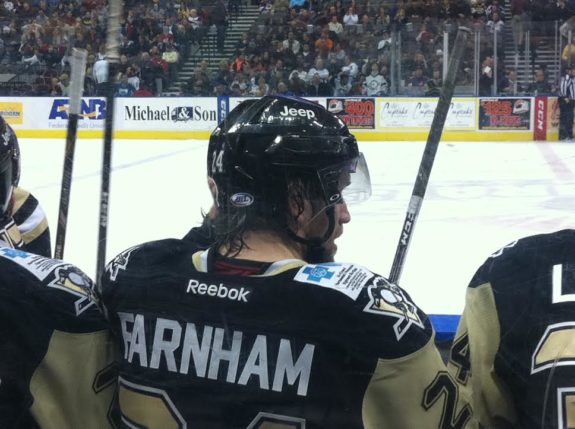 "You don't even have to say things a lot of times," he explained. "You just bump into them. They know it's on purpose but it looks like it was by accident. If you get good at it and you're consistent with it every game, it annoys them that you're still doing it. There's nothing that they can do can stop you from doing it. That really gets under their skin."
Sometimes it works, like when he absorbed a high hit during the Jan. 25 game against the Norfolk Admirals. His chin was cut but his team got a third-period power play in a 1-1 game. They didn't score, however. Sometimes things just get out of hand. Last April, 6-foot-7 Taylor Doherty was one of two Worcester Sharks who pursued Farnham seeking retribution for a questionable hit. Farnham, at 5-foot-10 and 187 pounds, dropped the gloves and took a beating.
Opposing fans delight in Farnham getting punished. The Giant Center crowd in Hershey, Pennsylvania, went wild Feb. 15 when Bears captain Dane Byers put a heavy check on Farnham, who got up and immediately fought the 6-foot-3 winger. Byers landed a bunch of rights and was the clear winner.
Michael Sdao, a defenseman for the Binghamton Senators, has twice received game misconducts for going after Farnham. The first time, Sdao had left the bench; the second time was a cross-check that also drew a 5-minute major. Senators coach Luke Richardson said Farnham "clearly dives, like he always does. He's good at it."
For Farnham, who denied diving, it was mission accomplished.
"Both times he got ejected from the game, which is kind of what I was looking for," Farnham said. "He's a heavyweight in the league, probably not a guy I would technically fight. I knew he wanted to fight, and you can kind of suck him in to doing something that will put him in the penalty box.
"It's just how I play," he continued. "I go and try to be as physical as possible. If you hit people hard enough, guys are going to come after you."
Farnham's Pugilistic Skills
Many AHL players have fighting experience from juniors but Farnham attended private schools, including the prestigious Phillips Andover Academy, located next to Farnham's hometown of North Andover, Massachusetts.
The school's alumni include former U.S. Presidents George Bush and George W. Bush, Pulitzer Prize-winning writer Buzz Bissinger, and Facebook co-founder Christopher Hughes. From there, it was on to Brown University, and fighting is prohibited in college hockey.
Farnham lost a lot of fights in his rookie season. His opponents included noted tough guys Tom Sestito and Jay Rosehill. He's improved his pugilistic skills a bit after working last summer with Shawn Thornton's trainer in Boston.
"You can learn a lot of technique, you can learn a lot about balance, and how to throw punches, and learn how to use your off-hand better," said Farnham, who has been more selective this season by fighting mostly in his weight class.
Former WBS Penguins broadcaster Tom Grace described Farnham as "a cartoon character of energy" while calling Farnham's first game in Wilkes-Barre last season. Farnham had set off a brawl by bumping a goalie.
"Bobby is a fearless kid, he's an honest kid," said Grace, who now works in the Florida Panthers front office. "He plays with energy and drive, and with no regard for his body nor the consequences. He forechecks as tenaciously as any player I can recall coming through the door at Wilkes-Barre."
Hershey Bears defenseman Steve Oleksy has exchanged words and fists with Farnham on the ice several times. Ultimately, though, Oleksy described Farnham as "a character guy."
"Every game, every shift he goes hard," said Oleksy, who played 33 games for the Washington Capitals this season. "He likes to play that tough role. As a defenseman, it definitely takes a toll on you. A lot of guys get called out when you play with an edge like that. He drops the gloves. You have to respect a guy like that."
Farnham, who was undrafted, graduated from Brown in 2012 and played nine games for the Wheeling Nailers in the ECHL before jumping up to Wilkes-Barre. He compiled 320 total penalty minutes in his rookie season.
Bobby Farnham's Next Step
Besides causing mayhem, Farnham scored three goals and had eight assists for the Penguins last season. This season, he's tried to improve his game by possessing the puck and contributing more offensively, said WBS Penguins head coach John Hynes.
"He's got exceptional speed. He's extremely competitive," Hynes said in Norfolk. "Now it's taking those attributes, and there's got to be a little bit more puck possession, some offensive threats that come from all that hard work."
Farnham's name is "always in the discussion" during deliberations about call-ups to Pittsburgh, Hynes said.
"You don't give NHL deals to players that you don't think at some point can give you a possibility of playing National Hockey League games for you or helping the Pittsburgh Penguins," Hynes said. "His name is in the mix but now it's working his way into getting that real opportunity."
In February, Farnham scored three goals _ all against archival Hershey. Through 44 games this season, he has five goals and four assists.
With an Ivy League degree, Farnham obviously has career options off the ice. His family shares ownership of a successful supermarket chain, Market Basket, which has stores in three U.S. states. It started as a grocery store opened in 1916 by his maternal great-grandparents, who were immigrants from Greece. The family business "could be a real possibility," said Farnham.
If the family has a side business, it's sports, specifically football. Farnham's father, two uncles and cousin all were star wide receivers at Brown University. They all wore jersey number 46, dubbed the "Farnham 46," which Farnham wore for hockey, as well.
Farnham's father, Bob, played exhibition games for the Cincinnati Bengals and later played for the Toronto Argonauts in the Canadian Football League. His cousin, Buddy Farnham, signed with the New England Patriots in 2010 and played on their practice squad.
Farnham played football when he was younger, but ultimately chose hockey.
"As long as it's going well and I have the opportunity to make the step to the NHL, I want to play hockey," he said. "I don't want to put a timetable on it."