"It is never fun watching, It is embarrassing, too; I have to be better. It is up to me to make a difference out there, so I will do everything I can once I get back in and try to get it going," stated Predators forward Viktor Stalberg after being a healthy scratch for the first time this season.  Stalberg would once again see himself relegated to the press box for the next game, as well.  When a higher-profile free agent comes in during the offseason, then after coming back from an injury, is a healthy scratch for two games in a row, there's reason to believe that Stalberg has already found himself a comfortable spot in Coach Trotz's doghouse.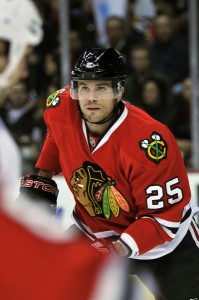 Why was Stalberg scratched in the first place?
After missing the first four games of the season with a shoulder injury, Viktor Stalberg put up a whopping 0 goals and 0 assists for 0 points in 6 games, with a minus-2.  What isn't noted in that stat-line is that on a team traditionally starved for any glimmer of offense, Stalberg averaged 11 minutes through those six games.
While appearing in 19 games throughout the Stanley Cup playoffs with the champion Chicago Blackhawks, Stalberg tallied no goals and 3 assists for 3 points, and was a minus-1.  Throughout the 2012-2013 shortened season, Stalberg provided 9 goals and 14 assists for 23 points in 47 games.  During both the regular season and playoffs Stalberg saw an average ice-time of less than 10 minutes per game on a star-studded Blackhawks roster.
So what happened?  When Stalberg arrived in Nashville, there was an expectation that he would live up to the hype of a free agent who signs a 4-year, $12 million contract.  Many fans, as well as those in the Predator's front office, expected Stalberg to be a constant presence in the top-six, earning at least 15 minutes of ice time a game.
Although Stalberg hasn't seen much as far as top-line minutes, what is known is that Trotz isn't necessarily known as a coach to make impromptu decisions regarding his players.
Will Stalberg find his game on the bench?
Will this work?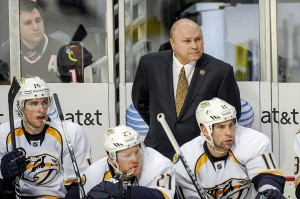 If precedent holds true, the answer is yes.  In 2010-2011, another free agent signing who was brought in to add some punch to the line-up went down with an injury early in the season, only to return with abysmal production.  In his first 19 back after an injury, Sergei Kostitsyn scored a total of 3 points.   As a result, Trotz decided to sit Kostitsyn, who then managed to turn around his season and finished tied for first in scoring for the team.  What those in Nashville now know is that benching Kostitsyn may have not worked as well as they thought, as in March 2013, he quit on a play, earning himself a spot on the bench for the rest of that game, as well as healthy scratch status for some of the upcoming games.
While Stalberg didn't necessarily quit on any players, the Predators were expecting more effort out of the 27-year old.  If Stalberg returns and is given top-six minutes consistently enough to find a rhythm with line mates, the outcome could be overwhelmingly positive.  Coach Trotz could continue to look like a mastermind coach, while GM Poile sighs with relief, and the Predators could be on their way for competing for the Central.
If Stalberg cannot find his game, the 4-year contract will start to look as just another failure to provide the team with the adequate players needed to do more than stay afloat in the standings.
Outside of working in politics, Nick also loves watching hockey at all levels. In addition to writing about the Nashville Predators for The Hockey Writers, Nick also writes for Faceoff Factor about his favorite team, the Pittsburgh Penguins.