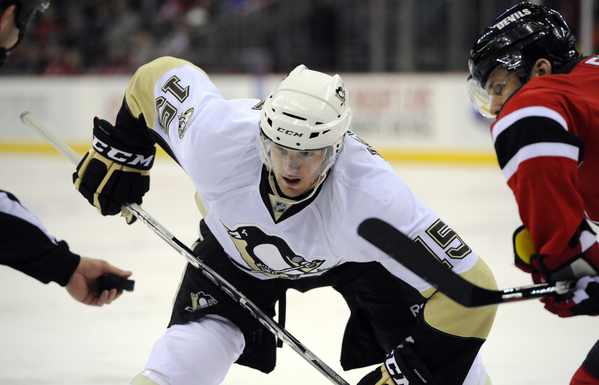 After their dominant performances over the Calgary Flames on Thursday, it's no longer any secret that the Dallas Stars' Jamie Benn and Tyler Seguin combine for one of the NHL's best duos. Both players found instant chemistry when first paired together at the start of the season, and have only gotten better over Dallas' first 20 games.
However, despite the fantastic play of those two Olympic-hopefuls, scoring goals as a team hasn't come easily for the Stars. While Benn and Seguin each have an impressive 23 points, the team's next highest scorer, rookie Alex Chiasson, only has 12. Cody Eakin is next with 10, the fourth and final Dallas player with point totals in the double digits.
Needing to add some scoring depth, the Stars made an interesting move on Sunday, claiming forward Dustin Jeffrey off of waivers from the Pittsburgh Penguins.
"Dustin is a player our scouts have liked over the last couple years," said Stars GM Jim Nill, as per this release on the Stars' official website. "He's a young player that we think has some room to develop even more. We just think he has a chance to add some depth to our organization. You can never have enough depth."
Jeffrey, 25, joins only the second NHL organization of his career, after being part of the Penguins' system since he was drafted by them in 2007. He had one assist in 10 games so far this season.
A center that's also capable of playing left wing, Jeffrey plays a two-way role, but excels more on the offensive side of the puck than the defensive side. He was a standout in junior, scoring 97 points in 56 games in his final OHL season with the Sault Ste. Marie Greyhounds, and didn't lose a step once graduating to the AHL level, scoring 71 points in 77 games for the Wilkes-Barre/Scranton Penguins at only 21 years of age.
Once projected to develop into a solid Top 6 forward, Jeffrey's jump up to the NHL level hasn't been as smooth, with only 28 points in 100 career NHL games. Although, in his defense, he was never given much room to grow, being stuck behind centers Sidney Crosby, Evgeni Malkin, Jordan Staal and Brandon Sutter. A change of scenery was long overdue.
His time in Dallas will probably begin on one of the two bottom lines, but he could move up the lineup depending on the play of those above him. The young Eakin and Chiasson have been solid but have experienced growing pains, while veterans Ray Whitney and Erik Cole have shown their ages this year, so the right opportunities could present themselves for Jeffrey.
Signed only to a $625,000 contract and still a restricted free agent at year's end, claiming Jeffrey comes as a cheap and relatively risk-free move for the Stars. It also makes the possibility of trading a forward, such as the recently rumored Vernon Fiddler, much easier for Nill if he decides to go that route.
The rebuild continues in Dallas, and if Jeffrey can tap back into the impressive potential that was on display during his time in the OHL and the AHL, the Stars may have added another valuable piece to the puzzle.
Derek Neumeier primarily covers the Dallas Stars, but also other various topics related to the sport of hockey. A Journalism graduate of Mount Royal University, Derek also writes for Defending Big D, and has done previous work with the Edmonton Oilers as a communications intern and Hockey Canada as a freelance writer. You can follow him on Twitter at @Derek_N_NHL