The Los Angeles Kings returned to the scene of the crime (kind of) last week when they played their first game in New Jersey against the Devils since they played in the 2012 Stanley Cup Finals. For their star center Anze Kopitar it was an interesting experience as his team made their way to the Prudential Center. "Yeah, it's definitely a little bit of a flashback when you first step into the building," Kopitar told the Hockey Writers following their 2-0 win over the Devils. "But then reality sets in pretty quick and then you have to get ready for a game. It's pretty surreal that the last time we were here we actually lost a game but its still good memories; it was fun."
The Kings in fact did lose to the New Jersey Devils in Game 5 on June 12, 2012 at the Rock (their last game there) but they won games 1 & 2 of the Finals in the Garden State — which immediately gave Los Angeles a commanding edge in the winner-take-all series. Despite their Cup Championship, Kopitar admitted that he and his teammates mostly can still walk around town in anonymity because LA is more obsessed with Kobe Bryant and the Lakers. "I don't know about that," the 26-year-old Slovenian said with a laugh when asked if the Kings are taking over the headlines. "I think the Clippers did that pretty well this year (in stealing some headlines). But we're getting there; LA is becoming a good hockey city. More and more people recognize us around town, so it's pretty cool to see. It doesn't hurt you when a couple of times that fans say hi to you; it's fun."
Anze Kopitar wins Game 1 of the Finals in overtime, propelling the Kings towards the Cup:
As almost every team does, the Kings have had to deal with some injuries to key players this season, but that hasn't slowed them down through their first twenty games (13-6-1) as they remain right in the midst of the race for a playoff spot in the Western Conference. "They are missing a couple of guys but they're still a big, hard team to play against that comes with a lot of speed and (puts) a lot of pressure on you," said Devils goalie Cory Schneider who played against them a lot when he was with the Vancouver Canucks. "They still have guys like Kopitar, Dustin Brown & Justin Williams who play well together and have a lot of creativity; so you can't fall asleep on them."
The list of players currently out of the lineup for the Kings is certainly significant with names like Jonathan Quick, Jeff Carter & Matt Greene on it, but Kopitar thinks the team is rounding into form as the season nears the quarter pole. "Yeah I think so, we'd obviously like to have a little less injuries," he said with a smile, "but I think we're on the right path. There's still another level that we can reach and we are striving towards that."
Highlights from the Kings 2-0 win over the Devils on November 15, 2013:
Ben Scrivens, who has taken over the starting goaltending gig with Quick out for the next month, won the Finals rematch for Los Angeles and is striving to keep the Kings in the race for their division title. "It's really early (in the season) so we're always looking to improve. We're definitely not happy, but it's not to say that we're not pleased when we win games," the 27-year-old goalie said after making 26 saves in the win. "There's always work to be done, we can always get better; it's the never ending pursuit of perfection." In fact neither of the goalies that played in the Finals — Quick and Martin Brodeur — were on the ice for the first rematch since Game 6 in June 2012; Brodeur was the backup and played the following night vs. Pittsburgh.
The Kings and Scrivens had played a night earlier, coming from behind to beat the New York Islanders, while the Devils were off for two days before the rematch. "We played a good game; that's one of the best teams in the league," said New Jersey coach Peter DeBoer. "I think we probably deserved to have one or two (goals) after the first period — when you play a period like that and they manage to get out (of it) 0-0, you know they're going to play better as the game goes on and I think that's what you saw." Translation: It was almost a repeat or replay of Games 1 & 2 of the Finals. Scrivens went on to blank the New York Rangers 1-0 two nights later to complete a three-game sweep of the Metro area teams.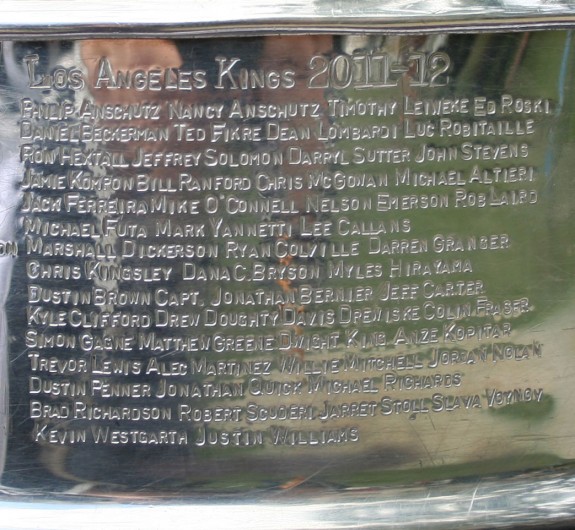 Once you have that championship-pedigree, as the Kings have now with so many players still remaining from the 2012 team, you can never be counted out. Whether it's a game or a series, this core group of players Los Angeles has is always going to be looming as a threat to every team they compete against.
Dan Rice can be reached via Twitter: @DRdiabloTHW or via Email: drdiablo321@yahoo.com
Check out our partners at TiqIQ for the best deals on Los Angeles Kings tickets for all 2013-14 games.
Dan Rice is in his 9th year of reporting for THW & has covered NJ Devils home games for 15+ years at various websites. He began his journey working for legendary broadcaster/writer Stan Fischler from 2002-04 & completed an internship at the ECHL; he also has been writing features for the NWHL (nwhl.zone) website since 2016.