The secret is out. Jamie Benn is the best all around player in the NHL. The Stars captain continues to excel individually while also leading the Stars to an NHL best 19 wins. The Stars 19-5 start is their best in franchise history. Their 38 points are first in the West and trail the Montreal Canadiens by 1 point for first overall in the NHL.
Since being drafted by the Stars in the 5th round (129th overall) in 2007, Benn's career has continued to progress.  He started as a solid top 6 forward, grew to captain, Art Ross trophy winner and now the most complete player in the NHL. His career trajectory has essentially outperformed Apple stock.
Benn is still just 26 years old. He leads by example. He plays with the tenacity of a Mark Messier or Doug Gilmour but in a bigger body (6'2, 210).
Benn continues to develop new tools and skills each season.
Benn leads NHL with 5 goals tipped. Last season he had just 2 goals tipped.
KA-BANG! What a goal! Klingberg with a bullet from the point and a phenomenal tip by Jamie Benn for the PP goal. 2-1 Stars.

— Owen Newkirk (@OwenNewkirk) November 15, 2015
Last season the Stars would often fold when the going got tough, meanwhile this season, Benn is often imposing his will to pull the team out of bad situations. He is also carving out a captain comeback reputation. Benn leads NHL in goals and points when trailing by 3+ goals (3g, 2a).
More Jamie Benn Stats
Leads NHL in goals: 18
Second in NHL points: 35
Leads NHL in PPGs: 8
Tied for 3rd in NHL with PP points: 10
Tied for 1st on the Stars and 3rd in NHL GWGs: 3
Tied for 2nd in NHL SHGs: 2
Leads Stars +11 plus/minus, tied for 3rd in NHL
24.66 shot percentage is 4th among NHL forwards who have played at least 15 games
Leads Stars in hits with 48
Leads Stars in on-ice Corsi differential +67, 16th best overall in NHL in 5×5 play
2nd among NHL LWs in Corsi For Per 60M 66.79
Leads Stars with 46 individual high danger scoring chances and is 5th overall in NHL
Not bad for a guy who had two hip surgeries in 2015 (late April and early May).
Even Jamie Benn Has Areas of Opportunity
You know the drill. Everyone has a weakness, right? Sometimes a good answer to that dreaded question might be "I wear my heart on my sleeve." This might explain Benn's recent string of aggressive penalties. He has a -7 penalty differential (i.e. penalties given vs. penalties drawn).
Or perhaps the proverbial,"I work too much" could explain Benn's other statistically weak areas. Benn leads all Stars forwards in ice time with a 20:20 TOI.
GA60 (On ice goals against per 60 minutes)
Is tied with teammate Vernon Fiddler for a team worst 3.09%
On the plus side, he has an NHL best 5.82% GF60 (on ice goals for per 60 minutes)
Giveaways/Takeaways
Tied with Alex Goligoski with a team worst 19 giveaways during 5×5 play
More giveaways (25) than any other forward in the NHL during all situations
Most takeaways on the Stars with (21), 6th best among NHL forwards all situations
Other Candidates?
Sorry Patrick Kane fans.  Yes, Kane is more flashy and a dynamic stick handler but he can't physically dominate a game like Benn. Jonathan Toews has a lot of the physical presence of Benn but isn't quite as skilled. Ovechkin, Malkin, Crosby? Nah.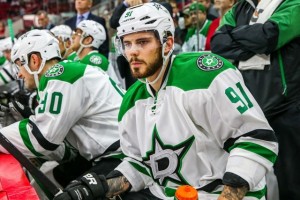 Benn's linemate and side kick Tyler Seguin is also starting to move into the discussion. I think Benn's physicality is rubbing off on him as Seguin has actually dished out hits this season.
If Benn keeps up his current pace maybe Gary Bettman will just move the annual NHL Awards show from Vegas to the Metroplex. I'm sure we could get Jerry Jones to host.