12 days after the NHL season officially began, the Dallas Stars have finally played their first two games. Here's what you need to know about the team's opening series against the Nashville Predators:
Power Play Was Near Perfect
One of the best aspects of the Stars' play from their first two games was their lethal power play. (from 'In a repeat of the season opener, Stars rely on scorching power play in win over Predators,' Dallas Morning News, 01/25/2021) The Stars are 8-for-12 on the power play so far to start this season, which makes them only the third team in NHL history to score eight power-play goals in their first two games.
It seemed that any time the Stars were able to get on the power play, they made Nashville pay. In their season opener, they outscored Nashville 7-0 and five of those seven goals came off the power play.
In their second game, they outscored Nashville 3-2, with all three of their goals coming off the power play. If the Stars can continue with this level of success on their power play, it could prove costly to their opponents.
It is important to keep in mind that while the Stars power play was incredibly dominant through the two games, Nashville's penalty kill isn't very strong. Last season, Nashville's penalty kill was ranked 29th, and going into Sunday's game, it was also ranked 29th.
Related: 2020-21 Central Division Preview and Predictions
So while the Stars power play was great, its production offensively might drop once they face teams who have a stronger penalty kill.
Jamie Benn and Joel Kiviranta Injuries
Both Jamie Benn and Joel Kiviranta missed Sunday's game due to lower-body injuries.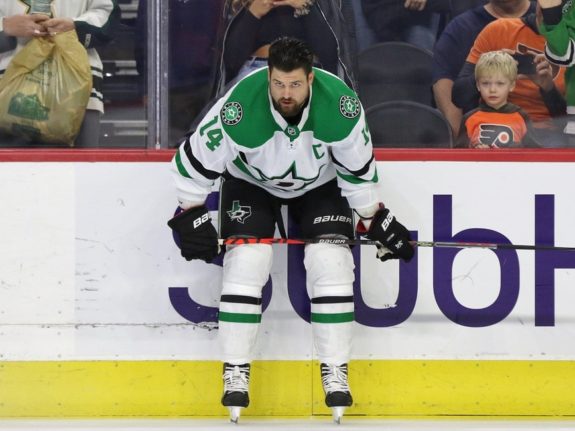 Kiviranta was placed on the injured reserve list for the Stars prior to Sunday's game. While no further updates have been provided on his status, this means he could be out for a minimum of the next two games.
Benn's injury seems less serious as he was listed day-to-day and was a game-time decision on Sunday's game. We could most likely see Benn back on the ice on Tuesday. However, there is a possibility of him being a game-time decision for that game against the Detroit Red Wings.
Penalty Kill Was Strong When Needed
The Stars were called for eight penalties over the two games but killed off seven of them.
The penalty kill was strong when it needed to be and while that is a positive, eight penalties over just two games is not. Against a team like Nashville, Dallas can get away with taking that many penalties.
However, as they face teams with better power plays, they won't be able to get away with that. Teams will start to cash in on those opportunities and it will put the Stars in a tough place.
So while it's great their penalty kill was able to perform so well when they needed it to, the Stars will need to tighten up their discipline in the next few games.
Defense Was Very Strong
The Stars defense was another great aspect of their play through the first two games. They were doing exactly what they do best which is keeping pressure on forwards and limiting plays to the boards.
Defensemen (and forwards) were very engaged in backchecking, battles along the boards, and blocking shots. Miro Heiskanen and Andrej Sekera led the team with five blocked shots each.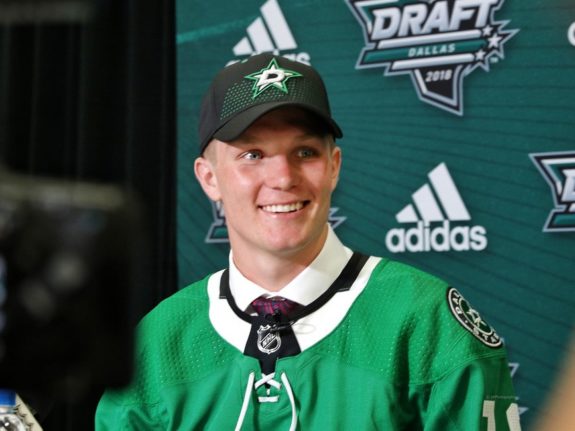 Forwards like rookie Ty Dellandrea have also been blocking shots. (from 'Why the Stars' power play is sizzling early, and how Ty Dellandrea earned Dallas' trust,' Dallas Morning News, 01/25/2021). In Sunday's game, Dellandrea blocked two shots during the power play and had a hard time getting to the bench. After the game, he had some ice around his lower leg where he blocked the shots but said he was fine and just sore.
The Stars were able to keep play in their zone to the boards and engaged in quite a few puck battles where they able to regain possession and start breakout plays through the neutral zone.
Backchecking was also a strong part of the defense. Throughout both games, the Stars were able to eliminate almost every odd-man rush by having a strong backcheck.
Overall Play Was Great
Overall the Stars' play was really great through their first two games. On both ends of the ice, the Stars were dominant. Special teams were definitely the highlight of the two games.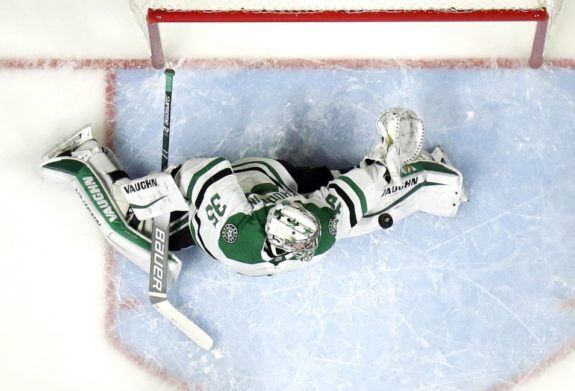 Goaltending was also great through the two games. Anton Khudobin started his season off extremely strong with his 100th career win and a shutout on opening night. He was also great in the second game and made several spectacular saves to help maintain the Stars' lead.
If the Stars can maintain this level of play, they will have a very good chance at being a serious threat in their division and a Stanley Cup contender.
---
---