The Los Angeles Kings faced off against the Dallas Stars on Monday night, a game that Dallas won 6-4. But there was more to the game than just the offensive explosion that led to ten goals scored by two teams struggling to produce offensively. It was also game number 41 of the 2016-17 season for Los Angeles.
The loss to Dallas pushed the Kings to a 20-17-4 record, good enough for 44 points and the final wild card spot in the Western Conference. Now, as Los Angeles prepares for a game against the St. Louis Blues on Thursday night, to officially begin the second half of their season, we have a great sample size to assess the state of the Kings.
Kings Live and Die by Jeff Carter
It's no secret who has been carrying the workload for Los Angeles this season. Jeff Carter leads the Kings with 22 goals and 37 points. He has a history of being an offensive juggernaut and has scored 133 goals for Los Angeles over his time with the team. The problem is Los Angeles is not getting much, if any, production from anyone else. We'll talk about how badly they are starving for offense later. For now, let's focus on Carter and the weight he is carrying.
Carter has found the back of the net in 17 different games for Los Angeles this season. In those games, the Kings have gone 13-1-3, good enough for 29 of a possible 34 points. On the other side, when he doesn't score, Los Angeles is a dismal 7-16-1.
The Kings have tallied 102 goals through 41 games. Carter has scored 21 percent of those goals and has had a hand in 36 percent of their total offensive production. The 32-year-old is on the fast track to his first 30-goal campaign since the 2010-11 season and the NHL is taking notice. It was announced on Tuesday that he will represent Los Angeles in the 2017 NHL All-Star Game later this month.
Carter has been the brightest star for Los Angeles this season.
Starving for Offense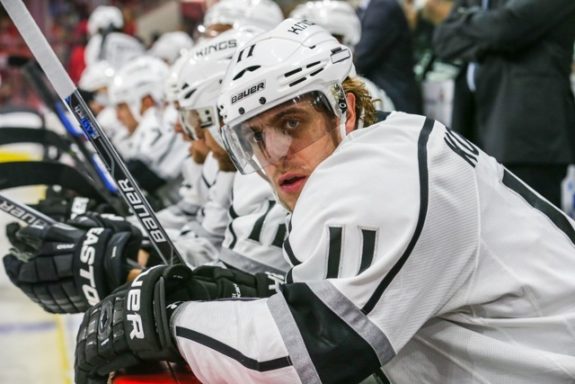 While Carter is having a big year, the rest of the Kings' roster is struggling to put together any kind of consistency when it comes to offensive production.
Outside of Carter, only Tanner Pearson has double-digit goals with 11. Tyler Toffoli sits in third with eight goals and hasn't played a game since Dec. 20. Anze Kopitar has four goals in 36 games. And Marian Gaborik has two goals in 19 games. It's ugly in Los Angeles.
Kopitar, the team's captain, is on pace for the worst season of his career. He found the back of the net in the Kings' last game against the Stars; a goal that ended a 12-game goalless streak and was just his second goal in his last 29 games.
Overall, the Kings' 102 goals scored is better than only two other teams in the Western Conference and seven teams across the NHL.
Somehow, the team has managed to put together a respectable 12-5-4 record in one-goal games this season. But that may be a testament to their defense more than their offensive production.
Saved By The D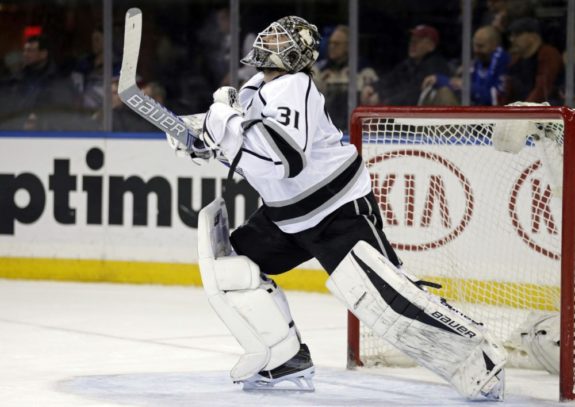 Strong defense and goaltending have been the Kings' bread and butter for quite some time and this season is no different.
Peter Budaj, who has assumed the starting role since Jonathan Quick injured his groin just 20 minutes into the season, has been held strong between the pipes. Among goalies who have started a minimum of 30 games, Budaj has allowed the sixth fewest goals at 48 despite starting more games than all five of the goalies ranked ahead of him.
Overall, the Kings must be happy with what Budaj, who started the season in the American Hockey League, has accomplished through 41 games. He ranks in the NHL's top 10 in wins (18) and goals against average (2.13), top five in shutouts (4) and boasts a .916 save percentage.
In front of Budaj is one of the NHL's top defensive groups. Anchored by Norris Trophy winner Drew Doughty, who is averaging 27:13 of ice time a night, Los Angeles is still a defensive force. The team allows the fewest shots per game with a 25.8 average and sports a top-ten penalty kill with a kill rate of 83.6 percent.
The Kings Are Where They Need to Be
It has been an up and down season for the Kings. They have experienced several elongated winning and losing streaks, along with injuries to Gaborik, Quick, Kopitar and Toffoli and have struggled to score goals, but they have to be happy where they stand at the midway point of the 2016-17 season.
If the season ended as they skated off the ice against the Stars, Los Angeles would have qualified for the postseason, which is all any team wants. Sure, the path has been a bit bumpy, but after 41 games they were in the final playoff spot in the Western Conference.
That said, the Kings still need to improve as they trek through the remainder of the 2016-17 season. If they wish to stay, or even move up in the playoff picture, they will need to score more goals, get continued strong play from their goal crease and defense and hope Carter continues to carry the team when they can't score.  It's not a tall
It's not a tall order if you think about it. Somebody on the roster has to find their scoring touch, right? Quick will eventually return and spark a late-season push for the playoffs if need be and Carter will continue his offensive wizardry through the rest of the season. Well, maybe it's not all that simple.
Eric received his BA in Journalism from California State University, Northridge. Eric has contributed to RinkRoyalty.com, Buffalowdown.com and California Rubber Magazine.