Although New York Islanders captain John Tavares was named to the All-Star team earlier this week, the fourth of his career, his play this season has been anything but worthy of celebration. Mired in inconsistency through the team's first 38 games, Tavares is one of the few players directly responsible for the team's mediocre, uninspired play. And while the captain is the only player with the potential to turn his season around and get the Islanders back in the playoff picture, his performance is a clear indication that this may not happen.
Worst Offensive Numbers of Career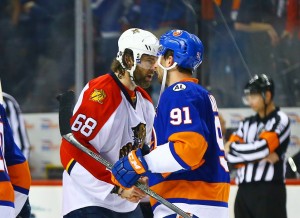 With just 27 points in 38 games this season, Tavares, if he stays cold, is on track for the worst statistical season of his career. On pace for roughly 230 shots on goal, Tavares is not shooting the puck as much as he should be. With a lack of pure goal-scorers on the team, he must revert back to the player he was during the shortened 2012-13 season.
That version of Tavares potted 28 goals on 162 shots. While he had players like Matt Moulson, Kyle Okposo and Brad Boyes on his flanks, he was the guy that was doing most of the heavy-lifting. In order to save the season, he cannot "make" Anders Lee or Josh Bailey. He has to be the guy.
No Support
While Lee and Bailey are on their way to career years on Tavares' wing, success hasn't helped their center. Yet, playing with Andrew Ladd, Anthony Beauvillier and a host of other players and hasn't helped either. As a result, the Isles have been a microcosm of Tavares' struggles. In their 15 wins, Tavares has 15 points. With 498 points in 548 career games, Tavares is a near-point-a-game player and when the Islanders win this season, that's exactly what he is.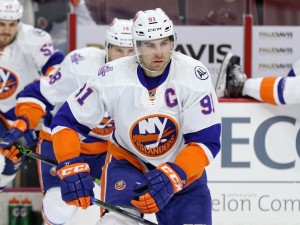 However, in losses, Tavares has just 12 points in the 21 games. Where is the player that used to be able to single-handedly drive the Islanders to a win? While Bailey and even Brock Nelson are just a few points away from leading the team in scoring, their successes, if anything, prove that Tavares has not been the same player.
At the same time, you can argue that he has never had a top line player by his side. Why should this season be different? Kyle Okposo was routinely paired with Frans Nielsen during his time on the Island and Tavares helped players like Matt Moulson, Boyes and even PA Parenteau become much better. Regardless, considering his struggles in 2016-17, it may be time to give him a player of with more skill to snap him out of this funk.
Can Tavares Turn it Around?
Even in an "off" 70-point season last year, Tavares was still a weapon. He was still a player that could break out at any moment. That has not been the case this year. He is not an All-Star. He is simply the best player on a mediocre team. Whether he breaks out of this skid or not will have direct consequences on the Islanders' playoff chances. Even with the strength of Thomas Greiss in net, the Islanders need offense and Tavares is the only one that can provide it.
Over the past ten years as a working journalist, Patrick Hickey Jr. has covered the New York Islanders, New York Rangers and New Jersey Devils, as well as the Brooklyn Aces of the former EPHL, contributing pieces and/or holding Editorial positions at NBC, New York Sports Day, NY Sportscene Magazine and the New York Times. During that time, he has interviewed NHL stars the likes of Brendan Shanahan, Bernie Nicholls, Bob Probert, Martin Brodeur and Zach Parise. He is also the first winner of the New York Islanders Blog of the Year Award, for his work on TheDriveForFive.com in 2008.