The Nashville Predators have activated defenseman P.K. Subban from injured reserve and he's expected to be in the lineup against the Edmonton Oilers on Friday.
Subban has missed the past 16 games with an upper-body injury and will join a Predators team that's won four of their past five contests behind the strong goaltending tandem of Pekka Rinne and Juuse Saros.
"It's not easy being a player and knowing you have to come out of the lineup for an extended period of time," Subban said on Thursday at the team hotel, according to Thomas Willis of NHL.com. "Every day that went by, I was just itching at the opportunity to get back in there. I'm happy to be able to do that tonight."
The 27-year-old defenseman has tallied seven goals and 10 assists in the first 29 games of the season — his first in Music City since arriving there in a blockbuster trade that sent longtime Predators captain Shea Weber to the Montreal Canadiens this offseason.
Subban's return will add immediate aid to the Predators' blue line which has been without Roman Josi since he received a high hit from Boston Bruins forward Anton Blidh in Nashville's 2-1 victory on Jan. 12. He was placed on IR with an upper-body injury the next day.
Leafs' Marincin: 'I'm ready to play'
Toronto Maple Leafs defenseman Martin Marincin said that he's ready to play, according to Sportsnet's Chris Johnston on Friday.
Martin Marincin appears set to draw back in the #leafs lineup, which would send Frankie Corrado back to the press box.

— Chris Johnston (@reporterchris) January 20, 2017
Marincin, 24, has been out of the lineup with a lower-body injury since Dec. 10 and a decision about his availability will be made after Saturday's morning skate ahead of the team's matchup with the Ottawa Senators, according to The Toronto Sun's Terry Koshan.
"Marty has a chance to be a really good player," Babcock said, according to Koshan. "He has to earn the right to feel confident, and play like he can. Great stick, great skater.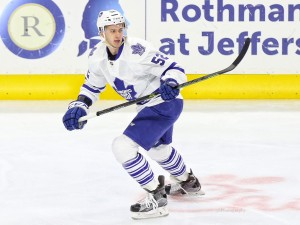 "The ball is in his court. We will decide tomorrow. We will see who is healthy, who is not, and make our decisions at that time."'
Marincin has missed the past 17 games and was paired with Nikita Zaitsev during the team's practice on Friday. Morgan Rielly is usually Zaitsev's defense partner but is expected to miss his second straight game with a right leg injury — one he suffered after an awkward fall during the team's 4-3 win over the Buffalo Sabres on Tuesday.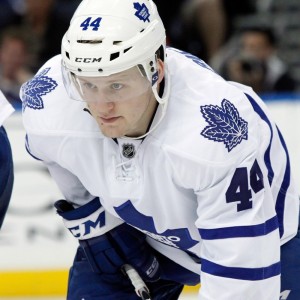 It is unknown at this time when Rielly, a durable defenseman throughout his NHL career, will return to the team's lineup.
"He told me he was doing fine, he was hoping to be better than he was today, but he is doing fine," Babcock said, according to Koshan. "I don't know what that means. Does that mean day to day? Does that mean 10 days? Day to day is normally 10 days, so is it longer than that? I don't know."
The Maple Leafs have won five of their eight contests in 2017 and on Saturday will look to bounce back from a one-sided 5-2 loss to the New York Rangers in their last outing on Thursday.
MacArthur Out for Season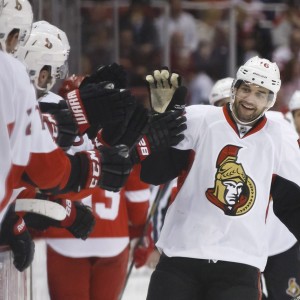 Clarke MacArthur will not play hockey this season, Ottawa Senators general manager Pierre Dorion announced on Friday.
MacArthur, 31, has been battling post-concussion symptoms for nearly two years and has been out of the team's lineup since he was injured in a team scrimmage during training camp. He returned to full contact practices in December and seemed to be nearing a return to the Senators.
"Clarke is devastated by this news," Dorion said on Friday, according to Craig Medaglia. "He felt he didn't have any symptoms but I think in the long-term of this process we always said that the doctors would decide if Clarke was going to play."
"They all feel that Clarke should not play this year."
Odds and Ends
— The Toronto Maple Leafs have claimed forward Seth Griffith off of waivers from the Florida Panthers, according to Sportsnet's Chris Johnston.
The #leafs are sending Seth Griffith straight to the AHL Marlies.

— Chris Johnston (@reporterchris) January 20, 2017
— The Boston Bruins will welcome back forward Matt Beleskey to the lineup against the Chicago Blackhawks on Friday. He's been out of the lineup for the past six weeks with a knee injury.
Claude Julien on Matt Beleskey returning from injury: "We'll give him a shot tonight."

— Boston Bruins (@NHLBruins) January 20, 2017
— The San Diego Gulls have added Baltimore Orioles outfielder Adam Jones to the team's staff as an off-ice official and penalty box attendant, the Gulls announced on Friday. It's a unique offseason gig for the five-time all-star Major League Baseball player but one he's looking forward to starting when the Gulls take on the San Jose Barracuda on Friday.
"It's exciting to add a 5-time @MLB All-Star to our staff & we know he will bring a hard-working & winning mentality to our hockey club"- MS pic.twitter.com/Fyb5Nrq72a

— San Diego Gulls (@SDGullsAHL) January 20, 2017
Steven is a lawyer and writer with a passion for the game of hockey. He's the Lead Writer covering the Tampa Bay Lightning with THW. He's also been press credentialed through the Lightning since 2016. His work has been published at The Fourth Period, LightningInsider.com, Bolt Prospects, The Sports Daily Network, U.S. College Hockey Online and College Hockey News. He's had radio appearances on TSN 690 in Montreal, Lightning Power Play Live and multiple podcasts to give insight and analysis on the team. He can be reached on Twitter @StevenDiOssi and by email at sdiossi@gmail.com.