Every team in the NHL is now in the second half of their schedule. This means it's time for some early playoff predictions. With a large sample size of each team, we can separate the contenders from pretenders in the playoff push. The Ottawa Senators have proved they are a contender, and here's why:
Coaching Staff
Last season the Ottawa Senators finished with a 38-35-9 record, eight points out of the playoffs. When the season ended, general manager Brian Murray took a step back from his duties to focus on his battle with cancer, staying on in an advisory role. Pierre Dorion, the team's assistant GM since 2014, was promoted to general manager.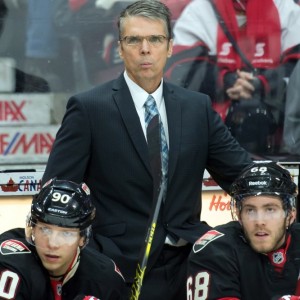 Two days after being named GM, Dorion dismissed Dave Cameron. Outside of the miraculous run to make the playoffs in 2015, the Senators were a .500 team under Coach Cameron. He was unable to clean up the defensive mess that got his predecessor, Paul MacLean, fired.
Out With the Old, in With the New
Dorion waited about a month before signing new head coach Guy Boucher. After interviewing Bruce Boudreau and Mike Yeo, Dorion hired Boucher, who's first coaching stint was with the Tampa Bay Lightning in 2010-11. He led the Lightning to the Eastern Conference Finals, losing in Game 7 to the Stanley Cup winning Boston Bruins. He was fired in his third season after a 13-18-1 start, and moved to coach in Switzerland.
After his hiring, Boucher brought in Marc Crawford, an NHL coaching veteran, to be his associate coach. Boucher and Crawford had spent the previous season coaching against each other in the top Swiss league, National League A.
Crawford, who has coached over 1000 NHL games, has a Jack Adams Award for coach of the year (1995) and a Stanley Cup (1996). He brought plenty of experience and a successful career to compliment the younger Boucher.
Finding Defensive Structure
By comparing the 2015-16 Ottawa Senators to this year, it's clear that Boucher and his staff have put an emphasis on defense.
Comparing Last Year to Now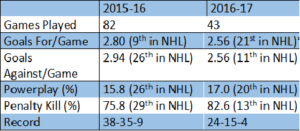 The graph shows a clear improvement in defensive play. From last year to this, they have improved on their goals against, power play, penalty kill and their overall record. The Senators' special teams have especially benefited, and their success killing penalties is a good reason their GA/G has gone from 26th to 11th.
John Rodenburg, long time radio host for the Senators on TSN1200 put it best after the Sens' 2-0 win over the Columbus Blue Jackets on Jan 19:
"This system that Guy Boucher has put in place, it's so night and day from where the Sens were last year and have been for several seasons now. (The Sens were) just a complete and utter gong show on the ice, looking at times like a peewee team. And now they are a team in which you watch them play and you go 'They got this.'"
Guy Boucher has the surprising #Sens believing in the defensive shift. https://t.co/EXsApL8mmj @reporterchris pic.twitter.com/W2Lo5HaUzg

— Sportsnet (@Sportsnet) January 13, 2017
New Found Faith
The 'They got this' feeling has been missing since the Senators of the 2000s. Boucher and his staff have the team playing as a unit on both sides of the puck. The Senators have played a consistent game all season, and have stayed in the playoff mix. They're holding on to second in the Atlantic Division, tied with the Bruins in points but have five games in hand.
At this rate, catching the Montreal Canadiens for first in the Atlantic is possible. The Canadiens have been reeling lately, and the Senators are only eight points back with three games in hand.