Oklahoma City Barons Update
Fifteen games into the new AHL campaign, the Barons are first place in the Western Conference. Much of that can be accredited to the strong play of a few veterans that were brought in over the off-season in Josh Green (5 goals, 7 assists), Ryan Keller (3 goals, 7 assists) and Yann Danis(7 wins, .938 Sv%).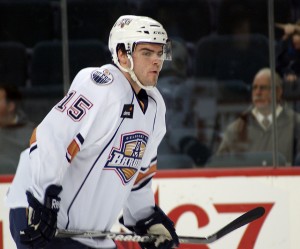 The youth is playing well too, Phillipe Cornet is tied for 2nd in AHL goal scoring with 10. The 5th round pick by the Oilers in 2008 is building upon as 23 point rookie campaign. A point-per-game player in juniors, Phillipe could do the same for the Barons.
Teemu Hartikainen has played solid and is making a case to be one of the first call-ups collecting 8 points in his first 14 games.Teemu was thought to be one of the favourites out of training camp to get a spot on the roster after a favourable 2010/11 stint with the Oilers – but due to the depth the Oilers added at forward in the off-season, it simply became a numbers game and Teemu was the odd man out.
Linus Omark has fit in well with 6 points in 6 games, who was recently sent down by the Edmonton Oilers. You'd have to think he'll get another shot in the NHL soon, if not in Edmonton – than elsewhere. Taylor Chorney was claimed off waivers from the St. Louis Blues – he makes his return to the OKC line-up. Colten Teubert got into two Oilers games up in the big leagues, before getting sent back down again to Oklahoma.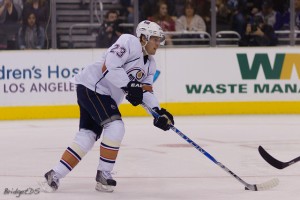 Another reason for Oklahoma's success, besides their veterans playing well – is depth. The Barons possess depth at virtually every position, and are rolling all four lines. That depth is consisted of rookies, veterans, and everything in between. Two rookies at forward, Tyler Pitlick (4 points in 13 games) and Curtis Hamilton (3 points in 9 games) are adjusting to the pro game, and haven't disappointed.
Goaltending has been excellent, the Barons have two AHL veterans in Yann Danis (as mentioned before) and David LeNeveu (3 wins .917 SV%) who's posted respectable numbers for a back-up. Bryan Helmer, Alex Plante, Kevin Montgomery, along with Colten Teubert have provided the Barons with a strong core on the back-end and have shown that by allowing the third least amount of goals from the opposition in the entire league.
It's been a total team effort for the boys down in Oklahoma City, look for them to continue their strong play and challenge for one the top spots in the conference along with some AHL playoff glory.