A Guest Post by Brian Kennedy, look for his book – My Country Is Hockey – coming out next week
The Ducks often start a season badly.  Last year, they had dug such a hole that by Christmas time, it looked doubtful that they would make the playoffs. Then Corey Perry caught fire, pouring in goals in bunches on the way to the Rocket Richard trophy, and the team rode him to the post-season.
Over the summer, not much changed, thanks to Teemu Selanne deciding to give it one more go (or at least one more), and most of the rest of the lineup staying intact. Then when Jonas Hiller declared himself ready to go, his vertigo apparently in abeyance, the team could look forward to another year of quick, long passes by the speedy forwards and magnificent goaltending from the Swiss netminder.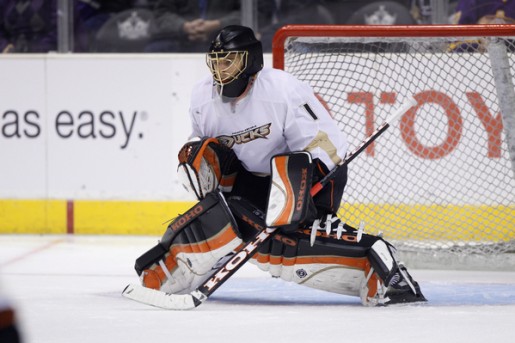 So things were more or less status quo as the season began. The top two lines, Perry-Getzlaf-Ryan, and Blake-Koivu-Selanne, looked to make their usual marks.  Then the second line lost Jason Blake to a skate cut taken on the forearm.
His injury made for a big gap in the offense, and filling that right now is Andrew Cogliano.  That name probably sounds familiar to those who follow the Oilers, because he was drafted by the team in the first round in 2005.  He was traded to Anaheim in mid-July for a second-round pick in the 2013 draft. His career in Alberta spanned 328 games and 146 points.
He has now played 345 straight games, fifth in the league amongst active players.  In other words, he's never missed a game in his NHL career, posting 82 per year for his four years with the Oilers after having played two seasons at the University of Michigan.
Early in the season, Cogliano did third-line duty for Anaheim, with his minutes steadily climbing from a low of eight and an average of about twelve to a high of nineteen on November 1st versus the Capitals.  He now is getting a minimum of about 15 a night, and his place is on the second line, along with Selanne and Koivu.
Cogliano, to my eyes at least, is doing an admirable job on the second line. He has speed and passing ability, two things that he'd have to if he wanted to keep up with Selanne. His production this year so far over 16 games is just two goals and two assists, but that's going to change now that he has been promoted.
Sunday night against the Minnesota Wild, he was flying. Witness the start of the third period: he came into the zone with the puck, wheeled to the front of the net, and fired off a low wrister.  Goalie Niklas Backstrom made the save with his leg, but the puck clanked off the pipe on the way by.  Think about that—a shot so hard that it went off the goalie's pad, then still hit the post with enough force to make a noise that could be heard in the press box.
In the summer, the Ducks got one new D-man, Kurtis Foster, in a trade with Edmonton that shipped Andy Sutton up north. Foster is nearly 30, drafted by Calgary in 2000 40th overall. He has played 335 games to date, with 142 points. Not bad for a defenseman. His tenure with the Ducks has involved a lot of sitting around thus far.  He began the season injured and then played a game October 23rd, then sat one, played one, then sat four more.
He's back in the lineup now, but that's not a good thing, necessarily, because what gave room for him is an injury to Lubomir Visnovsky.  He broke a finger Friday against Vancouver and is expected to be out for four weeks.
So to sum up to this point—the Ducks have lost perhaps their best defenseman, who left with just one goal and three assists—and one of their top-six forwards, whose absence has been a job to fill ever since he went out, which was after game three.
Moving to the bottom six forwards, right now, the lineup is a little different from what it has been for several years due to the absence of George Parros.  He went down after taking a puck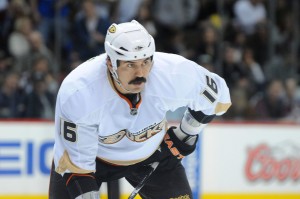 in the eye a week or so ago, and he had surgery for a retinal injury last Friday. The retina, according to Parros, was not detached, and he'll likely be back in a few weeks. The Ducks have been known since their Stanley Cup year and before as a roughhouse team. They fight—even their first liners.  Compare that to the cross-town Kings.  Dustin Brown. Kopitar. No fisticuffs. (Not so with new acquisition Richards, who is slowly taking over the show up there.) But these Ducks, minus Parros, aren't the ruffians they were.
They are a more sedate team, with a couple of other new, young faces in the lineup rounding out their third and fourth lines.  Leading amongst those is Devante Smith-Pelly, the team's second-round pick in the draft last year. He is 214 pounds, but it's all in the chest.  He's big, in other words, and at just over 19, likely to grow up even more.  His season has seen him get about eleven minutes a game, with a high of about 14, and he has produced a goal and an assist.  At the moment, he is working with Peter Holland and Brandon MacMillan on line four.
Who's Holland?  The Ducks' 2009 first-round pick.  He has just come out of the OHL (Guelph), and thus far has played four NHL games with a goal.  He has also been in nine AHL games with Syracuse, the Ducks' affiliate, and has scored twice and added three assists.  That could explain why he finds himself getting a serious look with the big club.  His single NHL goal, by the way, ended up winning the game against the Canucks on Friday night.
What hasn't been talked about? The team's third line.  That would be Andrew Gordon, Maxime Macenauer, and Matt Beleskey. Only the latter is familiar.  He played in two Ducks' games in 2008-09, and has split the past two seasons between the AHL and NHL.  His NHL totals include 111 games and 28 points, divided evenly between goals and assists.
Macenauer came from a year in the ECHL and one in the AHL after having played for three different teams in the Quebec Junior league.  He was drafted by the Ducks in the third round in 2007, so it's taken him a while to find a place.  His 17-game NHL career features a goal and an assist.
Is this picture coming clear? Of the new faces in the Ducks' regular lineup, three are the team's own recent draftees.
The other newcomer, Gordon, is a 2004 Washington draftee who has bounced between the ECHL, the AHL, and the big league.  He has played in just 17 NHL games, and came to Anaheim as a free agent signed on July 2nd.
So with all of this fresh talent, how's the team doing? Not well.  They recently had a six-game losing streak.  They snapped it Friday, but let Vancouver come from 4-0 behind to 4-3 and barely hung on, snapping off just two shots in period three.
Against the Wild Sunday night, the Ducks played a puck-moving game, but they had a slow start.  The Minnesota team, fresh from a loss that their coach labelled "embarrassing" Saturday night in LA, created turnover after turnover on the way to getting a 3-0 lead. Mike Yeo was decidedly more cheerful after the game than he had been the evening before, laughing when he saw that the TV crew had already taken down the banner normally used as a backdrop when he speaks.
Then he got down to business: "It's not going to be perfect all the time, but I was impressed, very impressed," he began.  "I saw an awful lot of pride tonight, on the ice.  The character and leadership, right down the line.  Blocking shots, winning battles." And he cited the team's first goal as an instance of that mentality.
Down 3-0, Anaheim changed its goalie as the second period started and got a goal back in the period, then essentially took over the game with about five minutes left in the middle frame.  They continued to dominate as the third went on, crawling back from a shots disadvantag which had been 15-7 after period one and 23-20 after two.  By ten minutes left in the third, they were up 26-25, and they kept increasing it.  At the end, it was 34-26 in their favor.
Unfortunately, nothing was going in.  Selanne hit a post in the second period.  He looked to have scored one later in the period, except that it was stuck under goalie Backstrom and waved off immediately by the referee.  No replay showed clearly where the puck was.
The third period saw the team's fourth line playing a good few shifts, including one where they recovered a puck behind the Wild net and got it to the point for a shot through a crowd, but Backstrom stopped it while in a butterfly, knees pressed tight together.
The Ducks kept up the pressure, saving their timeout out for late in the game, and scored just after it was taken at 52.5 seconds.
The goal came off of a weak clear by Minnesota that was wristed back toward the net by Cam Fowler, going in with 48.5 left.  The team had had so many near misses by that point that it was just hockey-god karma (to mix a couple of religious metaphors) that let one finally get by the Wild netminder.
Examples of the Ducks' bad luck: the puck had bounced off the side of the net after Francois Beauchemin had pinched all the way down to the left side of the net with about five minutes to go.  With a couple of minutes left, Getzlaf took a shot that Selanne deflected under the goalie's leg and wide.  These were just a couple of the near misses.
They lost 3-2, and afterwards, nobody seemed happy, despite the fact that, bad bounces aside, they might as well have won 4-3, or 6-3, for that matter.  Captain Ryan Getzlaf was asked about the team's, and his line's, inability to score.  "It's a frustrating thing.  We're not getting prepared for the game, and we're not getting up for the game," he said.  "We need to be ready to play and excited to play at the start of the hockey game." Notice that his answer didn't exactly address the question.  The reason for that became clear a few minutes later, when Carlyle preached the same message.
Getzlaf said further that it was up to the players to figure out how to get a better start.  "It's not our coach's job. His job is to prepare us for the game and to make sure we have the tools, and he's going that.  They're doing a great job.  That's not the problem.  The problem's within here. . . .  We need to get that excitement back in the locker room."
These comments had been preceded by a curious scene.  The reporters were let into the room, which was mostly empty.  Getzlaf and Corey Perry sat alone, side by side, where they normally are.  But they just stared into space.  When someone approached, Getzlaf politely said, "Give us a few minutes, guys."  It was hard to imagine they would be able to gather any strength from sitting there while all of us press hacks stared at them doing it.  Shortly after, Getzlaf left, Perry left, we interviewed a couple of others, and Getzlaf returned to talk to the group.
Coach Carlyle didn't have any more, or different, answers as to why the team has not played sixty minutes of late.  He described his emotions as having been angry, receding by the time the media talked to him maybe fifteen minutes after the game.
"Right now, we're finding ways to be one goal short in the hockey game." He talked about the events of the evening, but also Friday night, when the opposite had happened and the team had started out 4-0 but let the Canucks back to within one goal by the end.
So what do they do?  For one thing, perhaps work on switching up the lineup.  Aside from the plethora of youngsters mentioned here, there are a couple of others waiting around for another chance, namely Dan Sexton and Nick Bonino.  Sexton has more points (14) than games played (13) in Syracuse this year.  He has 88 NHL games under his belt, with 32 points.  Bonino is up with the big club, but has not dressed since missing two games to injury.  He has been scratched for three games now.  Then again, in 36 NHL games, he has just two points, so maybe he's not the answer either.
One idea being floated is to trade someone.  "It's a GM thing now," one Ducks' insider said to me after the game.  "They've got to make something happen, and Carlyle has said all he can."  Who could go?  Maybe Saku Koivu, who has just two goals thus far?
The team has to figure something out soon, and Carlyle says that he doesn't use the "bag skate" technique to punish underperforming teams.  Instead, he'll prepare them better.
He's got three days, then the Ducks play LA back to back in what could be a make-or-break series.
Note:
Brian Kennedy's new book, My Country Is Hockey, comes out next week.  Watch for more information soon, or go to www.growinguphockey.com to learn about Brian's work.