Heading into this past summer's 2011 free agent frenzy, most of the anticipation and speculation from fans and media alike was focused on the big-name, big-money catches like Brad Richards, Simon Gagne, Erik Cole and Tomas Kaberle.
However, dozens of other NHLers found new homes this summer without as much fanfare and monetary value, some of whom are having huge positive impacts on their teams thus far.
Here's a quick rundown of the five best 2011 free agent steals, as well as their new teams and salaries.
5) Kyle Wellwood: Winnipeg Jets, $700,000 
It looked like it was nearly the end for Kyle Wellwood's NHL career. September rolled around and most of the summer's free agent crop had already been harvested, but Wellwood, 28, was still without a team. It wasn't until September 8 that the Winnipeg Jets rolled the dice and signed him to a one, $700,000 contract.
Knowing it might be his last chance to prove himself at the NHL level, Wellwood has been making the most of his opportunity. His 10 points in 17 games aren't earth-shattering, but it ties him for second in team scoring on the offensively-challenged Jets.
4) Corey Potter: Edmonton Oilers, $525,000 
After five years of serving his time in the minors, defenceman Corey Potter, 27, is taking full advantage of his first full NHL season.
Potter surprised many by making the Oilers out of training camp, and has been arguably Edmonton's best defender so far this season. After 15 games played he leads all Oilers blueliners in points with 8 and is 4th on the team in ice time per game at 20:34, but where Potter really shines is the powerplay. With 6 points on the team's top PP unit, Potter is a major reason why the Oilers' man advantage is currently ranked 12th in the league, up from finishing 27th overall last season.
3) Brian Elliott: St. Louis Blues, $600,000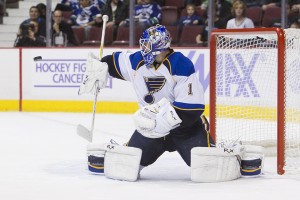 Following two split years of being the #1 goalie for the defensively-challenged Ottawa Senators and Colorado Avalanche, goaltender Brian Elliott, 26, signed a modest one-year, $600,000 contract to be the backup to Jaroslav Halak for the St. Louis Blues.
However, Elliott is on the verge of becoming a #1 goalie yet again, strongly outplaying the struggling Halak. Elliott is 6-1 on the season, with a sparkling 1.49 G.A.A. and .946 save percentage.
2) Sheldon Souray: Dallas Stars, $1,650,000
After his much-publicized fallout with the Edmonton Oilers, and subsequent demotion to the AHL, practically no one believed that Souray would ever return to his three-time All-Star form.
No one, that is, except for Souray himself.
Playing like a man possessed, Souray has been proving all his naysayers wrong ever since Dallas gambled, and won, on the 35 year old blueliner. His 13 points in 16 games rank him 6th out of all NHL defenceman, and his +9 rating ties him for 9th in the league. He's also been Dallas' best defenceman so far this season, and is a large reason why the team is currently 2nd in the Western Conference.
And did I mention that he's on the ballot for the 2011 All-Star game?
1) Tomas Vokoun: Washington Capitals, $1,500,000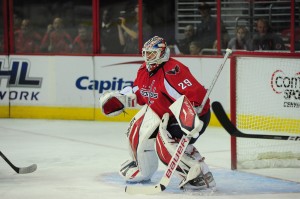 While the Philadelphia Flyers thought they won the free agent goalie sweepstakes by signing the biggest prize, Ilya Bryzgalov, to a massive nine-year, $51 million contract, the Washington Capitals must have been laughing all the way to the bank when they signed Tomas Vokoun, 35,  to a paltry one-year, $1,500,000 deal.
Vokoun, a two-time All-Star, has been an established #1 goalie for nearly a decade, but has yet to find post-season success due to playing for underwhelming Nashville Predator and Florida Panther teams. The Caps have been a steady Cup favourite for the past few seasons, but have always had question marks in net. With Vokoun, who took a significant pay cut to fit under the salary cap of a contender, the Caps believe they've finally added the last piece to the puzzle.
Vokoun is currently 8-2 with a strong 2.39 G.A.A. and .921 save percentage, and is acting as a mentor to the Caps' young, fellow Czech backup, Michal Neuvirth.
Derek Neumeier primarily covers the Dallas Stars, but also other various topics related to the sport of hockey. A Journalism graduate of Mount Royal University, Derek also writes for Defending Big D, and has done previous work with the Edmonton Oilers as a communications intern and Hockey Canada as a freelance writer. You can follow him on Twitter at @Derek_N_NHL