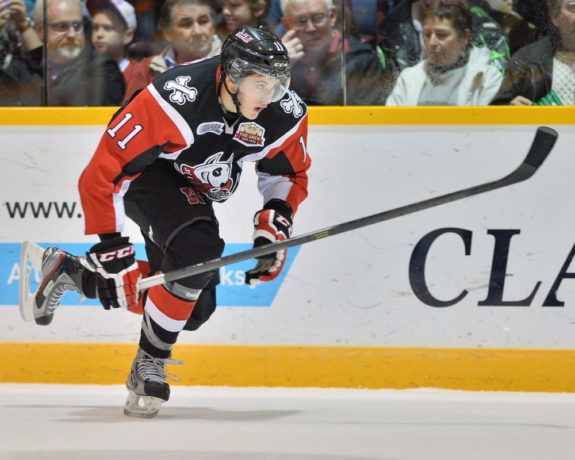 The Arizona Coyotes rookies defeated the Los Angeles Kings rookies 4-1 in a pre-season contest on Tuesday evening. It was the first opportunity for fans to see many of the young faces. Aside from beating the rival Kings, there were several encouraging aspects of this game.
First of all, there are several high-caliber offensive players in the Coyotes' rookie pipeline. Brendan Perlini took advantage of a defensive miscue by scoring on a wicked snipe. While an NHL-level defense might not turnover the puck as readily as the Kings' rookies, it is still encouraging to see the young forward display such a lethal shot. Video of the goal can be seen during Perlini's interview on the Coyotes website. Henrik Sammuelson showcased his ability to dominate in front of the net by putting home a backhand shot to open up the scoring. The Coyotes also posted video of this goal in an interview on their website. While the main knock on him has always been speed and agility, he looked very comfortable with the pace of the game. Tobias Rieder also made his presence known by scoring the third goal of the game on a wrist shot. Rieder was acquired from the Edmonton Oilers in exchange for bruiser Kale Kessey. Depending on Rieder's transition to the NHL, it might prove to be one of the sneakiest and most one-sided trades in recent Coyotes history.
Another interesting aspect of this game was the almost overnight transition within the Coyotes prospect pool from defensemen to forwards. As recently as last season, the Coyotes had more high-talent defensemen in their pipeline than they knew what to do with, while also having a very worrisome lack of depth at forward behind Max Domi and Henrik Sammuelson. Players like Brandon Gormley, Connor Murphy, and David Rundblad have either graduated to the NHL level or moved on from the team. Now that they have moved on, the cupboard has been restocked with emerging forwards like Tyler Gaudet, Brendon Perlini, Greg Carey, and Laurent Dauphin (none of whom were very high on last season's radar). While the Coyotes have traditionally been known as a low-scoring team, it looks as if that reputation might begin to evolve over the next few seasons.
The goaltending situation also looked very promising. Marek Langhammer contributed two impressive periods of netminding. While most believe that Mark Visentin will be the Coyotes "goalie of the future", Langhammer will certainly challenge his spot in the coming years.
All told, there are many reasons for Coyotes fans to be excited about the future. The prospect pool has depth and talent in all of the right areas, with emerging players who could potentially make the opening day roster this season.