It's almost that time. Jerseys are pressed and hung in lockers with care, for the Tampa Bay Lightning will soon be there. Rookies eyes are dancing here and there. A debut awaits them, with a team looking to start out on a tear.
Ok, enough with the rhymes. The Lightning are seriously ready to put May's disappointment in the past and start fresh. Many pundits have them winning the Eastern Conference once again, before falling in the Stanley Cup finals. Let's hope those people are partially wrong.
There is no denying the Lightning have what it takes to win it all. A young but experienced team, one that's seen more playoff hockey in the past five years than anyone not named the Chicago Blackhawks or Pittsburgh Penguins. A team with a good mix of youthful talent and veterans. They even boast four of the league's top 50 players, two of which find themselves in the top 10.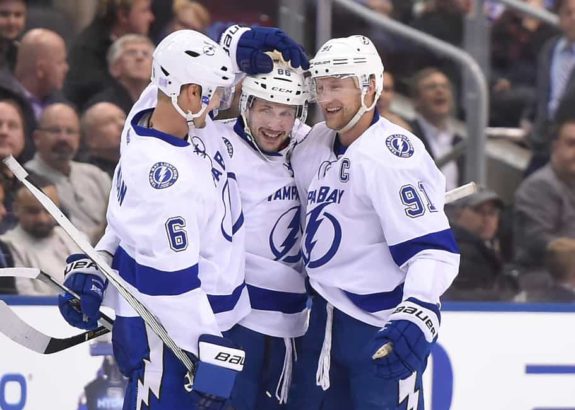 Nobody can say this Lightning team isn't talented enough to win the Stanley Cup. It's even hard to argue that they're a failure, as they made it to Game 7 of the Eastern Conference final or further in four of the past eight seasons. For those into math, that's exactly 50 percent. If you throw out the years between 2011 and 2015, they've played into late May or June three of the last four years. That's incredible when you take into account the wear and tear of an 82 game regular season, plus the grind that comes with playing intense playoff games for a month, possibly two.
Even though the Lightning can't be considered a failure yet, they are a disappointment in the mere fact they've fallen short so many times. One shortcoming is alright and two can be understood, but three, that's a pattern nobody wants to see. The more times a team falls agonizingly short results in one less year of them being a legitimate Cup contender.
That's where the Lightning find themselves now. A core that's been together for awhile faces tough decisions following this year. Will steady defenseman Anton Stralman find himself retiring or at least switching zip codes? Does Brayden Point get the contract he deserves? Is Tyler Johnson or Braydon Coburn traded to free up salary cap room? Goaltender Andrei Vasilevskiy also needs a new contract, so there's plenty to decide moving forward.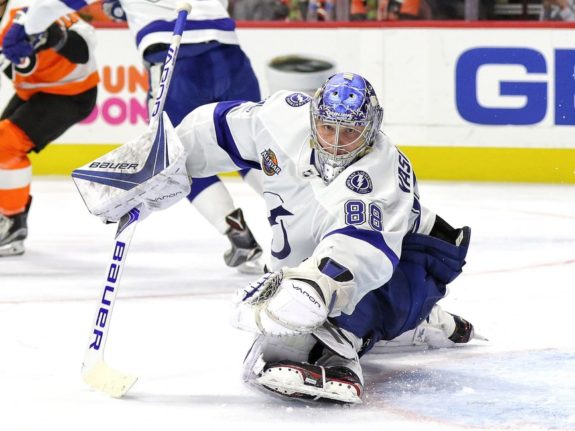 Currently, the Lightning holds all of the cards. They have what it takes to win and win now. The only things standing in their way are injuries and complacency. Level-headedness will go a long way early, as will the intensity of a team motivated to return to the glory days of 2004.
For that to happen, the team must perform well in all aspects. Everyone has to contribute, from stars to role players. Passengers will be escorted out of town, or at least to the press box. There are plenty of kids hungry for an opportunity to make their mark. Here are three keys to a successful season, one fans and players alike hope ends in a parade through downtown Tampa.
Cedric Paquette Must Regain Form
After two subpar years at best, the Lightning need a better performance out of fourth-line center Cedric Paquette.
Counted on to grind out shifts and be a key cog on the penalty kill, Paquette has struggled the past two years. His nine points a season ago were the lowest of his career, while the minus-five rating ranked second behind the minus-six he posted in 2016-17.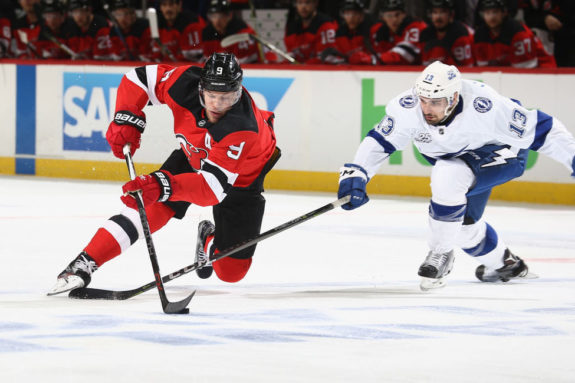 Injuries played a role, as he missed time each year. However, that doesn't fully explain the drop-off in production he's experienced since 2014-15. His faceoff winning percentage came down from 49.8 to 46.9 and he spent less time on the ice, averaging a little over 10 minutes per game as opposed to about 13 and a half two seasons ago.
Maybe Paquette played above his capabilities in his rookie season (plus four games the year prior) and the past two years have been his best. One has to wonder, as his points, faceoff winning percentage, plus/minus and time on ice have all gone down since that first full season.
If that's the case, it's no wonder Paquette found himself as a healthy scratch at various points last season. His numbers didn't warrant much playing time and there were others who deserved his ice time.
During the postseason, his numbers were only marginally better. With two points and a minus-one rating, Paquette was equal to his linemate Chris Kunitz, but slightly below Ryan Callahan. Luckily, he held the second-highest faceoff winning percentage on the Lightning which helped to generate scoring chances. It also kept him in the lineup, as Cory Conacher wasn't a whole lot better.
Going forward, Paquette needs to at least win faceoffs. That will help when it comes to scoring goals and picking up assists, which in turn should help his plus/minus. He might even receive more ice time as a result of better statistics, a huge plus to keeping the best players fresh and healthy.
Lightning Stars Have to Remain Healthy
Another key to a successful season will be the health of the Lightning's star players. Injuries are part of the game, but the number of long term ones to key players is alarming to say the least.
Back in 2015-16, captain Steven Stamkos was forced to miss the end of the regular season and all but one playoff game due to a blood clot which required surgery. Last year, he missed the final four regular season games thanks to a nagging lower-body injury.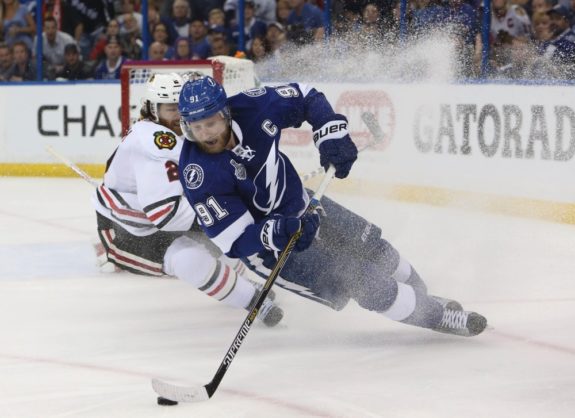 Stamkos' linemate, Nikita Kucherov, missed the final couple of preseason games with a lower-body injury. Thankfully, it wasn't serious and the star right winger should be good to go for opening night. In fact, head coach Jon Cooper said Monday that he was optimistic Kucherov would be available to play in the season opener.
This doesn't include Victor Hedman, who won the Norris Trophy despite missing about a month with a leg injury. Luckily, his recovery time fell in line with the Lightning's bye week and then All-Star weekend, so he wasn't sidelined for many games.
Moving into a new season, the Lightning have to hope their stars remain relatively healthy. Stamkos, Kucherov and Hedman are among the team's leading scorers on the ice, evidenced by the fact all three ranked in the top five for scoring in two of the past three seasons.
It remains to be seen whether those three can perform at or above expectations during the playoffs, though. Their numbers there are average at best, though Stamkos and Kucherov did finish one, two in team scoring during the Lightning's most recent playoff run. Being healthy might have made a difference there, as all three were a little banged up last year.
Goaltending Duo Must Hold Their Own
Last season, Andrei Vasilevskiy broke onto the scene as a first time starting netminder. His 44 victories and eight shutouts tied for the league lead. He also saved his team from losses more often than not, making one spectacular save after another.
Unfortunately, his early season partner, Peter Budaj, struggled mightily. He went 3-3-1 in eight games played, sporting a 3.77 goals against average (GAA) and .876 save percentage before going down with an injury.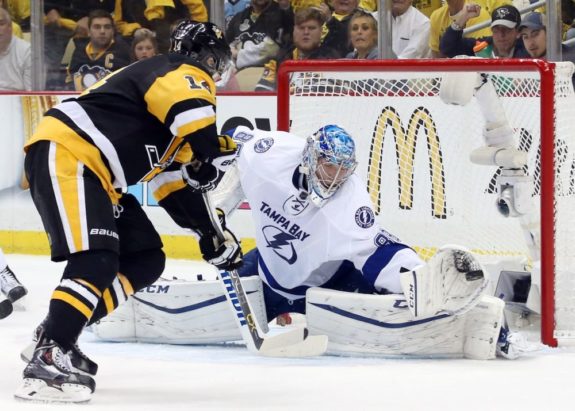 Prior to Budaj going down, general manager Steve Yzerman made a deal with the Arizona Coyotes, acquiring goaltender Louis Domingue for two minor leaguers in forward Tye McGinn and goalie Michael Leighton.
While Domingue began in the minors with AHL Syracuse, he was summoned to join the Lightning once Budaj was put on the shelf. Once there, he impressed, going 7-3-1 with a 2.89 GAA and .914 Sv% in 12 games played.
That gave the Lightning a chance to win every game, allowing Vasilevskiy some breathers towards the end of the season. The early workload got to the Vezina Trophy finalist, however, with his numbers dipping down the stretch. This was a direct result of fatigue from being overworked early on.
Entering this season, Vasilevskiy's workload has to be monitored. The team can ill afford to have him burned out before the regular season ends, something that occurred last year and might have cost them a trip back to the Stanley Cup Finals. Domingue is more than capable of handling starting netminder duties.
Is this the year the Lightning brings Lord Stanley back to Tampa Bay? The quest to answer that burning question begins tonight, as this team starts a grueling 82-game trek back to the playoffs against their in-state rivals, the Florida Panthers.
*Statistics courtesy of Hockey-Reference.com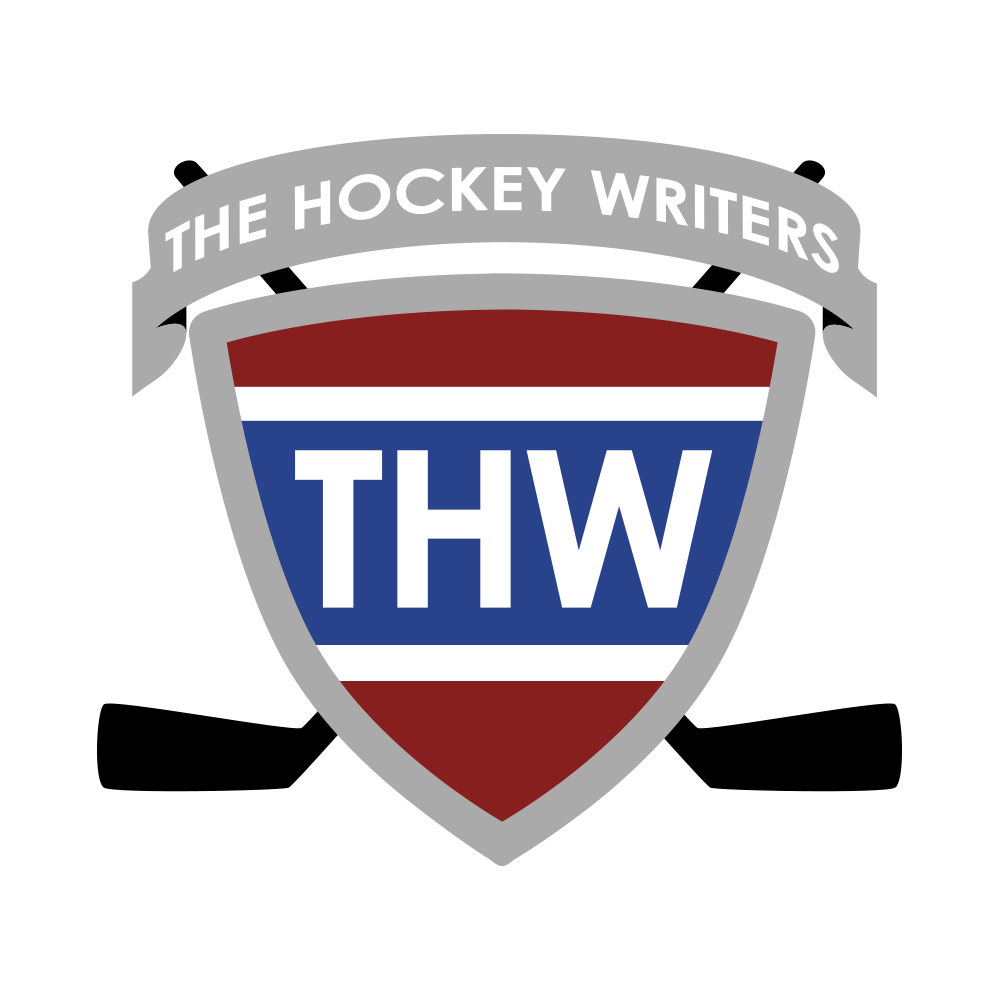 The Hockey Writers is:
1) A top-tier hockey media company delivering a top-notch, in-depth look at the NHL
2) A collective of some of the best hockey writers anywhere
3) A multimedia provider with daily podcasts and YouTube shows
4) Well-respected and widely-cited NHL prospect and draft resource