With Steven Stamkos expected to miss approximately the next four months with a right knee injury, the depth of the Tampa Bay Lightning's roster will be put to the test to keep the team on track. Through the first three full games without Stamkos, Tyler Johnson has been among a group of Lightning forwards that has answered the call.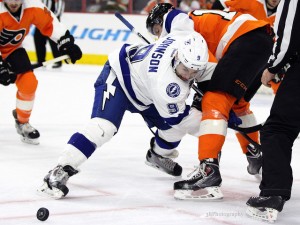 Johnson enters Wednesday's game against the Philadelphia Flyers with a four-game point streak and was one of the team's best players through their five-game road trip that ended on Monday. It's the sort of production the Lightning will need from him and other players to stay among the top teams in the Eastern Conference.
A Slow Start
Johnson got off to an uncharacteristically slow start to 2016-17 after entering the season completely healed from a lingering wrist injury that plagued him for most of last year.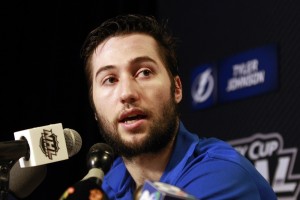 The injury, a broken wrist he suffered in the 2015 Stanley Cup Final, was something he dealt with quietly through January, when he admittedly was finally able to do a proper push-up. With two healthy wrists in the second half of last season, Johnson bounced back to looking like the same player selected to the 2015 NHL All-Star Game en route to scoring a career-high 72 points in 77 regular season games and 23 more in 26 postseason contests.
Despite finishing the 2015-16 season with just 38 points in 69 games, a healthy Johnson delivered in the playoffs, posting 17 points in as many games while the team was also without Stamkos for all but one game because of a blood clot injury.
Johnson entered this new season healthy and with high expectations in the last year of his current contract, but was not able to find the back of the net or his way onto the score sheet very much early on.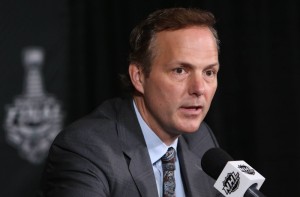 He started the season by tallying points in the team's first two games, but finished the first 10 games with just four points and a minus-eight rating.
It wasn't for a lack of effort, however, as he was often generating chances and received the praises of head coach John Cooper for his work ethic at that point in the season on Nov. 3:
"If it was a 10-game season there'd be concern, but it's an 82-game season," Cooper said. "You've just got to weather the storm because when you're working hard, which he's doing, usually that bodes well for you and you are going to come out of it."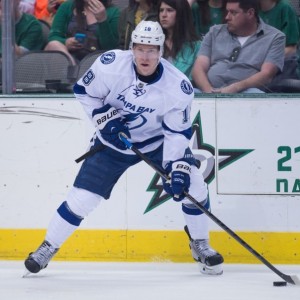 Cooper said at the time, if Johnson kept working hard, things would eventually work in his favor.
"I feel for him because he's missed some really good opportunities … then he looks in the mirror and says 'Why aren't I scoring?' Well you're doing all the right things it's just … you've got to just keep plugging away," Cooper said.
"Now he's been in the league long enough and you've just got to control what you can control and that's your work ethic. And if that's good, everything else will fall into place."
Johnson must've been listening.
The Streak
He has scored eight points in the last 10 games, including two goals and two assists in the past four contests. His 12 points in 2016-17 are fifth on the Lightning and he has benefited from playing a bigger role on the team the past three games, both at even strength and on the power play, because of the injury to Stamkos.
In the past four games, Johnson has registered 14 shots on goal — he shot the puck just 12 times in nine games during the entire month of October! It's an important statistic for players or lines because it reflects that offense is being generated. There will certainly be offense produced without a resulting shot on goal because of deflections and blocked shots, but firing the puck towards the net will eventually find its way on net, or in it.
Johnson also posted a season-high 20:30 of ice time in Monday's game against the Predators. He has averaged 18:28 per game over the past four games and is being looked upon in many important situations for the team. Two of his four points in this span have been on the power play and he netted the game-winning goal during the team's 3-0 win over the Philadelphia Flyers on Nov. 19.
Looking Ahead
Johnson figures to slot in as the first line center for the foreseeable future, until Stamkos returns. This is always subject to change, however, as Cooper is often known for juggling line combinations to make sure he's maximizing his team's potential and keeping things fresh if he senses his players need it.
Regardless of where Johnson is playing, he is going to have a chance to make an impact for the Lightning, as they continue to battle through the regular season with what could be the entire campaign without their captain. Johnson is part of a larger group of forwards — including Jonathan Drouin, Alex Killorn, Nikita Kucherov and Ondrej Palat, among others — who will be important contributors to the team's long-term success moving forward.
Johnson has produced offensively the past ten games, but can he keep up the pace the next four months?
If you ask Cooper, it's just a matter of Johnson continuing to play his game.