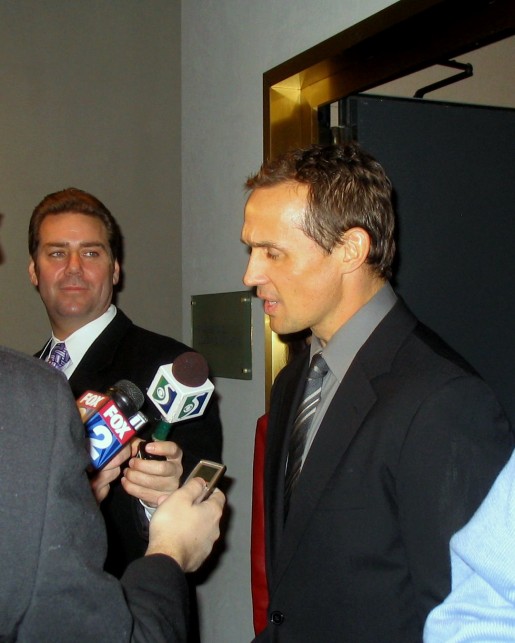 As the college hockey season winds down there is the typical flurry of players signing deals with NHL teams. The team hosting the Frozen Four, the Lightning, is no exception. Last week they signed 2007 draft pick Alex Killron from Harvard and assigned him to Norfolk. Then in a bit of a surprise to the rest of the hockey world, the organization announced that they had signed J.T. Brown, widely regarded as the top college free agent available on the market.
The diminutive Brown (listed at 5'10" and 170lbs) is described as an exceptional skater who is strong on the puck despite his size. In an interview with the Duluth News Tribune, teammate Travis Oleksuk describes him as a "shoot-first player and a scorer" who is "extremely fast on his skates."
The 2011 Frozen Four's Most Outstanding Player has a little grit to go along with his scoring prowess. In his career at the University of Minnesota-Duluth he managed to rack up 109 penalty minutes in 81 games. While those numbers show how tenacious he is it will be interesting to see how his game translates from college to the pro-level when he's going up against defensemen who outweigh him by 20-30 lbs on a nightly process.
If J.T. Brown was such a highly regarded college prospect, why wasn't he entering the draft and getting an opportunity to make millions? Simply put, he wasn't eligible. As a 21-year-old who had played hockey for at least one season in North America he was exempted from the entry draft. The advantage for Brown is that he was able to pick which team he wanted to play for. According to several reports the UMD forward had narrowed his choices to Tampa Bay, Philadelphia and Boston before choosing the Lightning.
There are a couple of reasons he may have chosen Tampa Bay. First of all there is the money. His signed a two-year, two-way contract that pays him $832,500 in the NHL and $70,000 if he plays in Norfolk. Choosing the Lightning over two teams heading to the playoffs also gives him a chance to start his pro career in the NHL. There is an excellent chance that was a major selling point for Brown to choose the Lightning over two teams who are higher than them in the standings.
The Lightning also recruited him (for lack of a better term) fairly heavily. General Manager Steve Yzerman had been out to watch him play and Mr. Yzerman's senior advisor Tom Kurvers is a former UMD player who lobbied hard for the club to sign the youngster. Management was impressed not only with his scoring ability (40 G and 44 A in 81 career games), but also his commitment to defense.
He will be paid a pro-rated amount of his yearly contract for the last five games of this season and will burn one year off of his contract. The next couple of weeks will serve as a bit of a tryout for the young forward. Unless he totally tanks it, the general consensus among the experts is that he has an excellent shot at making the team next season straight out of training camp.
The biggest question mark is definitely his size, luckily for Brown all he has to do is look down the bench for inspiration. The Lightning have another former college player who overcame doubts about his size to put together a fairly decent NHL career – Martin St. Louis.