Former Oiler Taylor Hall took a break from Bio Steel camp to have an interview with Sportsnet's Tim and Sid, mainly to talk about his mid-summer trade out of Edmonton. Hall's most interesting comment was that he got "the short end of the stick" in regards to the trade and/or his Oilers tenure, and you can take that as you want.
@timandsid Hall was the victim of a bad management team for years. #victim

— kyle pickunyk (@KPick16) August 23, 2016
@timandsid If I was him, I would be insulted if I was traded for so little

— Steve (@FOWEDMONTON) August 23, 2016
@timandsid hall went from a team turning the corner with a generational talent to a bottom 5 team that gave up their best D. He got screwed

— Matt (@mtoggel) August 23, 2016
Hall is Disappointed, But Life Goes On
Taylor is looking forward to being on the East coast, closer to family and friends, but he will definitely miss the passion of the fans in Edmonton. Being in New Jersey and the Manhattan area means he can blend in a little more, and that might be a good thing for him in the long run. He expressed his disappointment over the way things went down in Edmonton, but he's ready to move on. In fact, that's part of the reason why he chose to wear a new number on his jersey.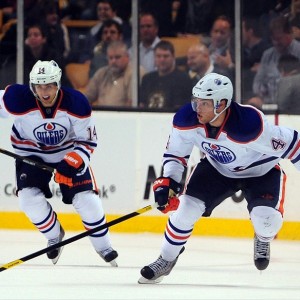 Hall said that once the season really gets into full swing, playing in Edmonton will become an afterthought. The toughest part about being traded of course is leaving all his friends, specifically Connor McDavid and Jordan Eberle. He doesn't want to see the Oilers win the Cup by any means, but he's rooting for Connor to have a great season. Ultimately, Hall is happy to go to a team that really wants him, and is looking forward to being part of a winner (that's up for interpretation whether he believes the Devils or the Oilers are closer to winning).
Despite the disappointment, Hall takes responsibility for not getting it done in Edmonton, and said "unless you're Connor, the chances of you getting traded some day are pretty high". He's likely not wrong, especially if things continue to go south for the Oilers. It was hard to tell whether he felt his being traded wasn't quite justified, but when he said "I've been slighted a few times lately", he probably feels he was unfairly made the scapegoat. But that quote also has to do with Team Canada, who passed over him again for the World Cup. In any case, all of this will just serve as motivation for Hall to prove he is an elite player.
How Come Nobody Wants Hall?
Regardless of which side of the fence you're on, the Taylor Hall trade will always go down as one of the most talked about and scrutinized in Oiler history. You have to wonder if Peter Chiarelli is looking at Canada's latest snub of Hall as some reassurance than he made the right decision. Obviously, despite his skill, there are reasons why he wasn't the injury replacement for Jamie Benn. In fact, considering that Benn plays left-wing, it would have been the perfect fit. The team chose Logan Couture, another centerman, which left many wondering why they wouldn't go with a natural winger.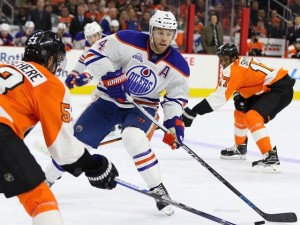 If Canada wins gold, none of this will matter. If they fail, maybe the Hall question will be re-visited. Hindsight is always 20/20 after all. But as for the Oilers, they knew change was necessary, and Hall was the ticket to get what they wanted. Maybe he feels as though the organization saw him as the problem, and that's why he felt like he got the short end of the stick. Interestingly, he mentioned his desire to learn a better two-way game in order to fit into the Devils style of play, so maybe he feels the need to change.
The Oilers may have seen Hall as expendable, Team Canada might not deem him worthy, but the Devils got one heck of a player. I think being in a new place, with less media scrutiny will help Hall take his game to the next level. He has plenty of motivation, that's for sure. He wishes Connor all the best, but he probably wouldn't mind seeing the Oilers miss the playoffs again. Then everyone would know it wasn't his fault.