With National Hockey League training camps only a month away, general managers league-wide are all asking their brain trusts the same questions as they give their depth charts one final look-over: Do they still have holes in their projected lineups that need to be filled? Do they have any rookies expected to step in? What kind of depth are other teams working with and will any players they've had their eye on potentially shake loose from another organization? Is there anyone left on the free agent market worth bringing to camp on a professional tryout?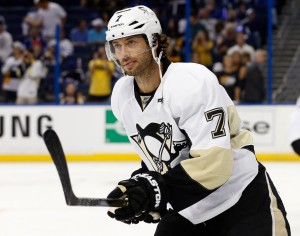 One position currently filled with question marks on the Minnesota Wild depth chart is that of a fourth-line centre.
Several fans of the Wild were left disappointed when Minnesota native Matt Cullen recently re-upped with the Pittsburgh Penguins on a new one-year deal. It was widely believed that Cullen would have been an ideal fit to centre the team's fourth line while bringing veteran two-way reliability and a familiarity with the organization along with him.
For whatever reason, the match may not have been there between Cullen and the Wild this time around but, rest assured, there are plenty of other options that remain available to GM Cliff Fletcher in his search for a bottom line centre.
In the System
The easiest, and most likely the first place, that Fletcher will look to for a possible fourth-line centre is within his own organization. There are a couple of players currently in the Wild system who could potentially fill the role and perhaps none would fit it better than 6'5" fourth-year professional Tyler Graovac.
The former seventh-round draft pick has played 176 games in the American Hockey League over the past three seasons and has also suited up for five games in a Minnesota jersey during that same timeframe. The Brampton, Ontario native is coming off somewhat of a disappointing year after he was originally expected to factor into the Minnesota lineup on more of a regular basis but, instead, had his season interrupted by an early injury that cost him a couple months of playing time. Shortly after his return to health, the centreman was reassigned to the Iowa Wild where he would close out the campaign with a mere 16 points in 39 games.
One thing playing in the big man's favor this year is the fact that he is no longer waiver exempt. Graovac will either need to crack the Minnesota roster out of training camp or be placed on waivers where the team would risk the possibility of another club being intrigued by the 23-year old's size and plucking him up. Essentially, the fourth-line position is Graovac's to lose.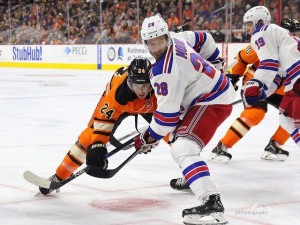 Delving a little deeper into the Minnesota system leads to a player who could be considered a darkhorse candidate to get some minutes with the Wild this season. That player is the very promising 6'2" Swede Joel Eriksson-Ek.
Admittedly a long-shot to be named as the season-opening fourth line centre, the 20th overall selection in the 2015 NHL Entry Draft is already defensively responsible and plays a strong two-way game. While it may be tempting to see what the young pivot can do at the NHL level, it would be best suited for his development to spend the majority of this season playing important minutes in the AHL as he adjusts to the smaller ice surface.
A mid or late-season cup of coffee is not out of the question for the 19-year old but, in the end, Minnesota's plans for Eriksson-Ek are far greater than that of a fourth-line centre. Some NHL action playing in the right situation may be beneficial but there's no need to start grooming this player as a bottom six centre by giving him limited ice time on the big stage for any extended period of time.
Free Agents
One advantage to the current roster vacancy is that there are several fourth-line centre types who remain available as unsigned unrestricted free agents and who would likely be willing to report to training camp on a PTO. The benefit to issuing camp invites to a couple UFAs is twofold —  1) it creates better overall competition in training camp and further pushes your internal candidates to show that they belong, and 2) it opens up the possibility of getting a proven veteran under contract at a bargain basement price.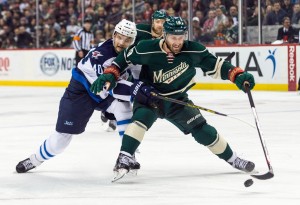 Looking over the pool of remaining UFAs there are a handful of players who could potentially fill the club's fourth-line centre vacancy. This list includes two veterans who suited up for the club a season ago in Ryan Carter and Jarret Stoll. Carter is a hardworking and versatile forward who is more of a winger than a centre but can play all three positions up front, while Stoll has lost a few steps but remains one of the best in the game when it comes to winning draws. The fact that Stoll is a right-shot also helps his case as all three of Minnesota's other centremen shoot left and it is always beneficial for a coach to have options on draws when trying to set up certain plays.
Other players who may be on Fletcher's radar are Dominic Moore, Shawn Horcoff, Paul Gaustad, and Mike Richards. All four of these centremen are lefties and bring similar qualities to the rink at this stage of their careers, most notably leadership and penalty killing abilities.
Moore may be the best fit for what the Wild are looking for as he knows and accepts his role as a premiere penalty killer and face-off man. The Harvard grad also has a familiarity with Minnesota having previously spent 40 games in a Wild jersey over the course of two seasons between 2006 and 2008.
Horcoff, the former captain of the Edmonton Oilers, may be looking at the end of his career as he is the oldest player on this list at age 38. Playing with the Anaheim Ducks last season, he faced some controversy when he was suspended for 20 games after violating the terms of the NHL's performance-enhancing substances program. Despite the suspension, Horcoff has long been viewed as a high character individual and a fitness fanatic who should still be able to keep up with the game.
For his part, Gaustad has seen his point total decrease all the way down to six this past season but he was never known for his offense. The 6'5" former Nashville Predators forward is a good teammate and soldier to have on your side. Gaustad plays tough minutes, kills penalties, and wins face-offs.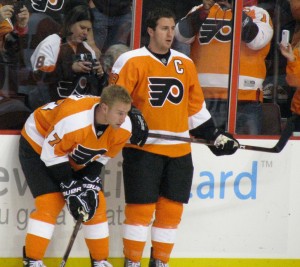 Perhaps the most intriguing and decorated of the bunch is Richards, who has formerly captained the Philadelphia Flyers to the Stanley Cup Finals and also led the Canadian World Junior team to a gold medal. Richards has seen his stock plummet in recent years due to a steep decline in production combined with off-ice issues which ultimately led to his contract with the Los Angeles Kings being controversially terminated.
Coming off half a season with the Washington Capitals where he regularly appeared to be a step behind, Richards is looking to prove that he still has what it takes to play in the NHL and hopes that an offseason without distractions followed by a full training camp can help get his career back on track.
Waiver Wire
There are countless players around the league, just like Graovac, who face the possibility of being exposed to waivers before the opening lineups for the 2016-17 season are submitted to head office. Two names jump to the forefront when focusing solely on young centremen who may be in tough to make their respective teams but possess qualities of a desirable fourth-line pivot: Anton Lander and Mark McNeill.
McNeill was the 18th overall selection in the 2011 NHL Entry Draft but has not yet lived up to that billing. The 6'2″ right-shot centre will have one final chance to make the Chicago Blackhawks roster this year before he will either need to be exposed to waivers or traded. To date, the native of western Canada has only appeared in one rather uneventful NHL game where, in just under 13 minutes of ice time, he failed to register a shot and lost the only face-off he took. Known for his strong backchecking, work ethic, and nose for the net, McNeill could yet find himself in an NHL lineup to start the season, be it in Chicago or elsewhere.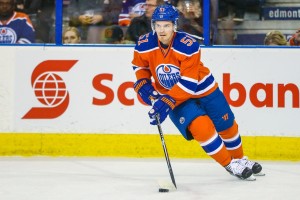 Lander currently has 193 games of NHL experience with the Oilers but is still looking to establish himself as an everyday player. The former second-round draft pick has developed his face-off ability to the point where he ranked first on his team (amongst players who took at least 300 draws) with a 54.5% success rate.
Lander was snakebitten offensively this past season shooting an abysmal 1.9% but showed promise in 2014-15 when he registered 20 points in 38 games after twice scoring better than a point-per-game at the AHL level. Lander has also demonstrated leadership qualities and has previously captained the Oklahoma City Barons as well as the Swedish World Junior team.
The position of the fourth-line centre may not seem to be that critical to a team's success but teams who can roll out four capable lines tend to be more successful. The primary objective of a good fourth line is to go out and play 10-12 minutes of reliable and responsible hockey while keeping the puck out of their own net. Any scoring they get you is just an added bonus. A good fourth line centre will typically be a solid penalty killer and someone you can send out when a critical face-off needs to be won. As it stands today, the Wild have plenty of options to choose from as they look to fill their fourth-line vacancy and it will be interesting to see what approach they end up taking.
Mark Bowie covers the Edmonton Oilers and the QMJHL for THW.