Teuvo Teravainen arrived in Raleigh to a mixture of hype and skepticism. Some thought the June 2016 trade that brought Teravainen and Bryan Bickell to the Carolina Hurricanes from the Chicago Blackhawks in exchange for a second-round pick in the 2016 NHL Draft and a third-round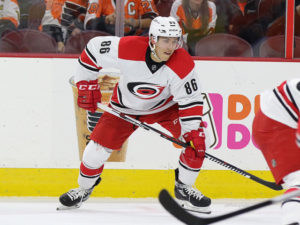 pick in the 2017 draft was GM Ron Francis at his best. Others were not as impressed.
Teravainen, Bickell, Versteeg and Stanley Cups
Francis at the time said it was a good use of the team's plentiful draft picks to improve the forward position, making note that both players were Stanley Cup Champions. It is true that Teravainen and Bickell had been a part of the Blackhawks' Stanley Cup Finals win in 2015, and Bickell also in their 2010 and 2013 victories.
But, so had Kris Versteeg been a Blackhawk Stanley Cup veteran, and his tenure with Carolina was not so great. While he did notch 33 points for the 'Canes in 63 games last season, he was summarily traded in February. Skeptics wondered how long the Teravainen/Bickell tenure would last in Raleigh.
Teravainen Proving His Worth
So far Teravainen has caused a serene silence among skeptics. In 34 games, he has nine goals and eight assists for a total of 17 points. This is fourth on the team in points, behind Jeff Skinner who has 27, Victor Risk who has 26 and Sebastian Aho who has 18. Lee Stempniak also has 17, tied with Teravainen. While certainly not burning up the stat sheets, he is producing and at opportune times.
This goal in overtime on December 23 against the Boston Bruins helped the Hurricanes secure the all-important second point.
[HIGHLIGHT] Teuvo Teravainen wins it in OT after the #Canes come back from a 2-0 deficit. #Redvolution pic.twitter.com/SsPsuOCcAS

— Carolina Hurricanes (@Canes) December 24, 2016
Teravainen looked smooth as silk as he came up the ice and blew the puck past former 'Canes goalie Anton Khudobin. Even at age 22, typical of this stable of young guns that Francis has put together, Teravainen looked comfortable, unfazed by the moment and in control.
Head coach Bill Peters has a way of taking these young players and molding them into his system. It breeds confidence and hopefully will come together sooner rather than later for a 'Canes playoff run. As my colleague at The Hockey Writers, Ben Pope wrote a couple of weeks ago, Teravainen seems to have responded quickly and well to Peters and the system, as has his 19-year old fellow Finn, Aho. The tandem is playing well and setting the stage for long-term growth with the Hurricanes, provided they both stay healthy and with the team.
With Bickell having announced in November that he is out indefinitely with a diagnosis of Multiple Sclerosis, Teravainen remains the player from the trade that, so far, has quieted the skeptics and has some in Chicago wishing it had not been made:
https://twitter.com/SarahFeltes1/status/805946035377999872