Looking for Christmas ideas or are you building a world class hockey section in your library? Here's a list compiled by Jeff Angus and originally posted on his website, Angus Certified. I looked for my top hockey books – and sure enough they were there. In addition to Jeff's list you can also scan our Hockey Book review section.
If you just want to know 'what hockey book should I buy for a gift?' Here is our pick — >  our review of The Best of Down Goes Brown.
Here are a few or Jeff's Titles – for the complete list check out Angus Certified.
Behind the Moves | By Jason Farris

My Thoughts:
This book is pretty new relative to most of the others on this list, but it could be my favorite. Farris worked for years on it, and he got a ton of quotes and insights that you won't find elsewhere. Often times hockey books, and sports books in general, recycle what we already know. Not this book. Farris spoke to a vast number of Stanley Cup-winning GMs – how they make trades, the art of the negotiation, player relationships, and much more. I'd highly recommend this one.
Official Summary:
Farris spent 18 months traveling across North America to speak at length with every living GM who had taken a team to the Stanley Cup Final. His 252-page book is the byproduct of those discussions and gives unprecedented insight into what makes these iconic GM's tick.
Farris is a jack-of-all-trades. He's currently an Executive Vice President with the Dallas Stars, but has also served as CEO of Citizens Bank of Canada, Vice President of software company Fincentric, and earned degrees in political science, physics, and an MBA from MIT's Sloan School of Management. He's seen leadership in action (and destruction) across a number of industries and his interest in hockey motivated him to study what really makes a successful General Manager.
The Best Game You Can Name | Dave Bidini
My Thoughts:
Bidini is a really good writer, and that shines through in this book. He gets lots of funny stories from former players, and writes about his own experiences in hockey, as well. A good read even all hockey fans, but the diehards will really appreciate it.
Official Summary:
In 2004, Dave Bidini laced on his skates and slid onto the ice of Toronto's McCormick Arena to play defence with the Morningstars in the E! Cup tourney. While thrashing around the ice, swiping at the puck and his opponents, Bidini got to thinking about how others see the game. Afterward, he set off to talk to former professional players about their experiences of hockey. The result is vintage Bidini — an exuberant, evocative, highly personal, and vividly coloured account of his and his team's exploits, interwoven with the voices of such hockey heroes as Frank Mahovlich, Yvan Cournoyer, John Brophy, Steve Larmer, and Ryan Walter.
All aspects of the game are up for grabs in The Best Game You Can Name — the sweetest goals, the worst fights, the trades, the off-ice perks and the on-ice rivalries, not to mention the rotten pranks. Bidini and the former players offer sometimes startling observations about the fans, coaches, owners, other players, and the huge rush of being on the ice, stick in hand, giving everything you have to the best game you can name.
The Best Seat in the House | By Jamie McLennan 
My Thoughts:
This is a book I haven't had the chance to read yet, but I am looking forward to doing so. McLennan played on several NHL teams, serving primarily as the backup goaltender. He is now a media personality with TSN.
Official Summary:
Jamie McLennan spent twenty years playing professional hockey. Sort of. As the backup for such legendary goalies as Grant Fuhr, Ron Hextall, Roberto Luongo, and Miikka Kiprusoff, he saw everything—except much playing time. In The Best Seat in the House, McLennan looks back on his unique career, from breaking into the NHL, to working with the legends, to life on the road and in the league, offering readers an unprecedented glimpse into life inside the locker room.
Birth of a Dynasty: The 1980′s Islanders | By Alan Hahn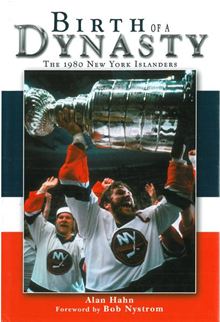 My Thoughts:
As someone who wasn't even born when the Islanders were the class of the NHL, I enjoyed reading about how dominant they were in the early 1980s.
Official Summary:
The National Hockey League saw the birth of a new dynasty in 1980. The New York Islanders had been an expansion franchise in 1972 in the New York City suburbs of Long Island. For years they played in the long shadow of the big-city New York Rangers and were considered the league's laughingstock during their first season. Miraculously, eight years later, they were champions. Despite their mercurial rise in the 1970s–which included a first-place overall finish in the 1978-79 season–the Islanders were still considered chokers because of playoff failures. The most frustrating failure of all came at the hands of the rival Rangers, who beat them in 1979 to advance to the Stanley Cup Finals. A year later they stumbled through an injury-plagued and inconsistent regular season.
My Thoughts:
Dater goes behind the scenes into what made the Avalanche/Wings rivalry so special. Included is a chapter on each of the main players – Claude Lemieux, Patrick Roy, and more. Dater is a Colorado reporter, but there isn't really much bias in this book. He didn't really focus on the quiet and unassuming stars – Sakic, Yzerman, and Lidstrom aren't really mentioned all that much. Still, a good read and a great one if you are a Colorado or Detroit fan.
Official Summary:
 In Blood Feud, Colorado Avalanche beat writer Adrian Dater not only submits that the Red Wings-Avalanche rivalry was the most feverish match-up in recent years, but also that there was none better played. No fewer than twenty players have or will eventually make it to the Hall of Fame; the best scorers were matched up against the best goalies; brilliant coaches could be found on both benches; and two of the league's smartest general managers ruthlessly tried to one-up each other at every NHL trade deadline. Blood Feud is a rollicking story of a fierce, and often violent, rivalry.