It's been a long time since the hockey community could look at anything the Calgary Flames did without a great deal of confusion. Nearly four years of counter-intuitive decisions from the former general manager, Jay Feaster, left this club in a constant state of disarray and identity crisis. The standings continued to echo the most obvious of truths, year after year. This team was too old, not ready to contend and utterly void of talent. And yet management acted to the contrary.
Nearly four years of this style of management left the Calgary Flames in the proverbial no-man's land of hockey franchises; they were never going to be good enough to compete, but far from bad enough to get a high draft pick. They hobbled aimlessly, season after season, to finishes of tenth, ninth and twelfth in the Western Conference. As Ryan Lambert aptly pointed out for Puck Daddy, the Flames annual efforts to claw into the playoffs were "Sisyphian in nature".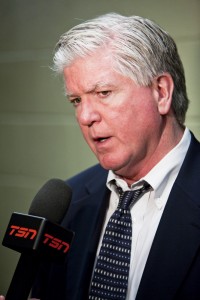 This came to a head when the Flames opted to bring in former Maple Leafs general manager, Brian Burke, as President of Hockey Operations before the 2013 campaign. The writing was then on the wall for Feaster, who was relieved of his duties the following December. In his wake this franchise was left without playoff appearances, without prospects and without hope. In the time since, the Flames have made a slew of hirings to right the ship. It started with new general manager, Brad Treliving. The Flames also made it clear that they were going to be taking a harder look at analytics this summer. Brian Burke said as much in this interview, from April 28th:
"Let's get the record straight on that," Burke started. "The first analytic system that I see that'll help us win, I'll buy it — and I'll pay cash so no one else can use it. I'm not a dinosaur. What I think has happened is, this one quote from the (Massachusetts Institute of Technology) conference has been broadcast all over, where I said, 'Statistics are like a lamp post to a drunk — useful for support, but not for illumination.'
No team is without fault, and moves that contradict otherwise savvy franchises can be found throughout the league. But, by large, the Flames have made intelligent moves that indicate they are true to their word. Hiring a GM from a franchise that has lingered at the bottom of NHL payrolls for years now makes sense. The Flames are rebuilding – finally – and as such won't be looking to outspend for that extra spot in the standings. The numbers have to be crunched a little bit harder, and the investments must be more thought through than ever.
Humble Beginnings
Before Treliving could make his mark on this team in free agency, he had to do so at the draft table. Starting with the fourth overall selection in the 2014 draft, the Flames put it to excellent use with the pick of Sam Bennett. Bennett figures to be a part of the Calgary Flames young and budding core for years to come — finally, some moves with the long-term in sight. Letting Bennett play this season as a Flame would be a rather cruel endeavor, based on Bennett's size, but it won't be long before he's a regular contributor.
Beyond Bennett, though, there is plenty to like about the Flames draft. Drafting goalies is somewhere between black-magic and voodoo, and as such I always caution against using a pick in any of the first three-rounds on one. But there is still plenty to like about the Flames selection of Mason McDonald, with the 34rd overall pick. McDonald fills the developmental spot left by Oilivier Roy, who the Flames did not qualify. The Flames second of two picks in the second round was also promising. They selected 6'6 right winger, Hunter Smith. Smith obviously won't be a Flame this season, but they need to address the issue of size long term on their wings, so it's a great move all the same.
The Flames used their remaining three picks, which can generously be described as lottery tickets, on two defenseman with considerable size and a 6'6 winger. Looking beyond Bennett, it is clear to see what the Flames wanted in their forward corps for the foreseeable future: size.
Treliving also made his first trade as a member of the Flames organization at the draft. Coming Calgary's way was lumbering winger, Brandon Bollig (formerly of the Chicago Blackhawks). Last year was Bollig's first as anything that resembled an actual hockey player, and I am convinced that Joel Quenneville is mostly responsible for that. But, generally speaking, getting a serviceable NHLer for a late-round pick is always a win for the team receiving the NHL regular. At the very least, he'll be a serviceable fourth-liner.
Show Me The Money!
What I've liked most about this Flames off-season has been their free agency spending. I'd be lying if I said that this article wasn't even a little bit prompted by their most recent signing, Devin Setoguchi. The general theme of this off-season seems to be reclamation projects, on a short-term deals. In short: high-reward, low-risk signings.
This started with the incredibly prudent signing of Jonas Hiller. Hiller is 15th in the league in 5v5 SV% over the last four seasons, but coming off a forgettable season with the Anaheim Ducks that saw Hiller lose his crease to Frederik Andersen and John Gibson. The goalie market was a buyer-friendly one, and the Flames used this leverage to their advantage. While their divisional neighbours just a province away were content to throw money and term at an aging goalie on the wrong end of the development curve, the Flames signed arguably the better one for one less year and $1.5 million less annually. There is almost no scenario in which this contract doesn't prove one of the better signings of the off-season.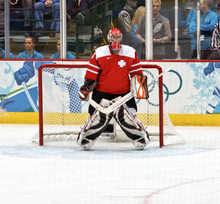 On the wings, the Flames have added undersized wingers Devin Setoguchi and Mason Raymond. Raymond, who is from the area, was suspected of signing with the Flames last season before settling on a one-year deal with the Maple Leafs. This time, it's for real. Raymond was able to breath life into an otherwise flat and lifeless career last season in Toronto, and should this trend continue he'll be a valuable member of the Flames top-six forwards group. Setoguchi might not have the offensive ceiling as Raymond, anymore, but at one year and $750,000, how can the Flames go wrong?
The low lying fruit for critics, naturally, is Deryk Engelland. I haven't a positive thing to say about this signing. Engelland ranks 651st in the league for Corsi% last season, so yeah, that's a bit of an albatross on the neck of the Flames defensive corps. Engelland is a face-puncher, and that's about it really. The fact that he spent a large portion of last season as a forward also speaks to his lack of usefulness. But hey, it's only three years and I'd honestly take this contract over Brooks Orpik's. So there is that!
Things Are Looking Up
As always, perspective has to be shone upon this. By no stretch of the imagination do I foresee any scenario where the Flames compete for a playoff spot. They're laying great groundwork for the future of this club, though. In Monahan, Bennett, Backlund and Stajan the Flames will be able to ice a formidable set of centers in just a years time. The prospect pool is ripe with players that can become solid contributors and apparently HockeysFuture agrees this assessment. They have the Flames ranked 6th overall in prospect talent, and that was before Bennett was added to the pool.
Long term, the Flames appear to be in good hands. Finally.