Goal Scoring in Decline
When the NHL locked out for the second time during commissioner Gary Bettman's tenure back in 2004, increasing goal scoring was a headliner on the to do list. After the entire 2004-05 season was missed, rule changes and game-play created a huge spike in scoring when the league returned the following year. Anyone who follows the NHL closely knows individual offensive statistics were inflated that year. Jonathan Cheechoo's 56 goals anyone? (To be fair Cheechoo was a 28 goal scorer in 2003-04, which is arguably more impressive).
In the last few years though scoring has been back on the decline (if only slightly). From 2010 to 2013 goal scoring decreased each season. So how can we turn this around? While I'm not quite sure where Puck Daddy's Greg Wyshynski came up with the idea for shot blocking regulations, (I hope he was kidding) he does make a lot of good points. Power plays "having more teeth" is something almost all hockey fans can agree with.
No Free Icings
Last season the top two power play teams were the Pittsburgh Penguins  and Washington Capitals who each converted at 23.4 percent. The median team New York Rangers came in at 18.2 percent, 15th in the league. Now what if say, the top teams were producing at closer to 27 percent and the median rose to 21 or 22 percent?
One of the more astute ideas to increase scoring comes courtesy of well respected former NHLer and current Sharks radio color commentator Jamie Baker. He proposed the idea a few years back that penalty killing teams shouldn't be free to ice the puck. This change makes a lot of sense. Why should a short-handed team gain an advantage when they get penalized? Forcing teams who are down a skater to make soft chips out of the zone or else suffer a defensive zone face-off would definitely increase power-play percentages. How much exactly? Well, that's hard to say, but this would be a move that is much easier than making goalie pads smaller (yet again) or increasing the size of the nets. It would also be easier to sell to the goaltenders.
Zone Entries, Let Them Play!
The other idea is a pet peeve of mine. You know how baseball says tie goes to the runner? Well, what is with the NHL and their linesmen blowing down every single close offsides play? Every year each team has numerous legal zone entries (usually exciting ones at speed) blown down because of offside whistles that shouldn't of been blown. Yet the only memorable time a goal was scored when it should have clearly been called offside was this Matt Duchene goal.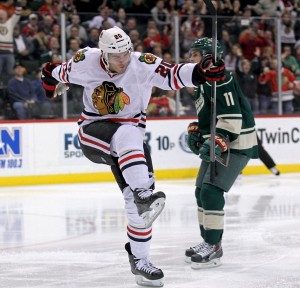 There is simply nothing more exciting than a goal being scored shortly after a team enters the zone at a high rate of speed. Unfortunately, way too often do we see great opportunities blown dead. For some asinine reason, linesmen are trained to err on the side of extreme caution. This simply goes against the spirit of hockey. If the play is so close that the linesman isn't 100% sure when making the call, let them play! Think about it, how many times are we fans really complaining about an offside not being called? To me, it doesn't seem that often. However on the flip side I often catch myself yelling "C'monnnnn that was not offside!!!! What are you looking at!" on a regular basis.
Increasing power-play goals by taking away free icing, and erring on the side of offense when it comes to zone entries seem like no brainers to me to increase exciting hockey. Those razzle-dazzle, inside-out goals off the rush? Thank you sir, may I have another?