All hockey fans have a commonality between them. Hockey fans, in general, desire nothing more than to be able to love everybody on their favorite team, whether it's a superstar or a backup goalie. In the long run, it all comes down to one thing. Is this player a positive impact on the performance of said team? Is this player generally providing positive outcomes based off of the way he has played? If these questions were asked to the faithful New York Rangers fans of the past few years they would answer in the affirmative for the majority of the players who have competed for the team in the 60 minute hell-in-a-cell event generally known as hockey, with these participants trading in the steel cage for helmets, skates, and sticks.
Getting past that, there's a lot that defines a player under all the superficial equipment. What is on the outside may not always be what is on the inside and vice versa. Sometimes a player is a great locker room presence, but when they get on the ice they crack under the bright lights and big stage of the National Hockey League. While qualities like perseverance are nice to have, it all boils down to what happens on the ice. Sometimes a player has all the characteristics they need to be a leader, but their play on the ice simply falls short of what it needs to be. That is the case with Rangers defenseman Dan Girardi.
Dan Girardi is known for being a selfless "iron man" of sorts on the ice, blocking shots and taking punishment play after play to try to get the job done. While this play style is commended time and time again by players, coaches, and media alike, it's about time that those in denial stop the nonsense and smell the roses. While hockey fans can blame poor performance on injuries, the sad truth is that he has had a negative impact on the Rangers over the past couple of years and it will continue to get worse.
http://gty.im/522826886
The Girardi Effect
Every hockey player on the ice is impactful. The impact can go two ways, positively or negatively. Generally, Girardi's impact was negative this last season. Girardi skated 1,245 minutes of even strength hockey in the 2015-16 season. During this time, Girardi had multiple defensive partners of over 200 minutes, starting with Ryan McDonagh. McDonagh and Girardi spent 645 minutes together on the ice in the pairing that was most commonly used last season. McDonagh and Girardi averaged just under three goals per 60 minutes of ice time together, while allowing just under 1.8 goals per 60 minutes.
Take Girardi off the line with McDonagh. Girardi skated just under 600 minutes without McDonagh, and the hit to his statistics is prevalent. His ratio goes from +1.2 goals per 60 to -.3 goals per 60, and that adds up. McDonagh's numbers remain extremely positive as you would expect from a defenseman right outside the group of elites, but when Girardi would be paired with a generally average defenseman in Marc Staal, his numbers took a terrible tumble to where the Rangers would be outscored four to one with that pairing on the ice. This is important because Ryan McDonagh is still shaping his game and at this point pairing him with a less than adequate d-man will just bring him down and take away from what he is capable of doing.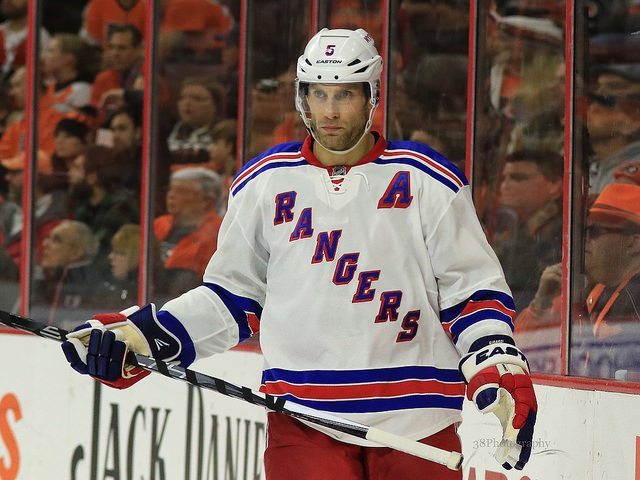 Can Personality Traits Outweigh Performance?
There is no real right answer to this question. There are pros and cons but when a decision has to be made, there is no definite, 110 percent yes or no answer here. Locker room presences from players and coaches alike are extremely important. Vocal leaders are known as the ones to push a team to keep fighting whether up big or down by one singular goal. Players who block shots and go for hits energize the team like nobody else can, but is there a point where those same players become detrimental to their hockey team?
Realistically, Dan Girardi has been good over the last ten years with the Rangers. He's been a very beneficial member of the team, a warrior of sorts who plays through injuries and has rarely missed a game over all that time. Now, looking forward into the season where he will turn 33-years old, his positive contributions to the Rangers have likely ended. Girardi has gone from being an above average, top four defenseman to a depth skater who shows extremely suspect defensive contribution.
Blocking shots as a defenseman has become less necessary than ever before. Blocking shots is now more of a right place, right time action, especially with one of the elite goalies in the league behind you. Here's how the scenario pans out the majority of the time. Henrik Lundqvist gets in position for the original shot. If the original shot is anywhere near the net, chances are that Hank will make the save. Pucks that are blocked are essentially a curveball thrown at Hank when he sees the fastball coming through. While Rangers fans have seen the brilliant acrobatic ability that he provides, these saves are forced to be made much too often with the shots blocked by Girardi. Blocking shots up close rarely leads to an easy put in goal, but when the shots are from the point and have a generally small chance of going in, it may provide a much better chance than the original shot did, which is another issue Girardi's style of play brings to the table.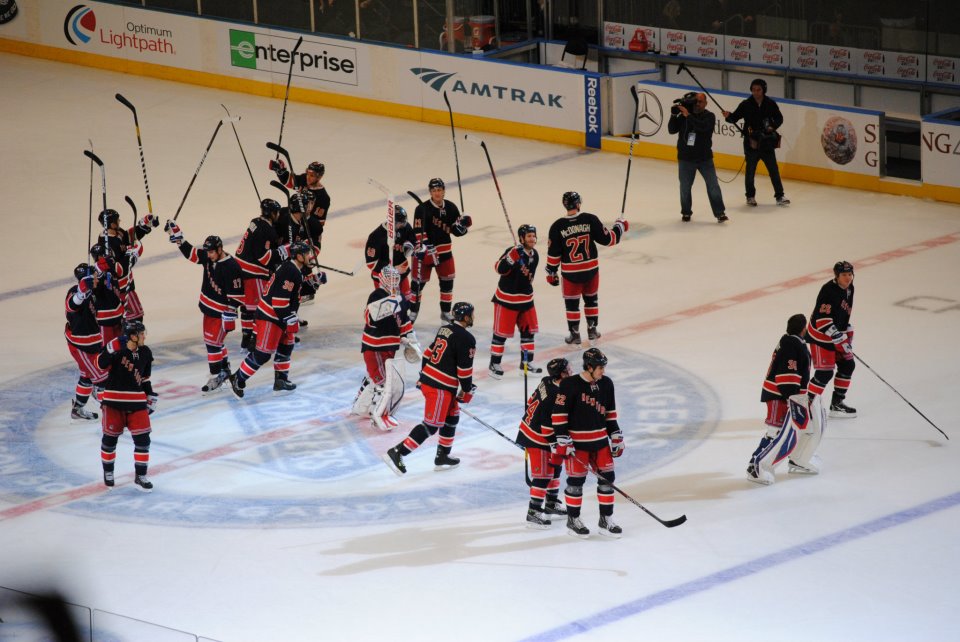 The Last Hurrah of Dan Girardi
It's July and Dan Girardi is still a member of the Rangers with likely nowhere to go but into the starting lineup once again on October 13th against the Islanders on opening night. Anyone could guess the reason to why Girardi remains on the team, but it's likely that the vocal leadership has kept him around for at least one more year, instead of his contract being bought out which would've given GM Jeff Gorton the green light to try to make a few moves in free agency and take some runs at legitimate top defensemen like Jason Demers, a 28-year-old top-two defenseman entering his prime making the cap room that would've been opened up with a Girardi buyout.
Hockey fans all desire to love the players on their team. Rangers fans have loved Girardi since he stepped into the league as a shaggy-haired rookie. As the love continues to fade away, the Rangers need to understand that Girardi can't be a Ranger for the rest of his contract. There is a decision to be made. That decision is a choice between winning and losing. While many players will need to be re-signed over the next few years, Girardi's cap hit is just too much to handle for a team with a goalie who will in just a few short years be pondering retiring from the great game of hockey. While not all the blame for the Rangers failure can be put on Girardi, the growth of players around him relies on his ability to play the game at an NHL level. McDonagh is just one example and the Rangers can't afford for one of their d-men of the future to be brought down the same way McDonagh has been the past couple of years.
Girardi has sacrificed his body for years and years for the Rangers, but it's reached the point to where the boys who play on Pennsylvania Plaza can't afford to have a beaten up, bruised, mediocre at best defenseman putting in big minutes for a team that without him would statistically perform better. While advanced stats are still being introduced in parts of the league, anyone can see that Girardi is hurting the team and making it less likely that the team will win games. Some may defend him and say he needs to be kept around, but the reality is that the longer the Rangers stick with the same core of players who haven't won anything and keep the few players who are negatively impacting the team, they won't come close to another Stanley Cup any time soon.