Flyers General Manager Ron Hextall has said that he wants to build the team from within by developing young talent and utilizing draft picks. He seemed to do a fine job of the latter last summer when he selected the likes of Travis Sanheim, Nicolas Aube-Kubel, Mark Friedman, Oskar Lindblom, Radel Fazleev and Jesper Pettersson. On June 26th and 27th, the NHL will hold their 53rd entry draft in Sunrise, Florida and Hextall and Co. will hope for similar fortunes as they attempt to re-design a club that has missed the postseason in two of the last three campaigns. The Flyers will be one of the more active teams on Day 1 as they hold the seventh overall pick as well as Tampa Bay's first round pick which will be either 29th or 30th overall depending whether or not the Bolts can capture their second Stanley Cup in franchise history. Both picks will certainly have the potential to help the organization in the near future, but that seventh overall pick affords them the opportunity to draft a game-changer. Based on pre-draft rankings, team needs and the idea of taking the best player available, it seems logical that Kingston forward Lawson Crouse will be there when the Flyers are on the clock with their top pick. If he is, they need to take him. Below, I'll highlight a few reasons why.
The Chronicles of Sean Couturier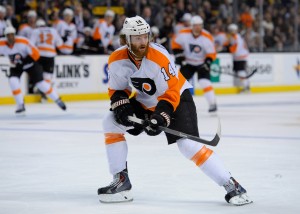 When the Flyers selected Sean Couturier with the eighth overall selection in 2011, he was coming off back-to-back 96 point seasons with Drummondville of the QMJHL. While his skill set was clearly defined, it was expected that he would make a strong offensive contribution to a team trying to turn the corner and win their first championship since the 1970's. Couturier broke camp with the big club and scored 13 times his rookie season. What was most impressive was his ability to shut down the opposing team's top players, namely Evgeni Malkin of the Pittsburgh Penguins. In the seasons since, Couturier has not scored more than 15 goals but continues to be a shut-down centerman. While the organization relishes in his defensive capabilities, they want him to break loose offensively as well.
Enter Lawson Crouse.
Crouse is a big power forward at 6-4 and 215 pounds who uses his entire body to make plays happen on the ice. According to Dan Marr, Director of NHL Central Scouting the London native is a
"big bodied guy, protects the puck and is solid on his skates. He can see the ice and barrels through everyone. He's got good hands to go along with that big body."
Couturier's usual battery mate has been Matt Read, who despite being injured seemed to somewhat regress last season. He managed to post 30 points but only contributed eight goals in 80 games played. According to DobberHockey's Frozen Pool Line Combinations, Couturier spent the majority of his even strength time on ice with Read. Read's lack of production in the offensive zone likely contributed to Couturier's status quo campaign in terms of finding the scoresheet. With Lawson Crouse in the mix, the following three lineup changes could be considered:
Move Matt Read to another line, perhaps with Scott Laughton and Brayden Schenn as Laughton has shown flashes of being a pass-first center who could help Read regain his scoring touch
Move Crouse to Couturier's left wing and watch the match made in heaven take off. Crouse excels at protecting the puck and plowing through anybody who gets in his way. The combination could allow Couturier more space in the house and with lanes opening on the ice, the path to the back of the net becomes less inhibited.
Add Wayne Simmonds to the right wing to add scoring chances and take care of business in front of the net
Crouse could very well be the missing link that could get Couturier into the Selke discussion. Looking at the last few winners, it's apparent that more offensive output is needed for Couturier to cross the threshold:
Patrice Bergeron (2014, 2012) – 30, 22 goals respectively
Jonathan Toews (2013) – 23 goals
Ryan Kesler (2011) – 41 goals
Pavel Datsyuk (2010, 2009, 2008) – 27, 32, 31 goals respectively
If the overall game of Sean Couturier can be elevated, the Flyers will be primed for success for years to come.
The Big E Effect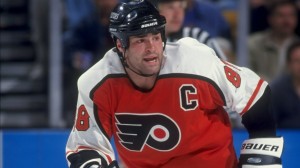 Lawson Crouse brings just about everything you could want in a hockey player. At just 17 years old, he already stands at 6'4″, 212 lbs.

— 🇨🇦 🇺🇸 🇦🇹 🇵🇱 Joe Prevara (@GoGoLeafsGo) May 31, 2015
When Eric Lindros first became a Flyer in 1992 after the infamous trade with Quebec (and subsequent arbitration hearing to determine if he was coming to Philadelphia or going to Broadway), there was a buzz in the city that their beloved hockey team would rebound from the few poor seasons they had endured and return to the level of greatness that everyone had come to expect. At 6-4 and 240 pounds, Lindros was a one-of-a-kind power forward that the league hadn't really seen much of. He could score at will, set up teammates and drop the mitts at any moment if the mood was right and the job dictated it was necessary. He was a beast to play against. Just ask former teammate and current Calgary Hitmen assistant coach Joel Otto who picked the Flyers over the Rangers in free agency just so he wouldn't have to play against him. In his prime, Lindros was a Hall-of-Fame caliber player with a points per game ratio >1.
Enter Lawson Crouse.
Crouse's game is somewhat similar to Lindros, enough so that some have even made the comparison as pointed out by Mike Morreale of NHL.com:
"A 6-foot-4, 215-pound power forward who is engaged physically each time he steps on the ice, he led the Frontenacs with 29 goals, two shorthanded goals and 51 points in 56 games. Some scouts have compared his style of play to Hockey Hall of Fame member Cam Neely and Eric Lindros."
The beauty of having a player with Crouse's size and potential is that it will create the need for opposing teams to strategize differently than they otherwise might (such as with Malkin and Crosby in Pittsburgh). Imagine the above scenario in which Crouse could wreak havoc with Sean Couturier and Wayne Simmonds. If such a line was clicking on all cylinders, it would be difficult to also send your shutdown line out to defend against the Claude Giroux line with Jake Voracek and likely (hopefully) Michael Raffl.
This is what we will call The Big E Effect. Just as teams needed to follow Lindros all over the ice, the same can be said for Crouse. He'll burn you on the scoresheet, on the forecheck and he'll put you on the ice if you don't get out of his way. Sounds a lot like Lindros to me.
The debate has been going on for MONTHS as to whether or not Lawson Crouse is worthy of high pick such as the seventh overall. As Bill Schoeninger also points out, forget about it. If Lawson is on the board when the Flyers pick, he would make a logical choice to don the orange and black for years to come.