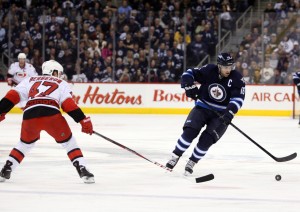 Insomnia
As the 2015 NHL Draft approaches I cannot help but spend my free time diving into the archives of Hockeydb.com, recounting the picks of Kevin Cheveldayoff over the past few years. However, as my insomnia begins to reign supreme, I find myself moving past the 2011 NHL Draft (the first of the Jets 2.0) and examining the picks of the Atlanta Thrashers in the mid to late 2000's. It is lying in my bed during that sleepless state, eating a bowl of Vector that I find the "year" for the current Winnipeg Jets. The 2004 NHL Entry Draft.
In 2004, the Thrashers would draft nine players in nine different rounds with only one player ever suiting up for regular duty in the NHL. Boris Valabik, the heavyweight defenseman for the Kitchener Rangers of the OHL, would be taken 10th overall before going on to suit up for parts of three seasons with the Thrashers. The team's second round pick, Grant Lewis, along with their third round pick, Scott Lehman, would dress for one game each. When it comes to this draft in particular, it is more so who the Thrashers' did not take that would make an impact a decade later.
The Draft
Fast forward ten years and the echoes of the names called on June 26th, 2004 in Raleigh, North Carolina can be heard loud and clear at the MTS Centre on game night. Let us recap:
1st round:
4th to Carolina- Andrew Ladd
5th to Phoenix- Blake Wheeler
6th to New York- Al Montoya
13th to Buffalo- Drew Stafford
6th round:
173rd to Calgary- Adam Pardy
178th to Nashville- Mike Santorelli
8th round:
240th to Phoenix- Aaron Gagnon
9th round:
271st to Columbus- Grant Clitsome
These seven players who were not picked by Atlanta, would go on to play in a total of 858 regular season games for the Jets, accumulating 520 points since the relocation back to Winnipeg. Al Montoya, the lone goalie of the group, would post a 16-9-3 record with a 2.61 GAA and a .910 SV% with 3 shutouts over two seasons with Winnipeg.
What about Boris?
The 6'7, 248 pound Valabik, who was once believed to be the second coming of Zdeno Chara, would never flourish into the backend powerhouse like his older, fellow Slovakian defenseman. Boris "The Bad" Valabik would suit up for 80 games with the Thrashers recording 7 assists and 210 penalty minutes. He would take on tough guys like Shawn Thornton, Jody Shelley, and eventually his "hero"- Zdeno Chara. However, his biggest claim to fame may come in the form of something that didn't take place on a hockey rink. On February 18th, 2011, Valabik and Rich Peverley were traded to the Boston Bruins for Mark Stuart and former 2004 1st round pick, Blake Wheeler. Irony or Insomnia?
Former CJAHL hockey player turned coach, turned scout.