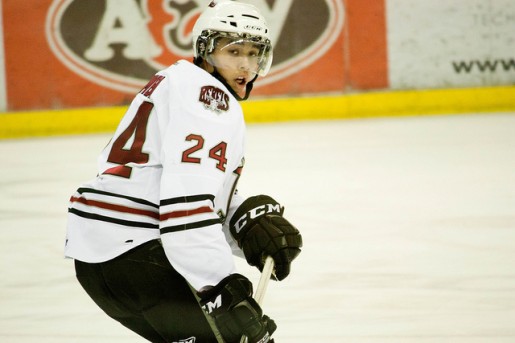 Ask any Wild fan who their top prospect is and every one of them will say Mikael Granlund without any hesitation. However, throw in the word "defensive" between "top" and "prospect" and the waters get a little muddy. I'm not a betting man, but I think it's safe to say the results of a poll asking that particular question would come out with a 50/50 split between 2011 10th overall pick Jonas Brodin and 2012 7th overall pick Mathew Dumba. Can the question truly be answered? Well, yes, as far as rankings go, however it's just not that simple.
Jonas Brodin is a 6'1" 172 pound stay-at-home defensive defenseman hailing from Karlstad, Sweden. A quite solid two-way player, Brodin is known more for his skating and defensive prowess than his offense, but did put up some impressive numbers in a limited showing as an AHL rookie before suffering an injury in a game against the Oklahoma City Barons back in November. Brodin is a defensively sound player with very high hockey IQ, astounding vision and a great first pass up the ice but needs to work on his shot. The young Swede plays with the poise and confidence of a seasoned veteran and his skating is next to none.
While he's probably NHL ready, Brodin could certainly be considered what some might call a "bean pole". If he can bulk up by 10-20 pounds, he'd certainly be a real defensive threat in Minnesota's top-four. The young Swede is never going to be an offensive force from the blue line as far as goals go, but he is most definitely a wizard with the puck in his own end and shouldn't lack in the assist department. Brodin will likely eventually cement his place on the top pairing where he will see a lot of action on the top power play unit and will be heavily relied upon to shutdown opposing top lines. Brodin has been compared by many people—including scouts and NHL players—to players like Alexander Edler, Ryan Suter and a less offensive Nicklas Lidstrom.
In the meantime, Brodin is healing up from his upper body injury—along with an injured Marco Scandella—while Minnesota is short on defensemen heading into an abbreviated training camp. This means there is hardly any competition for Suter, Jared Spurgeon, Tom Gilbert, Justin Falk, Clayton Stoner and Nate Prosser in the race to secure a roster spot. However, the Wild's top pick in the 2012 NHL Entry Draft, Mathew Dumba, has been invited to compete for a spot in the defensive corps either in the top six or as Minnesota's seventh man. Does Dumba make the jump from the Western Hockey League into the madness of a lockout-shortened NHL season? Well, according to Michael Russo of the StarTribune, he'll be given every opportunity to do so. If Scandella is still injured and Dumba doesn't make the team, they'll either have to call someone up from Houston, or trade a contract for picks or prospects to sign a free agent defenseman to an NHL contract. As of right now, if Dumba doesn't make it, it looks like veteran NHL defenseman Paul Mara is that guy after being signed by Minnesota to an AHL contract.
However, let's shift the focus back to Dumba, because he very well could make this team, at least for the obligatory five game cup of coffee. The 2012 7th overall pick stands at 6' 183 pounds and his explosive style of play has had many people comparing him to NHL defensemen like P.K. Subban, Dion Phaneuf, Mike Green and even Chris Chelios. That's right—we're talking elite, dynamic offensive defensemen that can just as easily throw a big open ice hit as well as they can unleashing a cannon from the point. I can tell you're already salivating—I know I am because this is an aspect of the team that has been missing from this Minnesota franchise for a long time, perhaps its entire existence. That's the potential that young Matt Dumba has and is what made the Wild draft table snatch him up so eagerly this past June.
Dumba will take to the Xcel Energy Center ice on Friday fully expecting to make the team, not because he expects to be automatically given a spot, but because he has the hunger, drive and competitiveness to succeed and will leave it all on the ice to show the Wild brass he's ready. Dumba just has that "X"-factor that makes him stand out from the rest. He's a leader on the ice and in the locker room and most definitely leads by example. He has everything that makes a great NHL player: willingness to learn, drive to succeed, plays with confidence and respect, has great vision, is a great skater, will do what it takes to help his team win, has a smooth set of mitts, knows how to use the body and when to use it and wields a cannon from the point.
Will he make it? It depends on the status of Scandella, but he could certainly push for a spot. I fully expect that Dumba will at least see a few games in a Wild sweater before he heads back to Red Deer. If Matt does make the team, look for him to see limited time because Minnesota will be reluctant to throw him fully into the rigors of a 48 games in 99 days season. However, he could certainly jump on a pairing with Tom Gilbert, Clayton Stoner or Nate Prosser and his heavy shot from the blue line would be most welcome on the Wild's second power play unit.
So, which top defensive prospect is better: Brodin or Dumba? I think the answer to that question has become clear—that is, it can't be answered. They both have a completely different style of play; Brodin is a defensive wizard and Dumba is absolute dynamite at both ends of the ice. They complete each other and are both equally important to the success of the new-look Wild. Minnesota fans are certainly counting on that and you can bet they can't wait to not only get their first look at Granlund, Suter and Zach Parise when the Wild finally plays their first game of the season, but Matt Dumba as well. Hopefully Brodin won't be too far behind once he recovers from his upper body injury.
Minnesota hasn't produced a legitimate top-four defenseman since Brent Burns and has suffered because of it. Now, Minnesota has drafted two elite defensemen that, if developed properly, could become the franchise top pairing for years to come and will only benefit from the acquisition of NHL All-Star Ryan Suter this past offseason. These two guys, with Suter, Spurgeon, Scandella and Gilbert will provide a very nice Minnesota defensive corps for years to come and complements Minnesota's rock solid goaltending and offensively gifted forwards quite well. Whether either young defenseman cracks the Wild's lineup this season or not, there is a lot of optimism for the future and you can bet that both Jonas Brodin and Mathew Dumba are a huge part of it and will be for many years to come.