Please "Click Here" for "Notes Up Front" and the "Legend" for various topics covered below in my "Live Updated" NHL 2011 Draft Preview article – The Next Ones.
Jonas Brodin
Date of birth: July 12, 1993
Place of birth: Karlstad, Sweden
Ht: 6-1 Wt: 169
Shoots: L
Position: Defense
NHL Draft Eligibility: 2011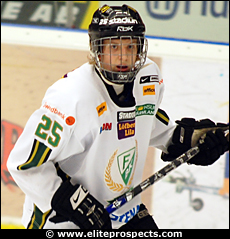 One-Timer:
(An excerpt of this section was used in The Good Point's Mock Draft)
At this point in his development, Brodin will not wow you with his offensive production. However, the wow-factor is definitely there when NHL scouts have analyzed Jonas' game and yearn for his silky smooth skating and mobility, great hockey sense, unparalleled composure, pinpoint accurate passing, defensive acumen and willingness to play a physical game when necessary.
Brodin's off the chart hockey sense is in the top tier amongst this year's draft eligible prospects, as is his on-ice poise.
Although he has already played against men in Sweden's top league, he must continue to train to increase strength and add mass to his slight frame in order to handle the rigors of the NHL.
Eldon MacDonald, my co-conspirator at The Next Ones, has anointed Jonas "The Zen Master" and explains why:
Jonas has a lot of skills and good points but two set him apart from the field:

Calmness – there is a serenity about Jonas' game, a coolness under pressure where time seems to slow down and Jonas uses that time to make his decision on what play to make and to speed up or slow down the flow of the game – no matter what the distraction. Next time you are watching him on TV, turn down the sound and put on Louie Armstrong singing "It's a Wonderful World" and you will get the music that scouts are feeling when they are watching Jonas Brodin.
Vision – Chess masters such as Garry Kasparov and Anatoly Karpov can look at a game of chess and see many moves ahead – that is one of the reasons they are so good. Similarly, Jonas Brodin looks at a sheet of ice like a chess board and can see what play to make that will not just get the puck out of the zone but is likely to put his team in the best possible position to create offense.
Statistics:
Scout's Honor:
"He's a very smooth-skating defenseman with great agility. He's similar in a lot of ways to Nathan Beaulieu, although Brodin played against men all year. Even with that slight frame, he was able to play a significant role at the elite level, and that's impressive."
– Carolina Hurricanes Vice Pres. & Assistant GM Jason Karmanos
"Couple his unflappable style with terrific mobility and it is easy to see why we like him. Brodin has quick feet and pivots well. His lateral movement is superb. He is solid in all areas of the ice and anticipates the play very well."
– HockeyProspect.com's 2011 Draft Guide
International Tournaments:
Jonas suited up for Sweden at the 2011 U-18 World Junior Championships and registered 1 assist in 4 games for the silver medal winners.
ETA = 2 years
Risk-Reward Analysis:
Risk = 1.5/5   Reward = 4/5
NHL Potential:
Top four all-around blueliner with top pairing upside.
Strengths:
*See "One Timer" section above.
Silky smooth skating and mobility
Great hockey sense
Unparalleled composure
Pinpoint accurate passing
Defensive acumen
Willingness to play a physical game when necessary.
Flaws/Aspects He Needs To Work On:
Continue to train to increase strength and add mass to frame to handle the rigors of the NHL.
Continue to develop his offensive zone acumen.
Fantasy Hockey Potential: Offensive = 7.5-8/10   Defensive = 8.5/10
NHL Player(s) Comparison:
– Ryan Suter
Video:
(Brodin is #2 assisting on Mika Zibanejad's goal)
Off The Iron (Interesting Notes):
2010-11 – World U18's – Silver Medal with Team Sweden
2010-11 – Elitserien – Playoff Champions with Färjestad
2009-10 – World U18's – Silver Medal with Team Sweden
THW's The Next Ones prospect profile template design architect: Chris Ralph
Christopher Ralph is THW's prospect and draft analyst
*Follow ChrisRalphTHW on Twitter as he infiltrates, dissects and analyzes all happenings of hockey prospects and the NHL entry draft.
This document is the intellectual property of Christopher Ralph and cannot be used or duplicated in any way without expressed written consent. Any use of this document without the expressed written consent of Christopher Ralph will result in public exposure and legal prosecution.