By Wayne Whittaker, Boston Bruins Correspondent
Letting a 3-0 series lead against the Philadelphia Flyers slip away in 2010, forget it.
The Edmonton Oilers of 1988 and 1990, irrelevant.
Too many men, 1979 vs. Montreal. Nothing but a distant memory.
This is it. This is the pinnacle. There is nothing left to do but soak in the moment, and hope that we may witness it again one day. But for now, there are parades to attend, photos to frame, merchandise to buy, and YouTube videos to watch over and over again.
It was only fitting that this Bruins team became the first Cup champion squad to win three Game Sevens in a single playoff run. Of course it couldn't have been an easy ride. For a team whose resiliency was called into question just 13 months ago, they acted as though they had something to prove not only to their critics, but to themselves.
Climbing back into two separate series after surrendering the first two contests for the first (and second) time in franchise history. Going 1-3 in Game Ones. Playing in, and ultimately winning, a Stanley Cup Final Game Seven for the first time in the franchise's storied history. Succeeding despite a largely unsuccessful power-play unit. The first Stanley Cup Boston has captured after facing the Montreal Canadiens in the playoffs.
Out of a possible 28 game post-season schedule, the Bruins played 25.
They responded when Zdeno Chara was recovering from dehydration in Round One, when Bergeron was sidelined with a mild concussion in the Conference Semi-Finals' clinching game, and rallied together after watching Aaron Rome end Nathan Horton's post-season in Game Three of the Cup Finals.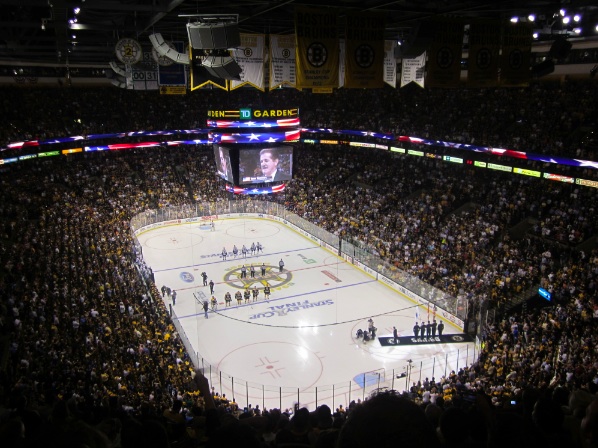 In order to win a championship you not only need talent, but a little bit of luck as well.
A single unlucky bounce could've ended the Bruins season months ago. For all of their toughness, Boston's defense was porous at times. The bend-don't-break mentality possessed by coach Claude Julien and his team may not have always been the most popular choice in the Hub, but it was ultimately proven effective.
Of course, Tim Thomas had to bail out Boston on several occasions. In what was one of most impressive displays of goaltending in the history of the National Hockey League, the 37-year old netminder seemed to be using his storied 17-year journey as inspiration knowing full well that this may have been his final opportunity to capture hockey's ultimate prize.
Surpisingly, after his historic regular season, Thomas began the post-season in a somewhat disappointing fashion (disappointing in that he appeared to be mortal after all). But as the Bruins advanced, Thomas' play not only returned to regular season form, but became truly legendary.
Thomas wasn't the only Bruin to make history.
Patrice Bergeron's name will be added to a list of players consisting of Bill Carson, Roy Conacher, Bobby Bauer, and Bobby Orr. All of whom are responsible for Boston's Stanley Cup clinching goals.
The 25-year old Bergeron is the longest-tenured Bruin, joining the organization as an 18-year old rookie in 2003. He has been with the franchise through some of its darkest times, and now celebrates as the Bruins return to glory.
Brad Marchand captured the franchise's rookie playoff scoring title in an amazing post-season run. While the 23-year old still has a ways to go in terms of self-restraint, he was an effective agitator who often provided the spark Boston needed on many nights.
Marchand will be a restricted free agent this off-season, but one has to imagine general manager Peter Chiarelli will be more than happy to lock up the young winger for years to come.
Throughout the season coach Claude Julien became the target of much scrutiny for his sometimes questionable techniques, but he certainly silenced all the critics and doubters by out-coaching himself against similarly-minded Jacques Marin, Guy Boucher, and Alan Vigneaut. Had Julien not advanced past the Conference semi-finals, there's a good chance he wouldn't be returning behind the bench in 2011. Now, well, it's safe to say Julien will be sticking around for a while.
Much like many questioned Julien for years, whenever Boston has sustained a rough patch, or lost a key game or series, the captaincy of Zdeno Chara has been called into question. Not only are the suggestions that Chara is unfit to be a leader insulting to the Norris-trophy winner, they're baseless. While raising the Cup roughly ten feet into the air after Game Seven, Chara let out a primal scream that seemed to serve as his answer to the critics who've ever questioned him.
For Mark Recchi, this Stanley Cup serves as his final achievement. Twenty-two years in the league, and three Stanley Cups later, Recchi is a shoe-in for the Hall of Fame. While his leadership will surely be missed in the locker room, there's an outside chance that the 43-year old takes a management role within the organization.
Milan Lucic wasn't the only Vancouver native to win the Cup in his hometown on Wednesday night. Cam Neely's name will finally appear on Lord Stanley's chalice.
The President of the Bruins had two chances to capture the Cup as a player, but ultimately came short of that goal.
Indirectly acquired from the trade that brought Neely to Boston,  Lucic did his part in making sure his mentor would finally be able to win it all.
There are so many story-lines surrounding this championship for Boston that it's impossible to appreciate them all just a day removed from victory. Regardless, the banner that will be lifted to the rafters of the TD Garden in early October will represent an unforgettable season for the Boston Bruins.
39 years of heartbreak and near-misses have been erased. Just as those who were able to witness Bobby Orr fly through the air in 1970, forty years from now we will be reminiscing about Tim Thomas' historic performance. And we'll share stories of watching the Cup-winning team roll into Copley Square as the city around them celebrates. These memories will only become more cherished as time passes. In a way, winning was only the beginning.
This is it, Boston. The Bruins are Stanley Cup champions.
—
Thank you for reading this season! Follow Wayne on Twitter.
Wayne Whittaker has been a Boston Bruins Correspondent for TheHockeyWriters.com since 2010. As a Berklee College of Music graduate, and Massachusetts native, Whittaker has been around Boston, the Bruins, and the game of hockey his entire life. His work has also been featured in Sports Illustrated, Huffington Post, CBSSports.com, and Yahoo.com.