The 2013 OHL trade deadline has come and gone.  Many players have found themselves with new homes and new teammates.  There were some incredibly substantial deals and some teams who found themselves to be sellers truly unloaded.  Additionally, a lot of OHL teams took some precautions to make sure that their teams would be safe in the event that some players with NHL rights do not return to their lineups.
There were not a lot of blockbuster swaps in this OHL trade deadline but that should not discredit how some were quite substantial.  Deals between Ottawa and Owen Sound, Kitchener and Sudbury, and Niagara and Barrie seemed to be the biggest ones of the trading period.  It seemed as though some of the more major transactions were also player signings, including some players returning after significant absences and one incredible landing in London.
Here is who everyone acquired during the 2013 OHL trade deadline (and some Tweets to show just how appreciative many of these players were to the organizations they were leaving or joining):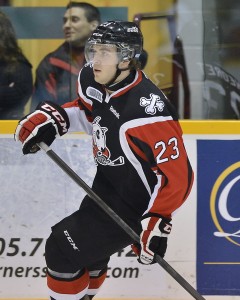 BARRIE: The Barrie Colts went into the OHL trade deadline with the notion that they could very well lose Mark Scheifele to the Winnipeg Jets when the NHL season starts.  They brought in New York Islanders draft pick Mitchell Theoret, who has been having his best season offensively so far this year.  To further add toughness to the roster, the Colts acquired Devon Rymarchuk from the Owen Sound Attack. In a separate trade with Owen Sound, Barrie brought in Jake Dotchin, a defenceman who is a 2012 draft pick of the Tampa Bay Lightning who can certainly fill the void that will be left when Ryan O'Connor and Alex Lepkowski graduate.
https://twitter.com/Theoret23/status/289118234353999872
https://twitter.com/Theoret23/status/289118469750923265
Been a very long day but extremely happy to get a fresh start with @OHLBarrieColts a great opportunity!

— Devon Rymarchuk (@devonrymar) January 10, 2013
https://twitter.com/Dotch94/status/289425153283223552
BELLEVILLE: The Belleville Bulls went into the OHL trade deadline hoping to bring in some added scoring punch to a team that already employs the likes of Brendan Gaunce, Joseph Cramarossa and Austen Brassard.  Before the trade deadline, the Bulls acquired Tyler Graovac from the Ottawa 67's, reuniting him with Jake Cardwell.  Additionally, the Bulls acquired Detroit Red Wings draft pick Alan Quine from the Peterborough Petes.  A former Kingston Frontenacs forward, it is almost as though life will come full circle for Quine in the Friendly City since he was born there (he currently lives in Ottawa).
Thanks Ottawa for everything. Been the best 3 years of my life! See you at the Yard

— Ty (@TyGraovac) January 5, 2013
https://twitter.com/Quiner26/status/289553452055556097
BRAMPTON: The Brampton Battalion did not make many moves at all for the twilight of their time in the Toronto suburb.  In fact, the only player they acquired was Francis Menard from the Peterborough Petes. Menard, who was leading the Petes in scoring, joins his third OHL team and he is expected to help alleviate some of the scoring pressure put on players such as Blake Clarke and Barclay Goodrow.
ERIE: The Erie Otters went into the OHL trade deadline with the hope of landing more pieces for the future of their organization.  To help with the scoring, they brought in Joel Wigle from Niagara, a player who has had considerable success over his OHL career but seems to have struggled a bit this season.  To help their young defence, the Otters brought in Jack Kuzmyk from Sarnia, a tough, stay-at-home blueliner who may not put up a lot of points but is a great teammate.
https://twitter.com/jjwigs/status/289416616364605440
https://twitter.com/jjwigs/status/289416743745634306
Wanna say thanks to the whole Sarnia Sting organization, the fans and most of all the boys for giving me such a great time here

— Jack Kuzmyk (@koozehound007) January 10, 2013
GUELPH: The Guelph Storm were relatively quiet at the OHL trade deadline, making only one significant deal. They acquired Saverio Posa, the captain of the Windsor Spitfires, to help solidify a rather impressive defence that also includes Matt Finn, Andrey Pedan and Brock Beukeboom. In addition, the Storm signed Michael Nishi from the Gatineau Olympiques after Keegan Wilson, the goalie who beat Nishi for the #1 job with the Ottawa 67's this season, was released.
https://twitter.com/Sposa92/status/289094471096860672
KINGSTON: The Kingston Frontenacs were also very quiet on trade deadline day.  Acquiring Luke Hietkamp a couple of weeks before was perhaps their closest deadline deal but they felt that the team they have now is one of youth and excitement.  They did, however, not go without making some noise; they acquired the OHL rights to Lucas Peressini from the Saginaw Spirit.  Peressini currently plays in the OJHL with the Newmarket Hurricanes where he currently plays alongside former Frontenacs goalie prospect Matthew Wintjes.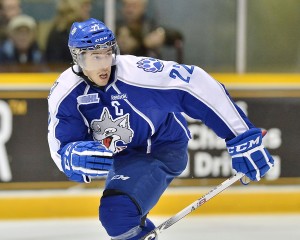 KITCHENER: The Kitchener Rangers made perhaps the biggest deadline deal which came with the Sudbury Wolves.  Toronto Maple Leafs draft pick Joshua Leivo is a high-powered offensive forward who will help provide some of the scoring that has been lost with Matt Puempel's injury. Frankie Corrado, the former Wolves captain, is a steady defenceman who brings both offence and leadership from the blueline, taking some of the pressure off of Ryan Murphy.  Joel Vienneau is an extremely talented goaltender who has been successful everywhere he has played; he can surely jump into backing up John Gibson or take the #1 job if Gibson does not readily return from Anaheim Ducks camp.  The Rangers also managed to acquire Kitchener native Derek Schoenmakers from Peterborough to give them added leadership.
I wanna thank the sudbury wolves and all the fans for three amazing years!

— Josh Leivo (@jleivo17) January 8, 2013
I'd like to thank the Wolves for everything they've done for me. I'm truly going to miss everyone there and wish them all the best

— Frank Corrado (@frankcorrado22) January 8, 2013
En route to kitch @frankcorrado22 @jleivo17 gonna miss the boys!

— joel vienneau (@vienneau1) January 8, 2013
So great to put that Rangers jersey on tonight after being a fan growing up… never felt better in my life #Blessed #RockTheAud

— Derek Schoenmakers (@DSchoe71) January 9, 2013
LONDON: The London Knights made only one trade at the deadline to bring in yet another veteran defenceman.  Justin Sefton, a San Jose Sharks draft pick, was brought in from Sudbury to even further ameliorate a considerable group of blueliners who also include Scott Harrington, Olli Määttä and Nikita Zadorov.  Additionally, Dakota Mermis joined the blueline after forgoing a commitment to the University of Denver.  Perhaps the biggest news out of London was the signing of Philadelphia Flyers draft pick Anthony Stolarz; the 6'6″ goaltender left the University of Nebraska-Omaha and he is expected to become the new #1 man between the pipes, resulting in Kevin Bailie being waived.
Thank you to everyone for the tweets And thank you @Sudbury_Wolves. For 3 and a half great years Good memories and great people. #Unrealfans

— justin sefton (@justinsefton) January 9, 2013
Thanks for all the tweets London! I'm excited to be a knight! #greatfans #greatday

— Dakota Mermis (@dmermis06) January 2, 2013
https://twitter.com/AStolarz43/status/288814734667567104
MISSISSAUGA: The Mississauga Steelheads stood pat on OHL trade deadline day.  They are sticking with the roster they currently have.
NIAGARA: The Niagara IceDogs went into the OHL trade deadline knowing that are going to be considerably younger next season.  Before the deadline, they acquired Mitchell Fitzmorris from Kingston and Jordan Maletta from Windsor, the latter being a St. Catharines native.  At the deadline, they acquired Brendan Perlini from Barrie; the 2012 first-round pick of the Colts is the younger brother of Ducks prospect Brett Perlini.
My time with the @KingstonFronts has been tremendous, love the boys and the community, good luck and fare well #tradedeadline #newstart

— Mitchell Fitzmorris (@mitchfitzmorris) January 6, 2013
Thanks to the barrie fans, the organization aswell as the city. Was a great place to start off my ohl career

— Brendan Perlini (@Bubzp11) January 10, 2013
OSHAWA: The Oshawa Generals decided to get a little tougher during the OHL trade deadline.  With all their offensive talents, the Gens looked for pugnacity and they got it.  The team acquired Johnny McGuire from Erie and Justice Dundas from Sarnia, two players quite capable of defending their teammates and themselves when needed.  Additionally, the team brought in a solid import defenceman, acquiring Nashville Predators draft pick Simon Karlsson from Plymouth who had found himself lost in the shuffle of a veteran blueline on the Whalers.
Wanna thank the @ErieOtters for everything over the past few years. Classy organization, Great fans #loudestbarnintheO

— Johnny McGuire (@Johnny_mac21) January 10, 2013
https://twitter.com/ServingJustice_/status/289431407187603456
just want to thank everybody in the team for a great time in Plymouth and especially my billet family for taking care of me! @PWhalers

— Simon Karlsson (@SKarlsson93) January 11, 2013
OTTAWA: The Ottawa 67's were perhaps one of the busier teams in the days up and around the trade deadline. Dismantling the vast majority of their veteran corps, Ottawa brought in Sergey Kuptsov from Belleville first.  Kuptsov is eligible for the 2013 NHL Entry Draft and joins his third OHL team.  Next came a significant deal with Owen Sound that has brought Colorado Avalanche draft pick Joseph Blandisi and 17-year-old rookie defenceman Jacob Middleton to the nation's capital.  John Urbanic was brought in from Oshawa and Mark Petaccio was brought in from Sault Ste. Marie to bring some added tenacity.
https://twitter.com/MiddzClassy/status/288483755985887233
https://twitter.com/JohnnyUrbanic27/status/289105228475817984
Want to thank the greyhound organization for everything and for the best billets in the world! Excited for a new start in ottawa!

— Mark Petaccio (@petaccio_12) January 8, 2013
OWEN SOUND: The Owen Sound Attack made one of the biggest trade deadline deals in the days leading up to Thursday.  They acquired Cody Ceci and Steven Janes from Ottawa, hoping to make even more noise in the always-tight Midwest Division.  Ceci joins a lengthy list of elite defencemen in that division.  Additionally, New Jersey Devils draft pick Artur Gavrus decided to rejoin the Attack after spending the majority of this season with Nemad Grodno in his homeland of Belarus.  Furthermore, Daniel Milne, a 2010 draft pick of Owen Sound, finally committed after spending time with the OJHL's St. Michael's Buzzers and, more recently, the University of Michigan.
https://twitter.com/Cecer_83/status/288382369415720961
Would like to thank the Ottawa 67s for 3.5 great years you will all be missed but starting a new chapter in Owen sound with @Cecer_83

— Sarah MacLeod (@SJanes17) January 7, 2013
https://twitter.com/TheMilner16/status/289493355585486851
PETERBOROUGH: The Peterborough Petes were relatively quiet during the OHL trade deadline despite the fact that they are a team rebuilding for the future.  They traded away three key veterans but acquired only two more players.  One of the players they acquired was Nick Czinder who, despite being an overager, will bring significant size to the roster; the 6'6″ behemoth with the long blonde hair will surely bring leadership, too. Peterborough also acquired Colorado Avalanche draft pick Michael Clarke from Windsor, reuniting him with his former Spitfires teammate.
Would like to thank the Spitfires, the fans, and of course all my teamates! It has been a great chapter of my life and I'm gonna miss it!

— Michael Clarke (@mclarke19) January 10, 2013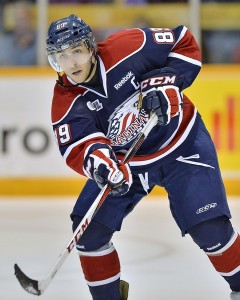 PLYMOUTH: The Plymouth Whalers made some decent deals on trade deadline day and around it, as well.  The Whalers got a welcome boost before the deadline when Colorado Avalanche prospect Mitchell Heard returned from the AHL's Lake Erie Monsters for an albeit abbreviated overage OHL season.  They did, however, get some significant talents in deals.  The most notable trade was receiving Vincent Trocheck in a trade with their cross-state rivals, the Saginaw Spirit.  Trocheck, a Florida Panthers prospect, had just won gold at the World Juniors with the United States.  He was not the only 2012 World Junior participant brought to Plymouth as Sebastian Uvira, who represented Germany, was brought in from Oshawa.  A couple of days before the deadline, the Whalers also acquired the oft-traveled Zach Lorentz (his third trade in less than a year) from Windsor.
Nothing's easy… Another stepping stone. Excited to join the whaler boys again for a long run!!!

— Mitchell Heard (@Heardy48) January 1, 2013
Alright guys … Thanks to all the Oshawa fans for all their support… Gonna Miss you all … Excited to start in Plymouth now

— Sebastian Uvira (@SU93_Army) January 10, 2013
SAGINAW: The Saginaw Spirit were very quiet on deadline day.  The only player that the team acquired was Zach Bratina, a 17-year-old rookie who was the first-round pick of the Plymouth Whalers in the 2012 OHL Priority Selection.  A Lindsay, Ontario, native, Bratina is expected to be a key cornerstone for the rebuilding franchise.
SARNIA: The Sarnia Sting possibly had the most shocking day out of all the teams in the OHL at the trade deadline.  The team only acquired one more player, trading for Tyler Hore from Oshawa, separating the rookie from his twin brother Matthew, who stays behind on the Generals.  What makes it even more confounding for Sarnia is the knowledge that both of their goalies are injured, meaning that rookie Knicholas Dawe has to shoulder the load until JP Anderson is ready to return, and that Connor Murphy — fresh off winning a gold medal at the World Juniors — is out for the year with an injury of his own.  Thankfully, though, they did manage to trade for and sign blueliner Taki Pantziris before the new year after he left Brown University.
https://twitter.com/tylerhore5/status/289438972105588736
SAULT STE. MARIE: The Sault Ste. Marie Greyhounds did not bring in anyone else during the trade deadline. The only deal they made was sending Mark Petaccio to Ottawa for future draft picks.
SUDBURY: The Sudbury Wolves will be reaping the rewards of a great six-player deal with Kitchener.  They have acquired Franky Palazzese, who is leading the OHL in goals-against average and is expected to be their #1 goalie next season.  Cory Genovese is a solid young defenceman who lives close to Kitchener as he is from nearby Hespeler (essentially Cambridge) with incredible upside; he is also eligible for the 2013 NHL Entry Draft.  Matt Schmalz is expected to be a key offensive force up front in the coming years.  Additionally, the Wolves added Kevin Raine to their young blueline in a trade with London; the soon-to-be overager with the incredibly noticeable mane will be counted upon to be a key rearguard next season.
I want to thank the @OHLRangers organization and everyone involved for the best year and a half of my life, I'd also like to give a huge…

— Franky Palazzese (@frankypalazzese) January 8, 2013
Thank you to all the amazing fans that have supported me while being here, everyone will be missed..saying that I can't wait for the new…

— Franky Palazzese (@frankypalazzese) January 8, 2013
Opportunity with the Sudbury Wolves organization, very excited to get started!!!

— Franky Palazzese (@frankypalazzese) January 8, 2013
A dream come true to play for the Rangers, thanks to everyone involved. Looking forward to great things to come in Sudbury #wolves

— Cory Genovese (@corygenovese) January 8, 2013
Feel honored to be drafted by the Kitchener rangers. Thank you everyone but off to Sudbury #wolves

— Matt Schmalz (@Schmalzy17) January 8, 2013
Traded to Sudbury. There are so many people I'd like to thank in helping me become the player and person I am today including:

— Kevin Raine (@makeitraine11) January 9, 2013
Coaches, teammates, trainers, the fans, my billet who's home I have grown to now call my own, and of course my friends and family.

— Kevin Raine (@makeitraine11) January 9, 2013
But honestly the truth is, is that they're all family. London you've been great to me. I've met great friends and had a great time

— Kevin Raine (@makeitraine11) January 9, 2013
I look forward to the next chapter of my journey and would like to thank the knights organization for sending me somewhere where I can have

— Kevin Raine (@makeitraine11) January 9, 2013
The opportunity to play more minutes and a bigger role. London it was great, but Sudbury here I come!

— Kevin Raine (@makeitraine11) January 9, 2013
WINDSOR: The Windsor Spitfires made only a few deals around the OHL trade deadline.  The first was to bring in Remy Giftopoulos from Ottawa, who found himself leaving one rebuilding team and joining another, one in which his veteran leadership could be better utilized.  The Spitfires also brought in overager Alex Aleardi from Plymouth after Mitchell Heard's return meant that one of the Whalers' overagers needed to be moved.  Perhaps the biggest trade was acquiring Tampa Bay Lightning first-rounder Slater Koekkoek from Peterborough; with captain Saverio Posa traded, Koekkoek can bring significant leadership and stability to the defense on the Spitfires.  (Being born in February 1994 actually now makes Koekkoek the oldest blueliner on Windsor's roster.)  Most importantly, after much speculation, the Spits got a big boost when Boston Bruins prospect Alexander Khokhlachev rejoined the team after spending the majority of the season in the KHL with Spartak Moscow.
https://twitter.com/Aleardi42/status/288515299282649090
https://twitter.com/Aleardi42/status/288658267071205377
*
Best of luck to everyone on their new teams!