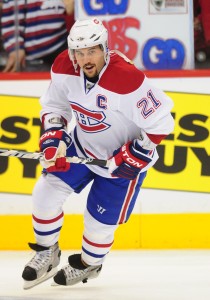 The worst thing that could possibly happen to the Montreal Canadiens this season is an average result.
With just 48 games in which to work, and a seemingly infinite list of questions which need to be answered, fans of hockey's most storied franchise appear to be in for an interesting ride when the puck finally drops on the 2013 NHL season.
The Northeast is quite possibly the most wide open division in hockey this year, with only the Boston Bruins managing to top the one-hundred point plateau last season. And with Tim Thomas off on a sabbatical/spirit walk/semi-permanent, but fully-paid vacation, all bets are off. Tuuka Rask has shown flashes of greatness between the pipes, but has also faltered significantly in previous attempts to take the reins of the big club. If Rask goes down to injury, or is less than consistent during a condensed schedule, the Northeast could be up for grabs right up until the final game of the season.
Looking at the Canadiens' current roster, one could easily justify slotting them into the top half of the Eastern Conference playoff picture. Of course, they could also end up in the basement again just as easily. The problem with predicting the Canadiens' fate is the number of players on the current roster who possess the potential to either deliver big-time results, or disappear altogether.
Up front, the connection between Cole, Pacioretty, and Desharnais is an obvious strong point. Assuming Desharnais's play last season was no fluke (and based on his consistency, it certainly appears that it was not), flanking a shifty, but responsible playmaker with two 30-goal scorers is about as good a first line as one can hope for.
But the Canadiens' real questions begin to appear just below the surface. With a bevy of players who possess top-six talent, but have often found themselves with bottom-six results, Montreal may well be the most difficult team in the National Hockey League to accurately assess.
If Rene Bourque, Tomas Plekanec, and Brian Gionta can find any kind of chemistry whatsoever, the trio has more than enough talent to skate with any second line in the National Hockey League. Plekanec is likely the Canadiens' most talented player, but fell victim to Desharnais's success last season and was plagued by inconsistency while working his way through twenty-five different line combinations.  With a healthy Gionta on one side, and a motivated Bourque on the other, it's not unreasonable to think that Plek could return to 65-70 point range (or 35-40 points in a shortened season).
Scott Gomez has taken a lot of flak recently over his lack of statistical production, but once you get past the contract, what you're left with is a 33 year-old Stanley Cup champion with nearly 700 career points who has actually been playing for the entirety of the lock-out. No matter how you cut it, that's not a bad option for a third-line centre. Lars Eller also looks ready to become the player Canadiens' fans have been waiting for, showing flashes of offensive brilliance last year and leaving many pundits with the 6'2 Dane pencilled in as high as the number two centre position.
For all the potential the team possesses, however, there are just as many question marks. What if Desharnais was a flash in the pan? What if Eller still isn't ready, or if Bourque remains as uncommitted as he appeared at certain points last season? What if Gionta is gets hurt again?
The problem with the Canadiens roster heading into this shortened season is that there are no less than eight gigantic question marks up front, in addition to four more on the blue line. With a dozen players who possess the ability to take on top-line minutes, but could just as easily sink to third-line calibre, predicting the fate of the 2013 Canadiens is a crapshoot at best. If everything clicks, they are one of the deepest teams in the East. If nothing clicks, they are destined for another top draft pick…but the most likely, and unfortunately the most devastating, outcome would be an even mix of success and failure.
Consider the following names: Rene Bourque, David Desahrnais, Brian Gionta, Lars Eller, Scott Gomez, Colby Armstrong, Brandon Prust, Ryan White, Andrei Markov, Alexei Emelin, Tomas Kaberle, Raphael Diaz
For reasons ranging from injury, to age, to motivation level, all of these players have significant question marks surrounding them heading into this season. Can each of them approach their ceiling in terms of potential?  Of the dozen listed, if the answer is 'no' to eight or more, the Habs are very likely to receive another high draft pick in what is thought to be one of the deepest draft pools in recent memory. If the answer is 'yes' to eight or more, then draft picks be damned; we've got a contender on our hands.
Of course, the worst case scenario for Montreal is that the answers are split, in which case the Canadiens will once again find themselves sitting directly atop the playoff bubble, neither contending for the Cup nor building toward the future.