The Detroit Red Wings' 2015-16 season has many new features; first new head coach in 10 seasons, two highly skilled free agent singings and a goaltending battle of veteran versus youth.
There were a lot of questions being thrown at the Red Wings to start the season and where one analyst says they won't make the playoffs, another one says they're a dangerous team to play against and will make it 25 consecutive years in the playoffs.
If Detroit is going to make the playoffs then one goalie needs to prove he's the guy.
Brandon Peleshok: Petr Mrazek
Statistically, Jimmy Howard and Petr Mrazek are neck and neck— each goaltender has two wins and their save-percentages are very similar. If only by a hair, I believe Mrazek is winning the goaltending battle in Detroit.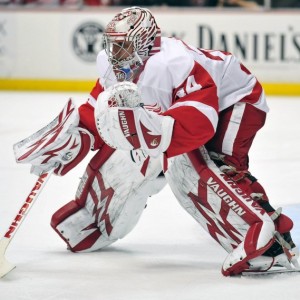 Certainly, the Red Wings' forwards and defensemen are not making it easy for either goaltender. The team is dead last in shots per game and trail the New York Islanders in shots-against per game.
As long as the Red Wings are facing a high volume of shots against, I would prefer to have Mrazek between the pipes. Seemingly, he plays his best hockey when he faces a t on of rubber. His ability to handle the puck is a boon to the team, as illustrated in Saturday night's game against the Vancouver Canucks. While Howard has looked solid, Mrazek is the goaltender the Red Wings need right now.
Jacob Messing: Petr Mrazek
As Brandon already stated, the numbers of each goalie are so similar this early in the season that you can't choose a winner just by looking at a stats sheet. After having an all-star year last season, Howard fell back down to earth after returning form a groin injury.
During his recovery, Mrazek stood on his head and made sure Detroit was able to stretch their playoff run another year. Howard rushed himself back to try and pick up where he left off, to no avail. It became clear when you compared his pre-injury numbers against his post-injury numbers that he wasn't ready to be back in the crease.
Howard would lose his job going into the playoffs and Mrazek would take over. Mrazek played honorably in a seven-game series with two shutouts, but Detroit fell victim to another early golf season.
Fast-forward to the current season and Mrazek has played great for the Wings. He has kept them in games and given them every excuse to win when he's on the ice. The problem so far is Detroit's lack of goals and overall lack of threatening offense.
The truth is that Mrazek is currently winning the battle because he gives Detroit a reason to win every night he's on the ice. Mrazek even acts as a third defenseman in Detroit's defensive zone with his puck movement, as well.
Tony Wolak: Petr Mrazek
After the first three games of the season, both Petr Mrazek and Jimmy Howard were playing well. After the next three, neither were playing well, though the defensive zone play by the skaters left much to be desired. However, in Mrazek's three games against the Carolina Hurricanes, Montreal Canadiens, and Vancouver Canucks, he appeared to be the better goalie of the two.
Howard needs to resolve consistency issues in order to establish himself as the starting goalie. Mrazek has been playing well, despite an inconsistent schedule and play in front of him. Based on recent performances, Mrazek deserves to get the next start at home against Carolina on Tuesday night.
Contributors' Consensus
Mrazek has proven he is ready for a full NHL season and has picked up where his 2015 playoffs left off. While both goalies have played at elite levels this season, Mrazek has done so with more consistency and confidence over Howard.
Detroit's goaltending controversy dates back to last season and only grew during the off-season questions have surrounded the two net-minders for months. Mrazek has proven himself time and again including his first start of this season.
Which goalie will carry the team this season and prove he's Detroit's number one for the future? Share your comment below.