Jacob Messing: Dylan Larkin
When it was announced that 19-year-old Dylan Larkin would be on the opening night roster, nobody expected this kind of production this quickly. With at least one point in each of his first five games in the NHL (2 G, 4A), Larkin has shown why he is such an anomaly within the Detroit organization that likes to over-ripen prospects.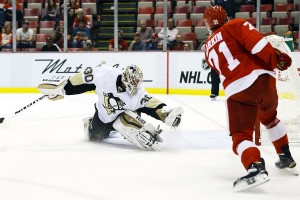 In addition to being a consistent contributor to the scoresheet, Larkin leads the team in plus/minus (plus-7) and sits second in the entire league, behind only Andrei Markov and Max Pacioretty of the undefeated Montreal Canadiens, in the plus/minus category.
Larkin has shown maturity beyond his years and rather than benefitting from playing next to Henrik Zetterberg and Justin Abdelkader, he has created his own plays with a great hockey sense and lightning fast speed. He has already earned the trust of head coach Jeff Blashill and he played a career high 20:21 of ice time against Montreal Saturday night, where he finished plus-1 in a 4-1 loss.
Tony Wolak: Justin Abdelkader
Though penciled into the top line before training camp started, Abdelkader has surprised thus far and is not only proving that he's not just a "piano-mover," but also a top-six forward who can contribute on a nightly basis. Playing on a line with Zetterberg and top prospect Larkin, Abdelkader opened the season with a hat trick against Toronto and now has 5 points through 5 games.
It is a nice surprise to see Abdelkader taking a leading role on the team, where he now finds himself as one of the veterans among the youngsters. And if Abdelkader can keep continuing to provide an impact on the scoresheet and in the locker room once reinforcements arrive (Darren Helm, Pavel Datsyuk), the Red Wings will find themselves with a deep, high-scoring forward group heading into yet another playoff season.
Brandon Peleshok: Tomas Tatar
While Abdelkader, Larkin and Zetterberg have been pleasant surprises for the Red Wings this season, the play of Tomas Tatar has been surprising for another reason. He led the team in goal-scoring last year, finishing with 29.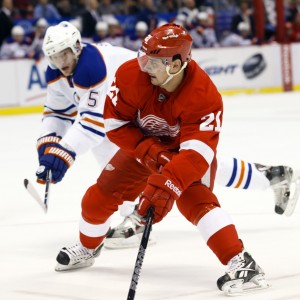 During the preseason, Tatar scored four goals in as many games, skating alongside Brad Richards. The duo appeared to have some chemistry together, though it has not translated over to the regular season. Though Tatar has two assists, he has just five shots on goal and has not generated the high-quality scoring chances he has in the past.
Considering it is very early in the year, there is not much cause for concern just yet. It definitely seemed as if Tatar was ready to start 2015-26 as one o Detroit's top snipers, though.