The Leafs have made some great moves this summer in my opinion. I like all the depth forwards they signed and I really liked the Gardiner contract and the hiring of Dubas. I think the moves they didn't make are even better: keeping Phaneuf, Kadri and Gardiner despite a bunch of trade rumors to the contrary.
I do think, however, that the Leafs are going to be hard pressed to be a contender this year. While their future looks bright with Gardiner, Reilly, Nylander and Kadri in addition to Kessel, Bernier, JVR and Phaneuf, I think they are 2 players away from being a Cup Contender right now. Those two players would be a #1 Centre and a top pairing defenseman.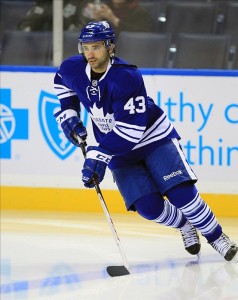 In a year or two, when Kadri and Nylander force Bozak to a more realistic role further down the depth chart, and Rielly and Gardiner develop into star defenseman, the Leafs should be a solid contender for years. If they want to wait, then I am fine with that because I think patience is something the team has lacked for, well, basically forever.
However, right now, they arguably have their two best players (Kessel and Phaneuf) right smack in the primes of their careers and banking on the future is, at best, risky, because who knows what can happen as far as development and injuries.
If the Leafs want to contend this year, there is a shortcut:
Now, I know I just mentioned patience as something this franchise has lacked, but that doesn't mean being patient is always the answer. I am fine if that's how they want to play it, but there is something they could do that is the antithesis of patience, but which I think might be worthwhile.
Trade their 2015 first round pick in order to either get the top centre they have lacked since Sundin retired or the partner that Phaneuf desperately needs.
The argument against doing so is pretty obvious, but hear me out anyways.
The 2015 draft is said to be one of the deepest and best of all time. There are two players, Connor McDavid and Jake Eichel who are potentially franchise altering star players – perhaps even generational talents.  Beyond that, the Leafs are a team who many think will miss the playoffs and garner a lottery pick.  Those two factors should combine to make their 2015 first round pick incredibly valuable – perhaps valuable enough to get someone to overpay for it.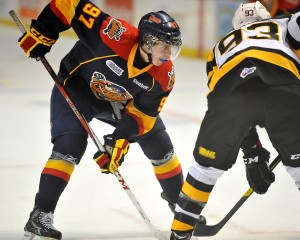 Given the perceived value of the pick, the Leafs could probably command a king's ransom for it. It would be a risky proposition – it's bad enough being the team that traded away Scott Nieddermayer, Roberto Lungo and Tyler Seguin –  but if they could use it to get a star player to centre Kessel and JVR, they would then have one of the deepest groups of forwards in hockey. If they traded it for a defenseman worthy of a top pairing, they would then, along with Rielly, Phaneuf  and Gardiner perhaps have one of the best groups of defenseman in hockey.  Getting a star player at either position could potentially vault the Leafs from a fringe playoff team to a Cup Contender.
Of course, this would carry a ton of risk, but the reward might be worthwhile. It would enable them to add a star player without losing a roster player, and allow the Leafs to make some headway in the Eastern Conference that should be wide open next year.
Yeah, it's risky and it would probably not be a popular move, given the team's history of making similar moves, but there's no guarantees in hockey and being patient doesn't necessarily mean that patience will pay off.  The NHL might see the Leafs as a potential lottery team, but I feel that last year's collapse was an anomaly compounded  by terrible luck, and that if they were to add themselves that elusive top line centre, they might just surprise a lot of people.
At the very least, I think it'd be worth exploring what a package of Lupul, Franson and their first rounder might get them.