One of the most intriguing storylines this year in the NHL has been the contract of Steven Stamkos. Tampa Bay Lightning General Manager, Steve Yzerman has stated publicly that re-signing his captain has been his number one priority. The financial neighborhood of the impending deal is presumed to be in the area of $10 million dollars for the maximum of eight years. That is certainly a nice neighborhood, probably gated as well.
This is the Jonathan Toews, Patrick Kane and more recently, Anze Kopitar territory. The primary factor that Yzerman has to take into account beyond hammering out this negotiation is the residual effect any Stamkos deal might have with the rest of his roster. Locking Stamkos to a new deal could very well result in the Lightning losing some other players.
More specifically, what salary cap space will remain for Yzerman to sign players such as Nikita Kucherov, Alex Killorn, Braydon Coburn, Vlad Namestnikov, J.T. Brown, Nikita Nesterov and Jonathan Marchessault, all of whom have contracts ending when the current season is completed. This doesn't even begin to address the contract status of Victor Hedman, Tyler Johnson, Ondrej Palat, Brian Boyle and Ben Bishop, all of whom are only signed through next season.
So in the next two off-seasons, Yzerman has to renegotiate with 13 players of the current 23 man roster between now and the end of next season. These players include their top forward line (Stamkos, Palat, and Namestnikov), the entire second line of Kucherov, Johnson and Killorn, one of your defensive specialists from the third line in Brown and your fourth line center and top penalty killer in Boyle. Oh yeah, it also includes your number one goaltender.
For the players coming to the end of their current contracts this season, only Stamkos and Coburn are unrestricted free agents. If a deal cannot be reached by July 1 with either of them, then every NHL team can make an offer to sign them away from Tampa free and clear. All the other players are restricted free agents who can receive offer sheets after July 1 which Yzerman can match or the Lightning receives some level of draft picks as compensation depending on the size of the contract.
In the following year, Boyle, Hedman, and Bishop are unrestricted so the potential of player loss without receiving anything in return looms beyond Stamkos. This is why Yzerman, if he hasn't already, should take heed from the son of his former coach. A successful model has been established by another NHL team.
The Bowman Model
Stan Bowman, the General Manager of the Chicago Blackhawks since the summer of 2009 has clearly figured out how to win in the salary cap era. During his tenure of six full NHL seasons, his teams have won three Stanley Cups. This feat was difficult prior to the salary cap but it is extremely impressive to win multiple championships when the current collective bargaining agreement limits what a GM can spend and for how long he can spend his salary budget.
Over the time of the Bowman regime now in its seventh year, he has made the excruciatingly difficult financial decisions in the best interests of the franchise. What this meant is basically two things. Bowman has to decide each year which players he must keep and which are expendable. As far as one can tell, Bowman has a rather simple formula. His plan is what I call the core of six.
Beginning with the end of the 2009-10 season, Bowman's first, when it came time to revamp his roster, there were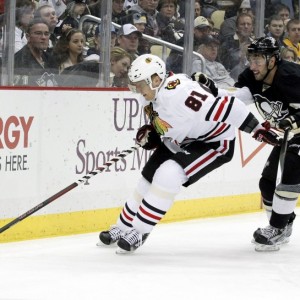 some unpopular and difficult decisions to make. Bowman's team won the Cup in his first year as GM. The summer of 2010, Bowman made a conscious decision to determine which of his players made up his core of six. Looking back on his roster then, in addition to Kane and Toews, Bowman chose Patrick Sharp, Marian Hossa, Duncan Keith and Brent Seabrook.
What this meant for the Blackhawks was that players such as Dustin Byfuglien, Cam Barker, Troy Brouwer, Adam Burish, Kris Versteeg, Andrew Ladd, and number one goalie, Anti Niemi were either traded or lost in free agency. The question from many in the media was how could the team sustain a winning program? Bowman showed the NHL, the answer was the core of six.
After Chicago won its second Cup in 2013, they lost players such as Dave Bolland, Nick Leddy, Michael Frolik, Viktor Stalberg and goalie Ray Emery. How could they maintain their winning edge? The core of six remained intact. Bowman figured out how to spend the remaining cap money on a mixture of veterans with cap friendly contracts and up and coming players with team friendly deals.
Last season, after besting the Lightning for the Stanley Cup in six games, Bowman was at it again. Although this past off-season was the first change to the core of six as he traded away Sharp and seemed to replace him in the nucleus with goalie, Corey Crawford. Bowman also lost Johhny Oduya, Brad Richards, Brandon Saad, Antoine Vermette, Kris Versteeg (for the second time) and goalie Antti Raanta. Time will tell if Chicago has the team to win another Cup but right now they are the top team in the Western Conference and recently had a 12 game winning streak.
The Core of Six for the Lightning
So, my unsolicited advice to Yzerman is to find your core of six. Find the six players that will be the nucleus of the Lightning team for the next few years that can bring home the Cup.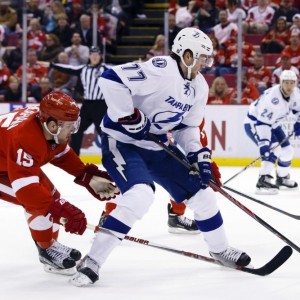 In the event that anyone asks, here are the players that would make my core. It starts with Stamkos. Next on the list is Hedman who should be a strong Norris Trophy candidate this year and for years to come. Then, Yzerman has to lock up the Triplets. While they may not be on the same line, Kucherov, Palat, and Johnson are critical to the continued success of the Lightning. For the time being, Bishop rounds out Tampa's core of six.
There is a window of about five years that the Lightning has to make a serious run at the Stanley Cup. It began surprisingly last year despite not winning their division; they found themselves playing for the hardest trophy to win in all of sports. They were denied by Bowman's Blackhawks.
Once he locks up Stamkos, Yzerman must be prepared to move on without some players outside of the core. Some will be fan favorites; some will have contracts that simply no longer fit under the cap. Yzerman needs to lock up his core of six and round out his roster with the right combination of veterans, youngsters and the types of players that will fit into Coach Jon Cooper's style of play. It will start with Yzerman determining, then locking up the Lightning core of six.