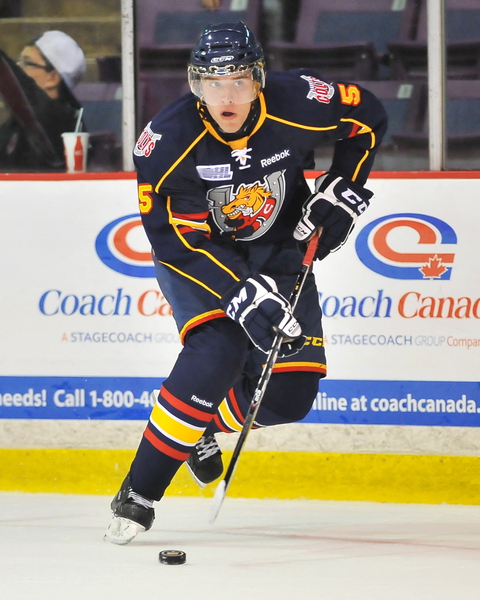 Early last month, The Next Ones 2013 NHL Draft Preliminary Rankings were released highlighting the top 60 prospects eligible for the 2013 NHL Entry draft. There will undoubtedly be plenty of jockeying for position amongst the eligible prospects with a ton of hockey yet to be played.
This article provides an early glimpse at some of the talented young guns to keep an eye out for, for the 2014 NHL Draft. While the 2013 draft promises to be yet another very talented draft class, the 2014 draft contingent certainly will not disappoint.
Here are the top 20 NHL 2014 Draft eligible prospects:
Aaron Ekblad – Defenseman – Barrie Colts (OHL)
Ekblad joined John Tavares and later Connor McDavid (projected jewel of the 2015 NHL draft) as 15 year olds granted Exceptional Player Status to become eligible for the OHL draft early. The all-around two-way blueliner already possesses NHL size at 6'3″ and well over 200 lbs. He is off to a fantastic start offensively as well, notching 16 points in just 20 games early in the OHL season.
Sam Reinhart – Forward – Kootenay Ice (WHL)
Reinhart possesses outstanding hockey bloodlines; he is the son of former NHLer Paul Reinhart and his brothers are 2010 Calgary Flames draft pick, Max Reinhart, and 2012 New York Islanders draft pick, Griffin Reinhart. The third of Paul's sons might just be the most skilled of the bunch. Sam is a talented and savvy playmaking centre.
Roland McKeown – Defenseman – Kingston Frontenacs (OHL)

McKeown was the second overall pick in the 2012 OHL Priority Selection. He is an outstanding skater and two-way blueliner who projects to be the quarterback-type.
Blake Clarke – Forward – Brampton Battallion (OHL)
Clarke had an impressive 2012-13 campaign in the OHL finishing second in Battalion scoring and being named to the OHL second all-rookie team. He possesses outstanding hockey IQ and a very good skating winger who is equally adept in the goal-scoring or playmaking role.
Nick Ritchie – Forward – Peterborough Petes (OHL)
Ritchie was the second overall pick in the 2011 OHL Priority Selection. While his brother Brett, a Dallas Stars prospect, fell to the second round in 2011, don't expect Nick to escape the first round. He is an intriguing blend of size and speed.
William Nylander – Forward – Södertälje J20 (SWE)

William Nylander Altelius is the son of former NHLer Michael Nylander. He is a talented forward and quite impressively is currently tied for the scoring lead in the J20 SuperElit (Sweden) as a 16 year old.
Jakub Vrana – Forward – Linköping J20 (SWE)
Vrana is one of the most talented prospects to come out of the Czech Republic in quite some time. He quite impressively is averaging 1.78 PPG in the J20 SuperElit (Sweden) as a 16 year old, which is currently tops in the league amongst players who have played in at least 9 games.
Joshua Ho-Sang – Forward – Windsor Spitfires (OHL)
Ho-Sang was the 5th overall pick in the 2012 OHL Priority Selection. He'll definitely have to continue to develop physically, but he is an absolute puck magician with superior skating skills.
Anthony DeAngelo – Defenseman – Sarnia Sting (OHL)
DeAngelo demonstrates outstanding hockey sense from the blueline. He is somewhat undersized at this point, but has excellent vision, deft puck skills and is cool under pressure.
Jake Virtanen – Forward – Calgary Hitmen (WHL)
Virtanen was the 1st overall pick in the 2011 WHL Bantam Draft and is a relentless goal-scoring forward. He's had a tough start to the WHL season thus far after a great finish when called upon last season. His combination of speed, skill and hustle will get him back on track.
Eric Cornel – Forward – Peterborough Petes (OHL)
Cornel was selected third overall in the 2012 OHL Priority Selection. Eric is a silky smooth skating, playmaking centreman with fantastic puckhandling skills.
Ivan Barbashev – Forward – Moncton Wildcats (QMJHL)

Barbashev was selected first overall in the 2012 CHL Import Draft and is a highly skilled Russian forward with very good hockey sense.
Brayden Point – Forward – Moose Jaw Warriors (WHL)
The undersized, but über-skilled forward has been impressive in the Dub this year. He is already drawing comparisons to Marty St. Louis and Patrick Kane (albeit a right-hand shooting version thereof).
Leon Draisaitl – Forward – Prince Albert Raiders (WHL)
Draisaitl has been dubbed the "German Gretzky". While that may put very lofty expectations upon the WHL rookie, he has gotten off to an impressive start with 16 points in 21 games and a plus-9 rating. His skating is a work in progress, but he has exceptional puck possession skills.
Robbie Fabbri – Forward – Guelph Storm (OHL)

Fabbri exhibits outstanding speed and a great shot, making him a lethal offensive force.
Nick Schmaltz – Forward – Green Bay Gamblers (USHL)

Schmaltz's brother Jordan was a defenseman for the Green Bay Gamblers and 2012 first round selection by the St. Louis Blues. Nick is considered by many scouting services to be the top 1996 born forward in the United States.
Jordan Thomson – Defensemen – Kamloops Blazers (WHL)
Thomson was selected fourth overall in the 2011 WHL Bantam Draft. He is a savvy two-way blueliner with a propensity towards the offensive side of the game.
Patrik Koys – Forward – HK Dukla Trencin (Cezech)

Koys has been touted as one of the best prospects from Slovakia since Marian Gaborik. He has crossed the pond this season to join the Shawinigan Cataractes of the QMJHL.
Daniel Audette – Forward – Sherbrooke Pheonix (QMJHL)
Audette was the first overall pick in the 2012 QMJHL Draft and is the son of former NHLer, Donald. He is a dangerous forward with blazing speed.
Joshua Jacobs – Defenseman – Indiana Ice (USHL)
Jacobs is an outstanding skating defenseman. He plays a physical brand of two-way hockey from the blueline.
Brandon Robinson – Forward – Brampton Battalion (OHL)
Robinson was selected seventh overall in the 2011 OHL Priority Selection. He projects to be a goal-scoring forward with great size.
Honourable Mention:
Reid Duke – Forward – Lethbridge Hurricanes (WHL)
Keegan Iverson – Forward – Portland Winterhawks (WHL)

Chris is THW's senior draft/prospect analyst and a Managing Editor. Watch for "The Next Ones" Prospect Profile series, exclusive rankings, mock drafts, as well as the annual THW NHL Entry Draft Guide. Follow @ChrisRalphYQ on Twitter as he infiltrates, dissects and analyzes all happenings of hockey prospects and the NHL entry draft. Email: cralph[at]thehockeywriters[dot]com