Please "Click Here" for "Notes Up Front" and the "Legend" for various topics covered below in my "Live Updated" NHL 2011 Draft Preview article.
Sean Couturier
Date of birth: December 07, 1992
Place of birth: Phoenix, AZ, USA
Ht: 6-4 Wt: 195
Shoots: L
Position: Centre
NHL Draft Eligibility: 2011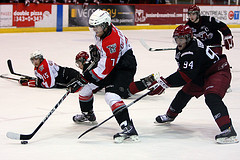 One-Timer:
Sean Couturier possesses an impressive arsenal of tools that each and every NHL franchise covets, especially for a centreman. He provides great strength down the middle, utilizing his rare blend of size, power, skating, speed to with very good work ethic, puck skills, shot and hands.
Heading into the season, the race for top overall prospect for the 2011 entry draft was seemingly to be decided between Swedish blueliner Adam Larsson and Couturier. As often is the case, however, other prospects emerge and those at the top have each and every aspect of their game heavily scrutinized. Throw in some obstacles like injuries and other medical conditions and it is quite evident it sure is not easy to stay at the top.
In Couturier's case, both factors have come in to play. The emergence of top notch elite forward prospects such as Ryan Strome and Jonathon Hurbedeau has taken some of the lustre and limelight away from the talented Drummondville Voltigeurs center. The escalation of  their game to another level from prospects such as Ryan Nugent-Hopkins and Gabriel Landeskog has especially jolted Couturier from his once thought assured top 2 drafting position.
The other major often overlooked factor in Couturier's season was the fact that he had mononucleosis (mono) in the off-season. It often takes upwards of a year to fully recover from mono and I really think this has affected Sean's endurance and effectiveness this season.
I'm not in any way implying this is the case with Couturier, but of note, 11 percent of individuals who contract mono fit criteria for chronic fatigue syndrome six months after symptom onset. A subsequent study in adolescents noted that as many as 7 and 5 percent met that syndrome definition at 12 months and 24 months. No doubts NHL scouting teams have to take this into some consideration in evaluating the top gun prospect.
If all factors are not accounted for come draft day and Couturier falls outside the top 5, the team that drafts him could make out like bandits.
In baseball, a five-tool player is one who excels at hitting for average, hitting for power, baserunning skills and speed, throwing ability, and fielding abilities. Evan Longoria and Troy Tulowitzki are two players that most likely fit the description.
What is hockey's equivalent? I'll coin the phrase right here – a Ten-Tool-Player. Who in this year's draft fits the bill? Gabriel Landeskog and Sean Couturier are neck and neck.
Key Components of Ten-Tool-Player:
On-ice vision
Hockey sense/IQ
Skating (the one area Couturier will need to work on but fundamentals are there)
Puck skills
Shot
Playmaking
Defensive acumen
Physicality (while not a dominant physical player, Couturier uses his size to his advantage in puck protection and positioning.)
Competitiveness
Intangibles
Couturier receives a high rating in all areas mentioned and is indeed a ten-tool-prospect.
Statistics:
Nice breakdown from OilersNation.com:
Age 15 in Q: 58gp, 9-22-31 (,534ppg)
Age 16 in Q: 68gp, 41-55-96 (1.412ppg)
Age 17 in Q: 58gp, 36-60-96 (1.655ppg)
His splits were 25gp, 16-36-52 before January 1st (a 2.08ppg total) and 33gp, 20-24-44 in 2011's regular season games (1.33).
"Couturier didn't stall season over season, but the improvement (as noted above by the splits) stopped after the World Juniors. He may be what he is, which is still an exceptional prospect. But more and more he is looking like Doug Wickenheiser in a world of Denis Savard's, with no GM willing to select the big man #1 this time."
Scout's Honor:
Scout says: "He can create a scoring chance from anywhere in the offensive zone and he makes his linemates look better." (THN)
***
"For me, the biggest thing, I try to project a players' future impact on the game. I think Sean is going to be a strong NHL player. I see him as a 60-70 point player at some point in the NHL and there's nothing wrong with that. I see him more along the lines of Jordan Staal, a player he's been compared to. Jordan is a good player, but not a star player. With Sean, I see a really good, smart player, but I don't see him as that front-line center right now. He'd be an excellent No. 2 center. That's why I put him behind (Ryan) Nugent-Hopkins and (Jonathan) Huberdeau for now."
– Craig Button via NHL.com
Bio/Interview(s)/Link(s):
International Tournaments:
Sean had 3 points in 7 games for Team Canada at the 2011 WJCs and while did not dominate, he was impressive as the only 2011 draft eligible prospect to make the team. Of note, he was 13th in faceoff winning percentage with just over 56%.
"I hear people say he didn't have a great world junior but he was playing behind Brayden Schenn and Ryan Johansen and there's no shame in playing behind two older guys who are top-five drafts," the scout said. "He's a big centre who's capable of putting up big numbers, who can be very creative with the puck, but he's also a strong player when he doesn't have the puck and is committed to playing defence. He obviously has to fill out and get stronger but who doesn't like a big two-way centre who can be a first- or second-line centre in the NHL?"
– TSN, quoting a scout
Top Prospects Game: While fellow prospects such Ryan Nugent-Hopkins, Ryan Murphy and Daniel Catenaccis made their mark on the game, Couturier was unfortunately relatively invisible  on the night. He registered just one shot acting as Team Cherry's captain. One game is just one game, however.
ETA = 0-1year
Risk-Reward Analysis:
Risk = 0-0.5/5   Reward = 4.5/5
NHL Potential:
Great sized number one centreman who is responsible defensively; at the very least, Couturier should morph into a high end number 2 or 3 centre who can play effectively in all three zones.
Strengths:
*See "One Timer" section above.
Flaws/Aspects He Needs To Work On:
Continue to train to increase strength and add mass to frame to handle the rigors of the NHL
Fantasy Hockey Potential: Offensive = 8.5/10   Defensive = 8/10
NHL Player(s) Comparison:
– At his best: A hybrid of Eric and Jordan Staal; Evgeny Malkin
– Jason Arnott
Video(s):
Off The Iron (Interesting Notes):
Born in Phoenix because his father, Sylvain, was a minor leaguer in the Los Angeles Kings system back then, the younger Couturier was raised in Quebec and projects to be an impact player where his father was a journeyman. Like Sidney Crosby's legacy, the son appears to be more than the sum of the parts of the father and in Couturier's case, he brings an impressive package of size, skills and sense." (Kirk's Call – HockeyJournal.com)
QMJHL – 2009-10 Jean Beliveau Trophy (Leading scorer)
Couturier was named QMJHL league MVP, top 2011 draft prospect and a first-team all-star recently.
Couturier led the QMJHL in scoring with 96 points in 2009-10, becoming the first and only 17-year-old to do so since Sidney Crosby of the Rimouski Oceanic in 2004-05. Not Lemieux. Not Lafleur. Not Lafontaine.
Nickname = "Couts"
THW's The Next Ones prospect profile template design architect: Chris Ralph