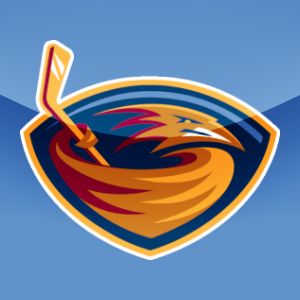 Game 82 is in the books, as is the Atlanta Thrashers 2010-11 season. A 5-2 loss this afternoon to the Pittsburgh Penguins ends a season of high hopes for the Thrashers and gives them a final regular season record of 34-36-12, one loss shy of 2009-10.
Let's get to the action from this afternoon's loss. Four minutes into the game Captain Andrew Ladd found the back of the net for his 29th tally of the season, giving the Thrashers a 1-0 lead. Forwards Bryan Little and Nik Antropov with the helpers. Backup goaltender Chris Mason stopped all nine shots he faced in the first frame.
Things became much of the same though, as the Pittsburgh Penguins score four unanswered goals against the Thrashers in the 2nd period, giving Pittsburgh a commanding 4-1 lead. Four different forwards scored goals for Pittsburgh, Tyler Kennedy (21), Pascal Dupuis (17), Michael Rupp (9) and Mark Letestu (14).
The Thrasher's had a total of 23 shots on backup goaltender Brent Johnson through two periods of action.
Forward Tim Stapleton added his fifth goal of the season for the Thrashers, coming on the power play at 13:15 of the 3rd period to pull the Thrashers within two. Stapleton's goal would eventually count as the final goal of the season as Pittsburgh forward Mike Comrie scored his first goal of the season and final goal of the game, distributing the puck into an empty net.
The Thrashers managed to register 16 shots on goal in the 3rd period and 39 for the game, outshooting the Penguins by 20.
Thrasher fans were upset during today's contest as Penguin defensemen Zbynek Michalek tripped forward Bryan Little on his breakaway pursuit to the Penguin net. No call was made on the play, prompting a fan to send a drink onto the ice in the defensive zone.
The Pittsburgh Penguins have defeated the Thrashers 12 times in the last 13 games now. The Penguins who will face Tampa Bay in the 1st round of the playoffs, finish the season with 49 victories. They were without the services of forwards Jordan Staal, Chris Kunitz and James Neal.
The Thrashers end the season with back to back losses.
"Disappointment. We had a goal this season and weren't able to reach that goal. Everybody in here should realize it's not good enough," Captain Andrew Ladd said.
Heading into a longer off-season then originally anticipated, the Atlanta Thrashers are excited about the promising additions to the lineup, and taking valuable steps forward. Right now, that's the only thing they can do as their summer officially begins.