'The Nuck Stops Here' is a Vancouver Canucks news and opinion column running every Sunday throughout the season.
NEWS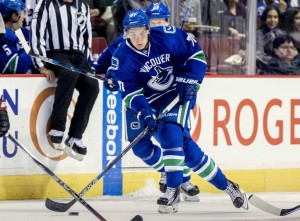 Jake Virtanen Assigned to Utica Comets
The following is a press release from the organization:
Vancouver, BC – Vancouver Canucks General Manager Jim Benning announced today that the club has assigned forward Jake Virtanen to the Utica Comets on a conditioning assignment.
Virtanen, 19, has played 19 games, recording four points (1-3-4) and 15 penalty minutes in his rookie season with Vancouver. During the 2014.15 season, Virtanen appeared in 50 games with the Calgary Hitmen of the WHL, where he scored 52 points (21-31-52) and logged 82 penalty minutes. He played 14 playoff games (5-8-13) for the Hitmen last season before joining the Comets Calder Cup run and playing another 10 postseason games (0-1-1).
The Abbotsford, B.C. native has missed the past four games due to injury. Virtanen was selected sixth overall by the Canucks in the 2014 NHL Entry Draft.
Guillaume Brisebois Signs ELC
The following is a press release from the organization:
Vancouver, B.C. – Vancouver Canucks General Manager Jim Benning announced today that the club has signed defenceman Guillaume Brisebois to a three-year entry level contract.
Brisebois, 18, has appeared in 28 games for the Acadie-Bathurst Titan of the QMJHL where he currently leads all defencemen on the team in scoring with 12 points (4-8-12). In 2014.15, Brisebois collected 28 points (4-24-28) and 34 penalty minutes in 63 games played with Acadie-Bathurst. He led all Titan defencemen in goals, assists and points.
On the international stage, the Longueuil, Quebec native is a two-time medalist with Canada, winning gold at the 2014 Ivan Hlinka Memorial and bronze at the 2015 Under-18 World Junior Championship. He also represented Team Quebec at the 2014 World Under-17 Hockey Challenge.
Brisebois was selected by Vancouver in the third round, 66th overall in the 2015 NHL Entry Draft.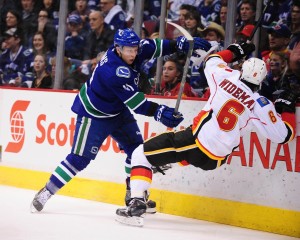 Ronalds Kenins, Andrey Pedan Recalled
The following is a press release from the organization:
Vancouver, BC – Vancouver Canucks General Manager Jim Benning announced today that the club has recalled forward Ronalds Kenins and defenceman Andrey Pedan.
Kenins, 24, has played in two games with the Canucks this year and appeared in eight games for the Comets this season, registering an assist (0-1-1) and eight penalty minutes. He split the 2014.15 season between Vancouver and Utica. Kenins appeared in 30 games with the Canucks in his first NHL season, registering 12 points (4-8-12) and eight penalty minutes. In 36 games with the Comets in 2014.15, he collected two points (1-1-2) in five playoff games.
Pedan, 22, has appeared in 19 games with Utica this season, where he currently sits tied for second among Comets defencemen in scoring with nine points (2-7-9). He also played one game with the Canucks this year. During the 2014.15 season, Pedan appeared in 42 games with the Comets registering 14 points (3-11-14) and 70 penalty minutes. Prior to being acquired by Vancouver on November 25, 2014, Pedan played six games with the Bridgeport Sound Tigers, recording three assists and 51 penalty minutes.
Dan Hamhuis to Undergo Surgery, Miss Two Months
Wednesday night against the New York Rangers, defenceman Dan Hamhuis was hit in the face by a shot courtesy of Dan Boyle. He was helped off the ice and carried away in an ambulance, and is now expected to miss two months after surgery to repair a facial fracture.
Hamhuis has four assists and boasts a plus-7 rating through 27 games of the 2015-16 campaign.
Coach Desjardins said #Canucks are looking at "at least two months" without Dan Hamhuis.

— Vancouver #Canucks (@Canucks) December 11, 2015
Scores of the Week
Vancouver Canucks – 5 : Buffalo Sabres – 2
Vancouver Canucks – 2 : New York Rangers – 1
Current Record: 11-11-8 (30 Points ~ 2nd in Pacific Division, 9th in Western Conference, 21st in NHL)
ANALYSIS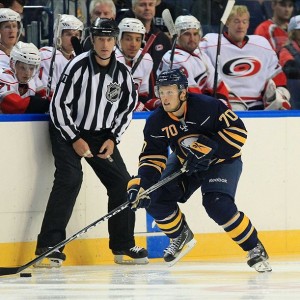 In Praise of Alex Biega
It's fair to say the Canucks have had their defensive woes this season. Ranking 21st in goals against, the team has regularly seen defensive breakdowns from nearly every member of the D-core. Even the likes of Dan Hamhuis and Alex Edler, who are veteran players and generally a bit more stable defensively, have been prone to the errors. However, one of the Canuck defenders who has rarely made any glaring mistakes, is Alex Biega. Biega, an AHL journeyman of 367 games, has been an extremely steady member of the Canucks blue line, playing alongside a variety of different partners. Nicknamed Bulldog, Biega doesn't stand out as anything particularly flashy, but comes to the ice every day and plays a strong defensive game while contributing physically to an extent. Few players put in the kind of effort the 27-year-old does, and if he keeps putting up results like he is now, it won't be long before he finds himself in a full-time NHL position.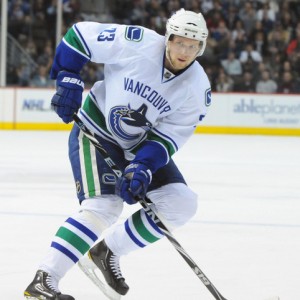 Alex Edler quietly putting up points
Alex Edler takes a lot of heat in the Vancouver market, both fairly and unfairly. However, one just criticism over the past couple of seasons has been about his lack of offensive production. Last season, Edler put up just 31 points in 74 games, coming off a 22 point in 65 game season under John Tortorella. While it could have certainly been worse, everyone knew he was capable of more (see his 49 point 2011-12 campaign), and this year, it seems he's starting to put his offensive talents to good use. With 17 points in 28 games thus far, the 29-year-old Swede is on pace to put 50 points on the year, which would be his single best point total in his career to-date. Considering the lack of secondary scoring from many Canuck forwards this year, Edler's contributions come as a welcome surprise, and one that could prove even more valuable as the season progresses.
AROUND THE BLOG-O-SPHERE
Fun links about the Vancouver Canucks from all around the internet
An assortment of Canucks related tidbits courtesy of Carol Schram [HockeyBuzz]
Brad Ziemer on the Canucks' road schedule [National Post]
What we can learn the Canucks' early struggles [Sportsnet]
GM Jim Benning is keeping an eye on former Canuck Frankie Corrado [TSN]
The four best lines in Vancouver Canucks history [VanCity Buzz]
Why Hunter Shinkaruk should be next in line for an injury call up [The Canuck Way]