'The Nuck Stops Here' is an exclusively Vancouver Canucks column that runs Mondays, Wednesdays and Fridays
News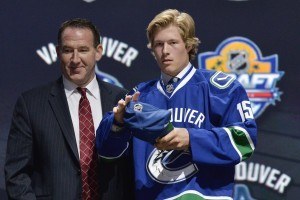 Canucks Select Seven Players in Entry Draft
The Canucks selected seven players in this past weekend's NHL entry draft, taking winger Brock Boeser in round one, defenceman Guillame Brisebois in round three, forward Dmitry Zhukenov in round four, defenceman Carl Neill and forward Adam Gaudette in round five, winger Lukas Jasek in round six, and defenceman Tate Olson in round seven.
The following is part of a press release from the organization:
Boeser, 18, tied for the United States Hockey League lead with 35 goals and ranked third with 68 points in 57 games played with the Waterloo Black Hawks this season. The Burnsville, Minnesota native has appeared in 65 career regular season games split with the Sioux City Musketeers and Waterloo Black Hawks, registering 72 points (38-34-72) and 32 penalty minutes.
Brisebois, 17, collected 28 points (4-24-28) and 34 penalty minutes in 63 games played with the Acadie- Bathurst Titan this season. He led all Titan defencemen in goals, assists and points. The Longueuil, Quebec native has appeared in 123 career regular season games with the Acadie-Bathurst Titan, registering 47 points (7-40-47) and 60 penalty minutes.
Zhukenov, 18, registered 19 points (3-16-19) and 42 penalty minutes in 35 games played with Omskie Yastreby of the MHL. Internationally, the Omsk, Russia native has represented his country at the 2014 World Junior A Challenge, the 5 Nations Tournament, and the 2014 Ivan Hlinka Memorial.
Neill, 18, led all Sherbrooke Phoenix defencemen in goals (14) and ranked second in points (40) and assists (26) in 63 games played this season. He also finished first amongst Phoenix defencemen in playoff scoring, collecting six points (1-5-6) in six games.
Gaudette, 18, collected 30 points (13-17-30) and 55 penalty minutes in 50 games played with the Cedar Rapids RoughRiders of the USHL. On the international stage, the Braintree, Massachusetts native has represented his nation at the 2014 World Junior A Challenge.
Jasek, 17, registered two assists (0-2-2) and four penalty minutes in 27 games played with Trinec Ocelari HC of the Czech Republic League. On the international stage, the Trinec, Czech Republic native has represented his nation at the 2014 and 2015 5 Nations Tournament, the 2014 4 Nations Tournament, and the 2014 Ivan Hlinka Memorial.
Olson, 18, ranked third among Prince George Cougars defencemen in points (24) and assists (19) and fourth in goals (5) in 68 games played. He finished tied for second on the team with three goals (3-0-3) in five playoff games.
Eddie Lack Traded to Carolina Hurricanes for Draft Picks
The following is a press release from the organization:
Sunrise, Florida – Vancouver Canucks General Manager Jim Benning announced today that the club has acquired the 66th overall pick in the 2015 NHL Entry Draft and a 7th round pick in 2016 from the Carolina Hurricanes in exchange for goaltender Eddie Lack.
The additional pick provides Vancouver a total of six selections in the 2015 Draft: 23 (RW – Brock Boeser), 66, 114, 144, 149, and 174.
Patrick McNally Traded to San Jose Sharks for Draft Pick
The Canucks traded defenceman Patrick McNally to the San Jose Sharks in exchange for a 7th round pick in 2016. McNally was taken in the fourth round of the 2010 entry draft, but hasn't recovered since being involved in a cheating scandal at Harvard University. McNally had not been qualified by the Canucks organization.
Analysis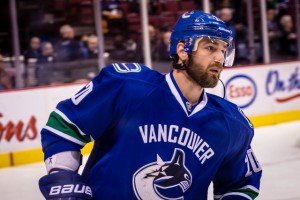 There is No Room for Chris Higgins in Vancouver
In 2011, Mike Gillis acquired winger Chris Higgins at the trade deadline, at his since been touted as one of his best moves, due not only to his effectiveness in their run to the Cup Final, but also because of the fact that since then, Higgins has fit in nicely as a middle-six winger that plays a big role on the penalty kill. However, as consistent as Higgins has been since coming to Vancouver, with all the young talent coming up in the pipeline, there is simply no room for him in the Canucks lineup. With Sven Baertschi and Ronalds Kenins all but guaranteed roster spots, Zack Kassian (likely) being given an increased role, and the likes of Jake Virtanen and Hunter Shinkaruk pushing hard for spots, the veteran forward is expendable. It seems doubtful that Higgins will fetch very much, but even a mid-round pick would be solid value for the Canucks, especially considering Jim Benning's undying passion for draft selections.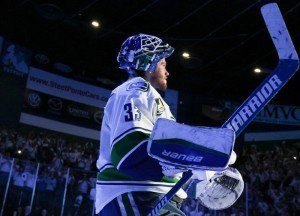 Question Marks in Goal After Ryan Miller
Despite boasting the likes of Roberto Luongo, Cory Schneider and Eddie Lack over the past three years, as well as having promising goaltenders such as Thatcher Demko and Jacob Markstrom in the system, when current starter Ryan Miller's contract is up in 2017, the Canucks, barring any trips to the free agent or trade wells, may have some struggles between the pipes for a couple seasons. Markstrom, while a promising prospect and a dynamite AHL starter, has had difficulty at the NHL level, and if he can't put it together soon, it may be a long few campaigns waiting for Thatcher Demko to develop.
Now, as mentioned above, there is always the option of trading for or signing a short term fix, but that's not always the easiest thing to accomplish (nor does it always work out), so the Canucks organization better hope that Markstrom can start having success in the NHL.
Where Are They Now?
Victor Oreskovich
Victor Oreskovich is a 28-year-old ex-Canucks winger, who played 17 regular season games with the club during the 2010-11 and 2011-12 campaigns, as well as 19 playoff games during their run to the Stanley Cup Finals in 2011. Oreskovich was largely a fourth line winger who brought a combination of speed and size to the table, though some questioned his work ethic.
He played a total of just 67 NHL games, putting up nine points in the process. He was taken in the 2nd round of the 2004 entry draft, and also played 50 games with the Florida Panthers. Oreskovich retired from the game in 2012, and has since become an insurance agent for Sun Life Financial. On his profile, Oreskovich claims that he will "fully help you understand your financial situation", and will help you "prepare financially for the future". Oreskovich was born in Whitby, Ontario.