'The Nuck Stops Here' is a Vancouver Canucks news and opinion column running every Sunday throughout the season.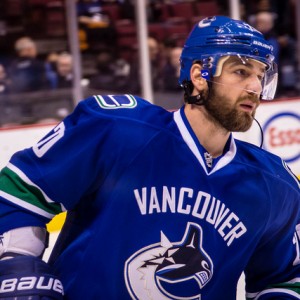 NEWS
Canucks Reduce Pre-Season Roster
The following is a press-release from the organization:
Vancouver, B.C. –Vancouver Canucks General Manager Jim Benning announced today that the Canucks have reduced their pre-season roster by two players.
The following player has been assigned to the Utica Comets:
Joe Labate – Centre
The following player has been released and will attend the Utica Comets Training Camp:
John Negrin – Defence
Chris Higgins Injured
Winger Chris Higgins will reportedly be out a minimum of three weeks after blocking a shot from San Jose's Brenden Dillon in the Canucks' 1-0 victory over the Sharks in Kraft Hockeyville. The 32-year-old forward reportedly has a fractured foot, and will be re-evaluated in three weeks' time. The veteran was projected to slot in as a third-line winger for the Canucks.
Injury update: Chris Higgins has a bone fracture in his right foot and will be re-evaluated in 3 weeks time, per #Canucks.

— Nucks Misconduct (@nucksmisconduct) September 23, 2015
Scores of the week:
Vancouver Canucks – 1 : San Jose Sharks – 0 (OT)
Vancouver Canucks – 0 : San Jose Sharks – 4
Calgary Flames – 4 : Vancouver Canucks – 1
Calgary Flames – 4 : Vancouver Canucks – 3 (OT)
ANALYSIS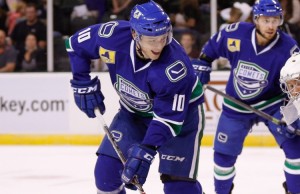 Who benefits the most from the Chris Higgins injury?
When the Canucks announced that veteran winger Chris Higgins would be out for at least three weeks with a leg injury, it opened up the door for the club to potentially add another young forward to their opening roster, and there is a plethora to choose from. Aside from the obvious names of Jake Virtanen or Jared McCann, the likes of Alex Grenier or 2012 first-rounder Brendan Gaunce may see their NHL chances skyrocket with the recent injury.
While Grenier has not had the most impressive of preseasons, the mere fact that he fits a Higgins-esque role might make him a viable option, while Gaunce has impressed many with the usage of his size and overall drive in his game, and the big centre-turned-winger has as good a chance as anybody to make the club. In addition to the youngsters, a guy like former-Blue Jacket Adam Cracknell, who many considered a lock to return to Utica, could wind up becoming the Mike Santorelli of 2015-16 and make the team based off pure work ethic and energy. No matter the case, Higgins' injury has opened up a roster spot, and it will be interesting to see which of the remaining Canucks prospects will take advantage of it.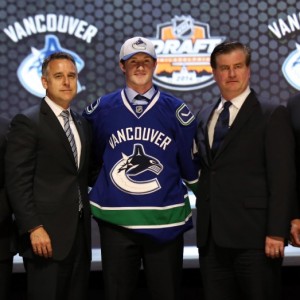 Jared McCann making serious push for 4th line centre position
Heading into the pre-season, Jared McCann seemed like a long-shot to make the club. Now, he may be the front- runner for the Canucks' 4th line centre position. After a two-point effort against the Calgary Flames on Saturday, McCann appears to have won over the fanbase, and has arguably supplanted Linden Vey on the centreman depth chart, playing an edgier style while maintaining the offensive dynamic of his game.
McCann, though a bit on the small side of things, plays a hard-nosed style, and has demonstrated superb two-way instincts that will prevent him from being a liability at either end of the ice. Much in the same way Bo Horvat did last year, McCann has had an outstanding pre-season, and looks to be making the roster despite being just 19 years of age. He may have fallen in his draft year and had some injury problems over the past year or so, but there is no question McCann is out to prove something to Canucks management, and is further establishing himself in the upper ranks of Vancouver's pipeline.
AROUND THE BLOG-O-SPHERE
Fun links about the Vancouver Canucks from all around the internet
Bo Horvat ready to shoulder a heavier workload [Vancouver Sun]
Ken Hill previews the 2015-16 Vancouver Canucks [Last Word On Sports]
Happy birthday to Henrik and Daniel Sedin! They're confident they still have a lot to give [NHL.com]
Eric MacKenzie on the battle on the Canucks' defensive depth chart [24 Hours Vancouver]
Jacob Markstrom out to prove that he belongs in the National Hockey League [CBC Sports]
Brendan Gaunce wants to make the team, a sentiment sprinkled among other Canucks related notes [HockeyBuzz]