'The Nuck Stops Here' is a Vancouver Canucks news and analysis column running every Sunday throughout the season.
NEWS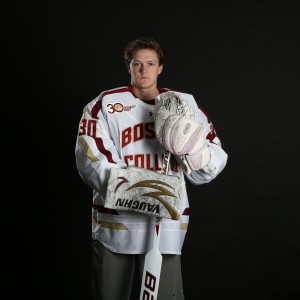 Canucks sign Thatcher Demko
The following is a press release from the organization:
Vancouver, B.C. – Vancouver Canucks General Manager Jim Benning announced today that the club has signed goaltender Thatcher Demko to a three-year entry-level contract.
Demko, 20, completed his third season with Boston College, leading the Eagles to the Hockey East regular season championship and a berth in the NCAA Frozen Four. Demko posted a 27-8-4 record along with a .935 save percentage and a 1.88 goals-against average in 39 games with the Eagles this season. His 10 shutouts on the year set a new Boston College school record and ranks as the second most in college hockey history for a single season.
The 6-4, 195-pound goaltender was awarded the 2016 Mike Richter Award as the most outstanding goaltender in NCAA men's hockey. He was also a finalist for the 2016 Hobey Baker Award.
In three seasons at Boston College, Demko has posted a 62-26-10 record, along with a 2.08 goals-against average and a .928 save percentage. A native of San Diego, California, Demko was originally selected by Vancouver in the second round, 36th overall, at the 2014 NHL Entry Draft.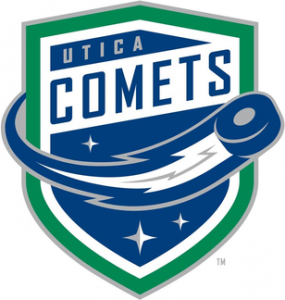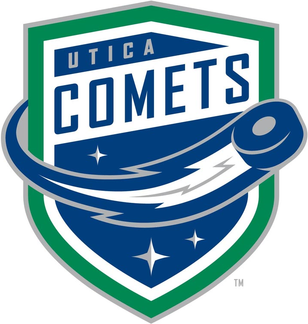 Utica Comets Fall to 0-2 in First-Round Series
A year after competing for the Calder cup, the Utica Comets find themselves down two-games-to-none in their first round series against the Albany Devils. Game one saw Jordan Subban and Darren Archibald pot a goal apiece, with Ronalds Kenins snagging two points, but falling by a 3-2 score. Game two was much worse for Utica, with the Comets falling by a 5-1 score. Cole Cassels scored the only Comets goal with his first career AHL playoff goal. The Comets will fight to keep their season alive Tuesday, April 26th at home.
ANALYSIS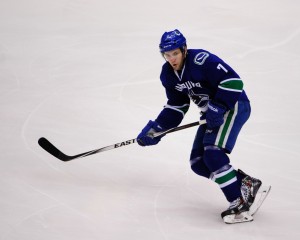 Is there room for Linden Vey on next year's roster?
There has been a lot of talk around Vancouver about young players. Which prospects will make the team? Who will be sent down to the minors? But one topic that hasn't been covered as thoroughly is the impact these incoming young players will have on the middling forwards, those being Emerson Etem, Markus Granlund, and most notably, Linden Vey. Vey, 24, had four goals and 15 points in 41 games this season, similar production to his first year with the club (10 goals and 24 points in 75 games). While his offensive output is respectable for a bottom-six player, it may not be enough to warrant keeping the young centre. Vey has continually demonstrated that he is suited for an offensive role and that his skill set is significantly based around raw talent, rather than playing with an edge. At 6 feet and 200 pounds, the former Los Angeles King is hardly the biggest guy around, and it shows at times. When matched up against larger players, Vey can find himself struggling defensively, which can be a problem considering the majority of the time, he is slotted in as one of the club's bottom-six centres. Additionally, his point totals, while not terrible on paper, come in bunches, and are hardly a representation of consistent secondary scoring. Therein lies the big problem with Linden Vey: he doesn't score enough to warrant a slot in the top-six, but also isn't physical enough or strong enough defensively to fill the role of a stereotypical third or fourth liner. Unlike his counterparts Etem, who finished the season blazing hot and demonstrates some degree of regular physicality, or Granlund, who is a better skater and better defensively, Vey is simply not good enough in any one area to have a roster spot on lock. Mixed with the fact that young skaters such as Brendan Gaunce, Alex Grenier, and Anton Rodin will all push for spots in the lineup, Vey could very well find himself on another NHL club, or perhaps even in the American Hockey League.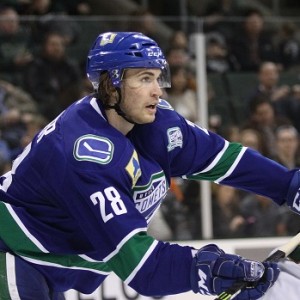 Utica Comets looking to add exciting new pieces next season
With all the buzz around the Canucks these days, it's easy to forget about their AHL affiliate, the Utica Comets. The Comets currently find themselves in a 0-2 hole in their best-of-five series against the Albany Devils, but also seem to have a bright future on the horizon. Top goaltending prospect Thatcher Demko will join the club, likely as the team's starter, and will be under the watch of many Canucks and Comets supporters. As mentioned above, it's very possible that top rookies Jared McCann and Jake Virtanen are now eligible to play in the AHL, and could transition from the NHL down a level, before re-joining the Canucks in 2017-18. Virtanen and McCann would add some excitement to the club, and would likely be two of the club's go-to producers. Additionally, buzzed about defense prospect Carl Neill, a 5th round pick that has excelled in the QMJHL this season, will be eligible to play on the Comets and will likely garner some attention. If that wasn't enough, there is an outside shot (please note, a VERY outside shot), that the Canucks' coaching staff decides Nikita Tryamkin would be better off with a year of AHL before becoming a full-season NHL'er. Even though this season may end a bit earlier than preferred, especially following a berth in the Calder Cup Final last season, there is hope on the way. All these components referenced above added together could make for a very exciting 2016-17 in Utica, and one that every Vancouver Canucks fan should be paying attention to.
AROUND THE BLOG-O-SPHERE
Fun links about the Vancouver Canucks from all around the internet
The year in review for defenceman Chris Tanev [CanucksArmy]
Jeff Paterson on the intensity that was lacking for the Canucks all year [The Province]
Is Thatcher Demko the goalie of the future for the Canucks? [National Post]
Ed Willes on GM Jim Benning, and his knowledge of drafting [The Province]
Could Drake Caggiula end up in Vancouver? [The Hockey Writers]
It's time for Canucks fans to care about the World Championship's again [Pass It To Bulis]