'The Nuck Stops Here' is a Vancouver Canucks news, opinion and analysis column that runs every Sunday throughout the regular season. This week's Monday publication is due to New Year's Day. Here's to a great 2017 everybody!
News
Canucks Recall Anton Rodin
Last week, the Canucks recalled forward Anton Rodin from his three-game conditioning stint with the Utica Comets. Rodin was originally drafted in the second round (53rd overall) of the 2009 entry draft by the Canucks and has spent the past three seasons in the SHL. Rodin won the league MVP award last season (despite only playing 33 games due to injury), and made his NHL debut on December 23rd against the Calgary Flames (receiving seven minutes of ice time).
Scores of the Week
Vancouver Canucks – 2 : Los Angeles Kings – 1
Vancouver Canucks – 3 : Anaheim Ducks – 2 (OT)
Edmonton Oilers – 2 : Vancouver Canucks – 3 (SO)
Current Record: 17-18-3 (17 Points ~ 6th in Pacific Division, 11th in Western Conference, 24th in NHL)
Analysis
Jacob Markstrom Deserves a Run as Starter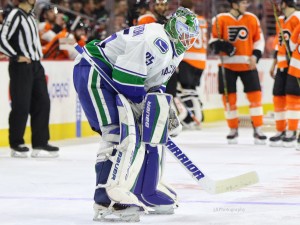 Coming into the 2015-16 season, Canucks general manager Jim Benning didn't hesitate to name 36-year-old Ryan Miller the team's starting netminder. While most expected a near 50/50 split between Miller and Swedish goaltender Jacob Markstrom, Benning was insistent that team was indeed going with Miller.
However, through 38 contests, neither has fully established themselves as distinctly superior to the other, leaving the path wide open for the 26-yearold to take advantage – and as of late, he has.
Over the course of his past three starts, Markstrom has played exceptionally well. He put up a startling .955 save percentage (on 44 shots) Saturday in a 3-2 shootout victory against the Edmonton Oilers, as well as stopping 33 of 36 in a 4-1 loss to the Calgary Flames (.917, in arguably the club's worst performance of the season). Previously, he had made 31 of 32 possible saves in a 4-1 win versus the Winnipeg Jets.
These are numbers more than worthy of consecutive starts, and while head coach Willie Desjardins seems hesitant to do so, it may just be time to let Markstrom take the reins, at least temporarily. Despite recent comments by Trevor Linden, the team's president, that Miller may return next year, that seems like a relatively unlikely possibility. The team needs to be ready to hand the starting position over to Markstrom in 2017-18, and now, while he's hot, is the time to ensure he's ready to handle it.
Luca Sbisa Playing His Best Hockey as a Canuck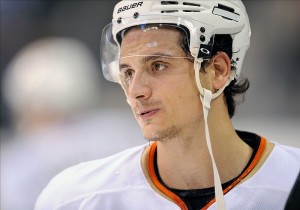 Since his arrival, no player has taken as much flack as Swiss defender Luca Sbisa. While most, if not all of it, has been warranted, the 26-year old seems to have come into his own recently and has proven to be a steady depth defenceman for the team.
The Canucks have presented an often-decimated defense core this season — with the likes of Alex Edler, Chris Tanev, and Erik Gudbranson all having missed time to injury — and Sbisa has been up to the task in helping replace them.
While the blunders are certainly still present, this season has been the most stable and confident he's looked since putting on a Canucks sweater (after his inclusion in the Ryan Kesler blockbuster). His puck moving abilities appear to be on the upswing, which has decreased the number of eye-popping turnovers (or "pizzas" as he calls them) off his stick this year.
He'll never set the world on fire, but he has begun rounding out his defensive game, while also starting to show a semblance of offensive capability — he ranks second among Canucks defenceman with nine points. Will he ever be worth his insane $3.6 million per year contract? Probably not, but that's not his fault. The club needed him to step up, and he has certainly done that. Fans must give credit where it's due, and it's certainly due to Sbisa.
Around the Blog-O-Sphere
Fun links about the Vancouver Canucks from all around the internet.
Despite the goal total, Loui Eriksson can still be considered a success thus far [The Province]
Canucks struggling to break bad team habits [The Globe and Mail]
Three numbers that must improve in 2o16 [The Canuck Way]
Should the Canucks consider tanking, or not? [Sportsnet]
The best Canucks storylines of 2016 [The Hockey Writers]
Olli Juolevi and Finland's failures at the World Juniors should feel familiar for Canucks fans [Vancouver Courier]