'The Nuck Stops Here' is a Vancouver Canucks news, opinion and analysis column that runs every Sunday throughout the regular season.
News
Thatcher Demko Recalled
Canucks General Manager Jim Benning announced that the team has recalled goaltending prospect Thatcher Demko from the Utica Comets of the American Hockey League. Selected in the 2nd round of the 2015 entry draft, Demko has posted a .909 SV% and a 2.59 GAA in his rookie year at the the AHL level.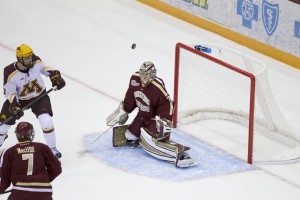 Demko, 21, led Boston College to a Hockey East regular season championship, with a 27-8-4 record, while posting a startling .935 SV%, 1.88 GAA and 10 shutouts. He was awarded the Mike Richter award as the NCAA's most outstanding netminder. Demko was signed to a three-year entry-level contract by the Canucks in April of 2016, and stands at 6'4″ and 195 pounds.
Andrey Pedan Recalled
The Canucks announced that the club has recalled defender Andrey Pedan from the AHL's Utica Comets. The 6'5″, 218-pound defenceman was acquired in 2014 by the Canucks from the New York Islanders in exchange for Alex Mallet and a 3rd round draft pick.
Pedan, 23-years-old, has posted two goals, one assist and 30 penalty minutes in 18 games with the Comets this season. He has appeared in 13 career NHL games (all with Vancouver), putting up 18 penalty minutes in the process.
Canucks have recalled D Andrey Pedan from Utica.

— Province Sports (@provincesports) December 8, 2016
Scores of the Week
New Jersey Devils – 3 : Vancouver Canucks – 2
Tampa Bay Lightning – 1 : Vancouver Canucks – 5
Florida Panthers – 4 : Vancouver Canucks – 2
Current Record: 12-14-2 (27 Points ~ 6th in Pacific Division, 12th in Western Conference, 28th in NHL)
Analysis
Jack Skille Becoming Effective Depth Piece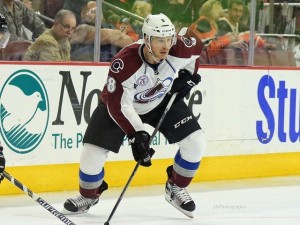 Jack Skille came into Vancouver as a relatively low-buzz, run-of-the-mill PTO signing. Few expected much of him despite a fine showing in the pre-season, and for the majority of the season's opening games, he lived up to those low expectations. However, of late, the 29-year-old has exceeded his role as a stopgap, and developed into a decently impactful depth piece in Vancouver.
While Skille's scoring has only emerged for a short period – two goals Friday against the Lighting, as well as another highlight reel marker against the Panthers – his progress cannot go unnoticed. Over the course of the year, Skille has demonstrated solid skating ability, as well as a decent amount of skill. His grit has as well been notable, making him at least a legitimate bottom-six NHL'er. Time will tell if the former 7th overall pick's recent outburst is a changing of the tides, but even if it isn't, he has still proved himself as a capable contributor lower on the depth chart.
Brandon Sutter Is Being Misused
Throughout the Canucks' injury woes, a multitude of players have been forced to perform in positions outside of their realm of regularity, and Brandon Sutter can count himself among them. Sutter, 27, has found himself playing alongside the Sedin twins, and rather predictably, it has been ineffective. The line has struggled to generate significant offence with Sutter on the wing, with the Sedins producing at a lower-than-average rate, while simultaneously dragging possession statistics to depths unprecedented by a Canucks' top line.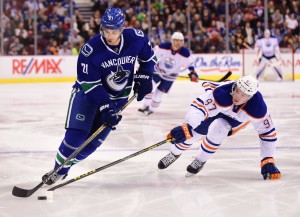 Despite his obvious misfit on the first line, Sutter can still be an effective piece for Vancouver. He's big, a strong performer in the faceoff circle, and a fairly reliable secondary scorer, making him a primary candidate for a third line centre with the occasional power play shift. However, he is not fit for a primary scoring capacity, which is what head coach Willie Desjardins seems to insist on doing. Could Sutter be effective in the right role? Sure he could. In fact, he could be the best third line centre the team has had since Manny Malhotra in 2010-11. That said, he needs to be taken off the top line and power play unit in order to see the team truly benefit, and hopefully that happens sooner rather than later.
Around the Blog-O-Sphere
Fun links about the Vancouver Canucks from all around the internet.
Where is the Canucks' third line? [Vancouver Courier]
A theory on the Canucks' start [Yahoo! Sports]
Alex Biega finally getting a chance to play [The Province]
Canucks' Demko blossoming under Rollie Melanson [Vancouver Sun]
A roundtable regarding the Canucks' situation on defense [The Canuck Way]
The Canucks have a big decision to make regarding Erik Gudbranson [Pro Hockey Talk]