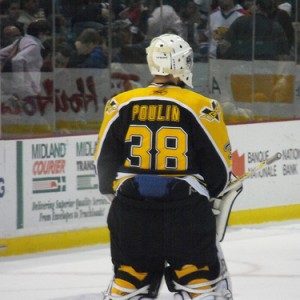 Kevin Poulin was drafted by the Islanders at 126th overall in the 5th round of the 2008 entry draft. The 6'2 and 21o pound goaltender was selected along with Mikko Koskinen; two goaltenders that would one day fight for a back-up job behind franchise goaltender Rick DiPietro. However, they were also chosen for their abilities to be NHL starters since Rick's health came into question almost as soon as he signed his 15-year contract, practically keeping him here for life.
Ironically, with DiPietro out with another injury to add to his laundry list of ailments, Kevin Poulin has been given an opportunity to prove himself as an NHL goaltender. So far he has given the coaching staff and management plenty to consider. At the very least, he has to be making them very proud in their decision to have selected him.
In three games played, Poulin is 1-0-1 with the other appearance being in relief of Nathan Lawson in the team's 2-1 loss to the Edmonton Oilers last week. He has a 1.97 GAA with a .944 save percentage after only allowing six goals on 107 shots. The most exciting aspect about the Poulin Wall, as he is slowly starting to be called, is that he isn't even of legal age to crack open a beer with his teammates after a game. His 21st birthday isn't until April 12th of this year. He's got his whole career ahead of him and is already showing plenty of potential in being a number one goaltender in the National Hockey League.
Even if you want to throw away his statistics since he only has played in three NHL games, Poulin still managed to knock away 48 of 51 shots last night in the Islanders 4-3 shootout loss to the Vancouver Canucks. The same Canucks team that sits at the top of the NHL standings and has the most powerful offense with a collective 149 goals scored on the season. Most rookie net minders would have been in shell shock after facing so many scoring chances from a team that fields the Sedin twins along with Ryan Kesler, but Poulin stood tall and kept his team in the game all night long, including a flurry of saves in the final seconds of the third period.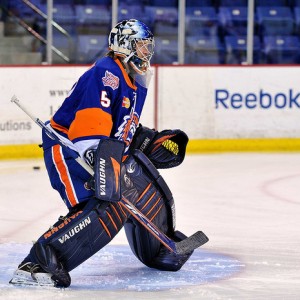 Head coach Jack Capuano will have to make a decision on who will remain with the team with Rick DiPietro expected to return this week. The original plan was to have Nathan Lawson as the back-up since Poulin was only called up from Bridgeport once DiPietro went down with a groin strain. But in that time, Lawson has been pulled once and then let up five goals in a 5-0 loss to the Chicago Blackhawks. It would be unfair to call that loss his fault as the team did not show up in front of him after defeating the Colorado Avalanche the day before, but Poulin has been far more impressive and deserving. The only reason why I can see Poulin being the odd-man out is a fear of playing time for the young goalie in the NHL. He will more than likely split time with Koskinen in Bridgeport, if not getting the slight majority of starts. It seems a little difficult to predict whether or not he would get the same amount of playing time with the big club.
Given Rick's history, one would hope that DiPietro doesn't play too many games anyway, regardless if the back-up be Lawson or Poulin.
Either way, Poulin has given the fans, coaching staff and management something to look forward too. In a season that has been filled with plenty of disappointments, Poulin is already one of the few pleasant surprises this year for the New York Islanders.
-Rob McGowan
Follow me on Twitter!
http://twitter.com/IslesRM