A leader is someone who can pick his squad up at desperate times. He says the right things in the locker room and he brings his A-game in the waning minutes of any contest.
You see it in the movies all the time.
Disclaimer: there is foul language in the following clip from Mystery, Alaska.
Yes, this is a glorified version of a second intermission speech from a team captain (while John Biebe's third period goal was as unlikely for a defensive defenseman as they come), but this is, in some ways, what teams expect from their captains.
Take the Anaheim Ducks and leaders Ryan Getzlaf (captain) and Corey Perry (alternate captain). Facing a one-goal deficit to the Winnipeg Jets in Games 1 and 2 in the first round, Getzlaf and Perry combined for three goals, five points, no penalty minutes and a plus-1 in both third periods. The Ducks went on to win both games, en route to sweeping the Jets in four games.
What did St. Louis Blues leaders David Backes and T.J. Oshie combine for in the third periods of their six-game series loss to the Minnesota Wild? Zero points and two penalty minutes — numbers that certainly will not cut it.
Let's face the facts, though: the Blues' offense was simply nonexistent when it was needed. Their minus-4 goal differential in the third period of the series can be attributed to much more than just Backes and Oshie. Their inability to recover from a Wild goal was evident, counting back to Jason Zucker's series-opening tally at 2:47 of Game 1.
The problem lies in the roster lacking confidence. It lacks true leadership.
Paul Stastny, the team's biggest free-agent signing from the previous summer, gave a glimpse into the St. Louis locker room in mid-February, after a demoralizing 4-1 loss to the Dallas Stars at Scottrade Center.
"Whenever we lose here, it feels like it's worrisome," Stastny told Jeremy Rutherford of the St. Louis Post-Dispatch. "I think that's a bad habit that we have to get out of. When we're doing well, it seems like we're not winning. When we lose a game, it seems like the end of the world. That's got to change. It's a game. You play a bad game, you forget about it. You fix your little mistakes, but tomorrow's another day and you focus on the next game."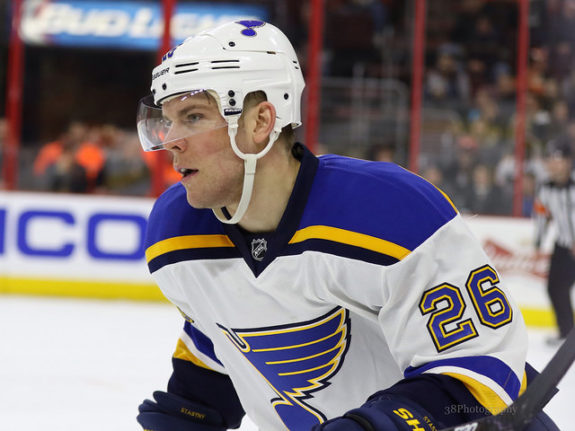 As fans, media members and NHL commentators, it's difficult to dive into what needs to change behind the closed doors of a locker room. However, these are damning words from one of the former leaders of a young Colorado Avalanche team.
Postseason unsuccess
Backes, Oshie and usual-linemate Alexander Steen are relied on throughout the regular season to provide thrilling offense and steady back checking. This type of play evaporates in the postseason, though.
The trio experienced their first NHL playoffs in 2009, after a miraculous end-of-season run placed them in sixth place, pitted against the Vancouver Canucks. Backes notched a goal and two assists in the four-game sweep, while Oshie and Steen combined for just one assist.
Let's throw that series out, though. Backes had just finished his second full season, while Oshie was a rookie and Steen was still a new face to the Blues' organization.
Focusing on the last four playoff years and five total series, Backes, Oshie and Steen have been just as disappointing. They have combined for 15 goals, 18 assists and a minus-21 rating in 78 combined games.
This past series, the line found the back of the net just three times (each player recording a goal), while posting an abysmal minus-4 rating.
These numbers are especially deflating for Oshie, who has long been criticized for not producing in the postseason.
[Archives: T.J. Oshie: Shootout Stud to Playoff Dud]
Finishing just five points shy of his career best (60, 2013-14) this season, Oshie has been a staple in late-game heroics for the Blues … and, technically, all of the United States. The preliminary round hero from the 2014 Olympics went 4-for-11 (36.4 percent) in the shootout this season, which was down from his 9-for-12 performance (75.0 percent) in 2013-14. He has been the reason for multiple Blues wins that stem from the in-game skills competition over the years, but his nine points and minus-12 in 30 postseason games is alarming, to say the least.
Undisciplined authority
Shifting focus to the Blues captain, Backes has been slightly more visible than his linemates in postseason success. He finished the 2011-12 playoffs with two goals and  four points in nine games, before finishing the 2015 postseason with a respectable plus-2 rating. However, it's the extra-curricular activity that is in question.
The Minneapolis native has earned the reputation of an after-the-whistle bruiser, due to his innate ability to continuously attempt a fight in the latter stages of the game (see the Blues' 4-2 loss to the Pittsburgh Penguins on Feb. 21).
Let's not forget Backes' skirmish with then-rookie Nathan MacKinnon in the final six minutes of an April 5, 2014, match-up with the Colorado Avalanche. Backes, who was later called "gutless" by Avalanche head coach Patrick Roy, took a shot at MacKinnon after a dump-in to the Blues' zone. Both players tangled and fell to the ice before Backes dropped his gloves and wrestled the youngster to the ground.
To clarify, age should not matter in this instance — both are NHL players and grown men in the eyes of the League. However, this attack from the Blues' leader seemed unprovoked and unwarranted.
It does not take a backseat in the postseason, either. In Game 1 of this year's playoffs, Blues coach Ken Hitchcock, whose team was facing a 2-1 deficit, opted to pull the goalie for an extra skater with just under 90 seconds remaining in regulation. The Wild's Mikael Granlund scored in the empty net for the 3-1 lead with 1:13 remaining on the clock. Instead of focusing on scoring a quick goal and providing his team a chance, Backes opted to inexcusably cross check Granlund on the ensuing faceoff and put his team down a skater with over a minute remaining on the clock.
Steen scored shorthanded at 19:01, bringing the score to 3-2. However, due to the team's captain sitting in the penalty box, the Blues skated five-on-five with the goalie on the bench. Wild forward Jason Pominville sailed a puck into the gaping net to seal the deal and give his team the vital 1-0 series lead.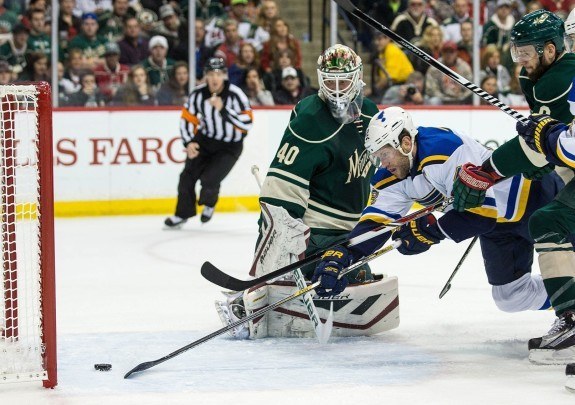 It seems that leadership is often mistaken for lunacy in the Blues' locker room.
This is a value that will assuredly have to change. Substantially, undisciplined play has scorned the Blues for some time (18 penalty minutes accrued in Game 1). If the Blues are to take the next step, this is a type of play from which the Blues will need to move away.
Throw unfavorable playoff pedigree into that movement, as well.
The Biebes, Getzlafs and Perrys are unquestionably difficult to come by in any sports league. You would be hard pressed to find that standard in 29 NHL locker rooms.
However, the Blues must improve the current situation. Otherwise, the first round exits will continue to pile up.
Read the other parts of this series.
Part I: On-Ice Leadership
Part II: Coaching
Part III: General Manager
I am a former NHL media member and reporter for the St. Louis Blues, working for various media outlets. Currently, I am an NHL News Writer and Editor for The Hockey Writers. I live in St. Louis and work as a freelance copywriter in numerous industries.